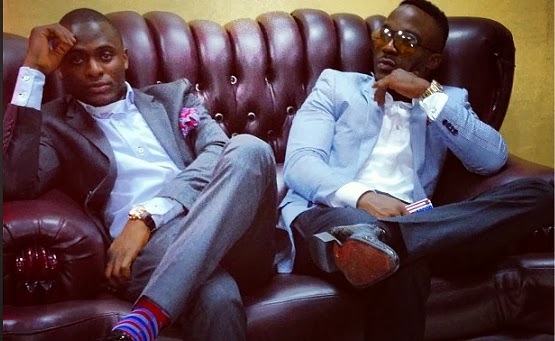 My name is Awin Williams, CEO Britts Events Management Germany, my company is an entertainment company which we have done different events with high profile Artist from different part of Africa, am writing this story for you to publish, this kind of thing that happened to me and my team, I want people to learn from it and as well know how to go after Artist which do cause them pain and loss of money.
In the Month of April my company started discussion through a friend we normally called MrBigMan, with "MBUK IYANYA ONOYOM" Iyanya Manager OFEM UBI EKAPONG FRANKLIN "Ubi Franklin", the discussion was for us to organize a Europe Tour with the Artist Iyanya been that he has never done any Europe Tour since he started his career, we negotiated for Six (6) Shows, Ten Million Naira, Two Business and 1 Economic Class Flight Ticket.
When we started promotion for the Tour people were not willing to buy the show because of the following Fears:
1. it was too expensive for them as one show was #1,800,000 Naira (9,000 Euros)
2. People were also scared if Iyanya would turn up for the Tour as they have collected money from some promoters here in Europe before, as well and refused to show up for the Tour and till date they did not refund the money to those promoters.
3. People won't buy the Tour because they were scared if Iyanya would secure Visa.
When I and my Team checked these conditions we decided to pay for just Three Shows on our own. The Three Shows costed Five Million Four Hundred Thousand Naira (5.4Million Naira), and the dates for those shows were April 25th Essen, May 1st Brussels, May 2nd Stuttgart.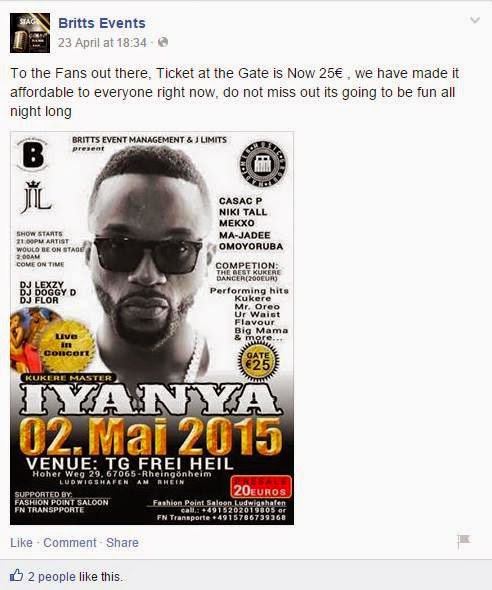 At first we paid them Five Hundred Thousand Naira (500,000 Naira) and they gave us an introduction Video Drop, and within Two Weeks we made a transfer of Three Million naira, (3,000,000 Million Naira) through our contact Mr BigMan, who then paid Ubi this Money directly and Ubi gave us the Video drops for the Three Shows. Then we started promotion here in Europe.
When other promoters saw the effect of the promo, they started calling for the shows, but the problem is, if we decide to sell the shows to other promoters we won't be making any profit from the sales as it was expensive for 1,800,000 Naira (9,000 Euros).
No one was ready to buy the show for 2,000,000 Million Naira (10,000 Euros), but as the calls keep on coming I decided to sell the show at that exact price the Manager gave it to us, just to help him make more Money instead of coming to do our three shows and going back.
I was able to secure them more Four (4) Shows, including ours making it Seven (7) Shows. Then people started asking, am I sure if they would get Visa and all that, I told them I would make sure they have their Visas.
So I went out of my way, make all their papers for them, arranged with the embassy for April 7th 10:00AM. For the crew to apply for Visa, I called Ubi and I find out that Ubi is a very slow worker, he does not take anything serious unless you push him very hard to do that. The only thing Ubi thinks of is Money, Money and Money, after giving him Money you would have to plead with him to meet up to his duties. So I decided to fly down to Lagos myself and make sure they are at the embassy at the right time. Getting to Lagos I went to Ubi's House in Lekki, gave him all documents as well told him what would be added to this documents.
The next day was the Interview at 10:00AM. Hmmmm you won't believe it, Iyanya and Ubi arrived the Embassy at 1:00PM; after the closing Hours and you know German Embassy do not take jokes. So we pleaded and pleaded with the Embassy and they managed to give us a new time 7:00AM the next day.
At 7:00AM we got there, and we noticed that Iyanya and Ubi do not even have Passport Pictures for the Visas, I have to call a Cameraman to take them Photos right at the Embassy gate, and Ubi did not even sign the forms and Fill out the right places. We had to do all this right in front of the Embassy, it was so shameful. An Artist like Iyanya without a management structure only thinking about Money Money, I said this because, Ubi turned me into a Bank, that any where he set his eyes on me, he would ask me for Money, he would even call the promoters on my behalf and ask them if any money have been paid, because he needed money so badly, that I was wondering what was happening with him. He collected all the money to a Tune of 5.4Million without keeping records of what he has collected.
Even right in front of the Embassy, why we were worried about him getting a new appointment, he was saying to me that Iyanya needs money, I should give him some money, I told him Ubi, people do not do Business like this, any money I have to give to you have to be documented, you can't be asking me money on the street like am a friend who is giving out money. But I have no choice I have to give him money, as he needed this money to please his so called girlfriend by using the name of Iyanya to collect the money from me.
Am not suppose to write about her on this page but I'm doing this because she created part of the problem we have with Ubi. When we paid Ubi the first money, and he was not giving us Video Drop to promote the Show, after giving him 5,000,000 Million Naira (25,000 Euros), I wanted to cancel the Tour, but MrBigMan said to me, Hey Williams if you cancel the Tour Ubi do not have your money to give to you, because from the 5 Million Naira, he bought a Ring to Engage the Girlfriend and as well Fly them to London, and that is why he is always demanding for money from you.
When he told me this, I did not believe him because I was like Ubi should have his own money, but I was very wrong. Because the next day, Ubi was calling and writing me from London that he needs money, that one of the promoter told him he has sent me money so he need money, then I told him, you can not be collecting this money bit by bit, we are suppose to pay all in bulk, he said no he need that money in London, that was April 2nd. I have to transfer Ubi 3,000 Euros in London for him to let me be.
Okay, after so much stress with the Embassy, we managed to secure Visas for the crew, and I asked one of my Team Mate to buy the Ticket for them as I was on the road. He used his Visa Card to buy them Two Business Class Turkish Airways, there was no time to sort out flight as they have show the next day in Hungary. Then I forwarded the Ticket to them. Ubi started making problems, that he wont fly Turkish Airways and he wont fly for 12 Hours. Then I told him, Bro, you just got visa today, its hard to find flight same day, as you guys need to fly the same day. He said he wont do it, I talked and talked, called my friends to talk to him and he managed to move down to the Airport.
I tried to call him, he was not picking my calls, the flight time was 10:00PM so they were supposed to be at the airport latest 8.00PM. I was not hearing anything from Ubi till at about 12: MidNight, he wrote me on (WHATSAPP, BRO WE MISSED THE FLIGHT). Hmmmmm, it was bad. I asked him what happened, and he cooked up this story line..
Bro we went to the Airport on time, we checked in, and some guys wanted to take pictures with Iyanya and my Boys refused them to do so, and they started insulting us and then there broke out a fight and everywhere scattered and we could not fly again..
The question is ; HOW IS THIS MY FAULT? Huh?..
I asked him what should we do now, we do not have money for flight again, I really do not know what to do, that flight cost us 1.7Million Naira, and he said to me, hey think of what to do, and when you are ready call me because am going back home.
I called my guys they were all disappointed and I called Ubi back and he said to me, Williams, I have an Agent who can get us flight ticket but you guys have to pay this money. Then I told him, bro we are not supposed to do that, he started threatening that if I do not want the tour he would go and I would never hear from him again, and I told him okay, your show is the next day Friday, get the ticket and when you arrive here, we would discuss and sort it out during the Week.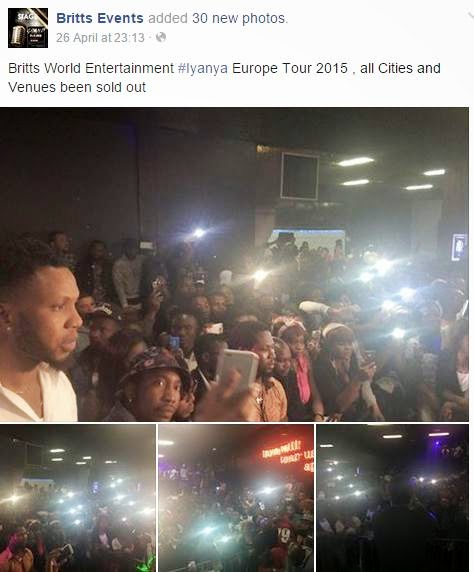 He said I should testify to that with an email which I did. You wont believe it, Ubi came and told me the flight he bought is "11.350 Euros" (2,270,000 Naira) and I said to him Ubi, we do not have this money right now. the Tour we sold to the people we did it to help you guys, we do not make any profit from the Tour, so what would happen is that, we have Two Shows, which is our personal Shows from the First Three Shows we paid for, so after the shows we would pay part of the flight money and you guys should pay the other half.
Ubi said Hey Williams you are joking. Iyanya was there and I said to him openly, Bro I have given you 5.4Million Naira, so you have no right to be pushing me and giving me conditions because of flight Ticket Money. We agreed to sort it out and you have to wait, I explained to him, that we are feeding you guys with our own money and putting you in 5 Star Hotels for good three weeks do you know what that cost us??? please you have to finish our shows then we would pay for the flight. Then Iyanya was shocked when I said I have given Ubi Franklin 5.4Million Naira. Iyanya was thinking I have not paid any money since after the 500,000 Naira we first paid, and this caused a problem between him and Iyanya right in that moment.
After that argument, our relationship was not too cool again because he didn't expect me to open the amount to Iyanya just like that. They started the Tour and we went to Rome. From Rome Iyanya and Ubi sneaked out of the Hotel Room very early in the Morning leaving me behind.
You can Imagine: the person who brought you to Europe, who did Visa for you, the person who sold Seven (7) Shows worth 12.Million Naira (61.000 Euros) for you, they left to London, without my knowledge. When it was time for us to fly, I was asking the promoter who did the show in Rome, what of my guys, where are they? They are not in their rooms, it was then he told me Oh, YOU NOR KNOW? DEM DON GO LONDON THIS MORNING.
I felt so bad, I checked my Instagram and saw that they are already in London, then I wrote to Ubi that why would you leave without telling me and please do it better next time. Then he replied me that: Bro if I do not get all my Money here in London, am not doing those remaining Shows. Then I told him our shows have been paid for 100%, you can not say you won't do our show because of Flight Ticket Money. Then he said it's not only the flight ticket, he also spend money there in London, so we have to pay for all that.
I said to him, we do not have any deal in london, if you are here in Germany we would take care of you, like we have always done. We managed to talk to them and they moved to Austria and from Austria we managed to settle some of the Bills he was demanding and one thing Ubi later said he did not agree for the Six Shows 50,000 Euros (10,000,000 Million Naira) but he said he now wants 61,000 Euros (12,000,000 Million). I told him bro we have a contract and proper discussion so why the change now? the painful thing about this whole issue, Iyanya as the Artist won't say anything, whatever the manager told him is what he would do, if the manager say lets run away, Iyanya would run.
They moved from Austria to Brussels for our Show, and this show didn't work out due to poor promotion as people were doubting of Iyanya not coming because Ubi refused to release the video drop on time. They actually released it the same evening of the show.
So many things happened that i can't even start writing. some promoters could not meet up with their full payment, Ubi requested me to pay those money as well because he does not have any deal with those promoters, which I also agreed to, but I can only do these payments if we finish our personal shows, because all the money I was having, I was using it to buy flight tickets, Hotels for these guys.
You won't believe it, Iyanya and Ubi refused to fly Economic Class Ticket within Europe??? when promoters already buy Economic Class for them, and send them the Tickets, they would say to me they are not flying Economic Class, this would cause me issues with the promoters again, and I would have to use my own money to buy them Business if not they won't do the shows. These guys are ready to mess you up by not moving anywhere or by running to London because London gave them 5 Years Visa.
For this Tour alone we cancelled so many flight tickets which the Airline do not refund our money back, the worst is that within Europe they also refused to fly a connective flight, they said they do not want to suffer themself because of Tour. Mannn, we paid you guys 61,000 Euros (12,000,000 Million Naira) if the Hotel Rooms is not as big as their Living Room they won't sleep inside, they made us waste money unnecessary that I regretted ever booking Iyanya for the Tour.
We ran at a loss, and we were so sad, because we have spent our personal money taking care of these guys for good three weeks and they were not even showing any consideration of reducing the price for us the promoter who brought him to Europe for the first time. And rather creating us problem demanding for so much money again and again. Ubi was not concentrating during the Tour as he was so so much concern with his Girlfriend issue who dump him, he was not promoting the tour at all on social media and all that, they created so much trouble in each cities they go to, most of the promoters were so angry and wanted to fight them because, imagine some one who paid you 9,000 Euros 1,800,000 Million Naira for just 30 Mins Performance, and paid your Hotels, Buy you flight Tickets and this person would come to the airport to receive you with Fans dying hard to meet you. As an Artist you would refuse to take pictures with them, even to shake them was a problem.
The promoters started shouting my name Williams, Williams if my show fall, I won't be happy with you, how can this guy refuse people to take pictures with him and make shot video for us to promote our show, this is nonsense, and you hear them saying Oh God we missed 2FACE; if it was 2FACE, HE WOULD RELAX AND EVEN PLAY WITH US.
As the Tour Manager I felt so bad, and I would start making excuses for him. It came to a point I was having issues with my Team mate because they felt been cheated, they started blaming me that I wont have helped this guy to sell more shows that he should have done those three shows and get out, that we are losing money and they are still been rude to us, that Ubi was commanding him up and down like a boy that if not that he respect Iyanya he would have asked Ubi to get out of his Car.
I told them well lets finish our show and they would go. The next day after Brussels Show, Ubi and his other Assistant started making trouble regarding to the flight ticket and money they spent in London. That if we do not give them that money, they would be going back to London again.
We told them that okay, let's get to Germany, this is Brussels is not our Country and we do not know anybody here to give us money, but when we get to Germany we would give you at least 5,000 to 6,000 Euros from the Flight money and before Iyanya come on Stage we would pay the rest. Normally this flight money is not our problem but we wanted to do it to keep good relationship with them, but they refused, and took a Taxi drove to the Airport and flew to London. From London, he said to me he does not need any body to contact him, and that if I want to talk, I should send the money to London and from there they would come to Germany.
But when we arrived Germany, we were worried of sending them the money in London, because we were not sure of them coming back to do the show. The show was supposed to be the last show of the Tour we made it the Grand Finale. 3,000 People Turned up, people traveled from far and near for that show, but there was no Iyanya. we sold 90,000 Euros (18,000,000 Million Naira) ticket that night, we have to return the money to the people because there was no Iyanya.
We lost big time, it was a terrible experience for me and my team, as I'm writing this now, my guys have refused to talk to me because they felt me helping Iyanya to make more Money made us loose out completely. I wanted to come to Nigeria and pick them up with soldiers and have a real fight with them, but after so much prayer about this, God did not want it that way. God wants to pay them back in his own way, so I decided to release this story for everyone out there to know the kind of Artist we have in Africa mostly Nigeria. Their Greed for Money is more than the passion they have for their Musical Career.
Right now they are in Nigeria renewing their contract with MTN, and posting the photos and Videos of the Tour we organized for them on Instagram, when they were here they behaved to us like they never wanted the Tour or Valued the Tour but they are using it now to promote their Image.
Iyanya already have a bad name here in Europe because of Ubi, who collected money from promoters and refuse to do the Tour. He made those promoters run out of money after paying for logistics and all that, I AWIN WILLIAMS OF BRITTS EVENTS, I was the one who restored that Image of Iyanya here in Europe, thinking that Ubi would've changed.
How can Iyanya and Ubi explain to the World right now that the person who gave them Seven Shows (7) Worth 61,000 Euros (12,000,000 Million Naira), they refused to do the guy's show because of a flight Ticket which they them self missed and then forcing the promoter to pay for another one which is highly outrageous??? Till today their Fans here in Europe are still wondering what went wrong, I could not go on my Facebook page to write about it or my company page, because this action made us loose a lot of money and I was even ill, but I have decided to talk about it and I want people to know who they are.
If Iyanya and Ubi felt that whatever I wrote here is a Lie, let they come out publicly to challenge me. We gave these guys Five Star treatment for good three weeks and they pay us back with Wickedness. Now they went away with our money, and created us debt and distrust between us and our fans out here.
Follow NaijaVibe


HoT DOWNLOAD
👇