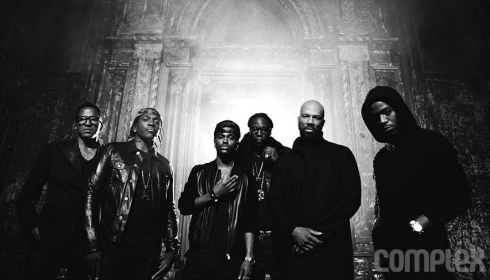 A day after rapper Kid Cudi announced his departure from Kanye West's star-studded roster, the G.O.O.D Music team has issued a statement confirming the unexpected news.
Directly to the point, G.O.O.D Music fully stood behind Cudder's decision to part ways.
We reached out the good folks over at Def Jam to get a comment and here's what they had to say, in an email response:
G.O.O.D. Music supports Kid Cudi's decision to leave the label.
Well that about says it all, doesn't it? (Complex)
Yesterday, Kid revealed the motivation behind wanting to seek a new direction.
I'm announcing that I'm no longer on G.O.O.D Music
Cudi revealed in an interview.
This is something that no one knows, really, but I'm no longer on G.O.O.D Music.. I could never get tired of Kanye but we were talking on the phone the other day, these are things I've been wanting to talk to him about, starting my own direction and he got it because he's trying to start his new path, trying new things as an artist and he was just like, 'Man, I feel you.' .. There's no beef, there's no problems with anyone on the label. It's all love.
(Power 106)
He also revealed receiving some advice from Ye's manager Don C and rap mogul Jay-Z prior to approaching the G.O.O.D Music head.
For at least, like, six months
Cudi added when asked how long has he been keeping the news to himself.
I'm very forward-thinking. I'm like, 'Next year, I'm going to be doing 'this. I kinda like, knew where I wanted to go and then was trying to figure out what the right decision would be, how to talk to [Kanye] about it. I went through a process where I talked to Don C, then I went to talk to Jay-Z, and then got their opinions about how to approach him about things I wanted to talk to him about and everybody gave me the blessing.
(Power 106)
Back in 2010, the Ohio native discussed wanting to eventually evolve from music-making.
Kid Cudi's first acting gig is for the new HBO series "How to Make It in America". When we caught up with him last night at a screening for the show, we wondered if he'll ever give up music for acting.
I'm trying to evenly balance them out right now, but eventually I want to leave behind music and just do acting
he said.
I only got into the music business to tell my story and inspire some people. I think four albums will do it, and when I'm done with my four, five albums, I'll switch it up. Once the story is told [musically], there's nothing else to say.
(NY Mag)
We would love to know your thoughts on this post. Drop your comments
NaijaVibe HoT DOWNLOAD
👇