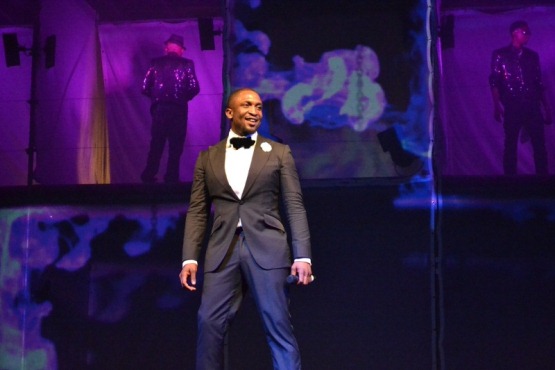 Award winning artiste Darey Art Alade said in a recent interview with Encomium mag that he is the king of RnB music in Nigeria and not Banky W.
When asked if he feels any competition between himself and Banky W knowing that they are both called Nigeria's king of RnB, Darey replied;
There is only one king of RnB. I have never heard anybody being called king of RnB except me. I have never heard anybody call him (Banky W) king of RnB except if you think he is one. But the truth is, there is only one king, and you know who the king is. If you doubt it, my new material will settle the scores. Although it has taken sometime, I am very happy the work is coming out soon
he told the magazine
Darey also spoke on the increased rate of artiste/management face off and revealed plans of acquiring a radio station.
On artiste/management face off, Darey said;
The truth of the matter is everybody has a role to play and they have a portion of the blame. The label invests something, I don't want to say much. For every investment you want to make a return. This is where the artiste doesn't understand. In the beginning, they gave you a house, a car, and you think you are talented, and come to think of it, you don't even have anything in the market. Whatever they gave you was based on potential, the initial agreement that if I give you this, you will give me that in return. Some artistes don't have agreement, everything is sealed at a bar. As you drink, you signed without realizing what you are signing. Some of them are illiterates, some pretend to know what the business is all about, but they don't. Some of them get carried away by the glitz and glamour of it, signed without knowing what the agreement stipulates. When they default, they start blaming the label, saying all sorts of things. But most of us don't find out what was the agreement before going to the press and write. On the other side, the label may have been obligated to do certain things but they did not do it and the artiste will complain. These are the issues
he said
On how to resolve these issues, Darey said;
I think both sides should have respect for agreement. There shouldn't be issues if both sides respect agreement they made. For instance, when I left QuestionMark, nobody heard that I fought anybody till tomorrow. Yes we had disagreement, it wasn't a rosy ending but till date they are still my friends, we work together. So maturity is needed to handle such situation.
Darey also spoke on his plans to own a radio station
I will love to own a radio station. I have already started making inquiries and plans on that feasibility. I am a radio person, I have worked on radio, and it was really fun. Since then I felt it is good if I can achieve this by running a radio station. After all, it will provide jobs for people, encourage creativity and improve entertainment. I don't know the format of the station yet but let me get the license first
he said.
Follow NaijaVibe


HoT DOWNLOAD
👇