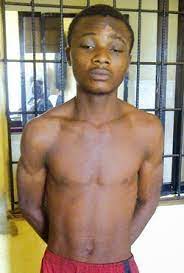 A 65 year-old retired Chief Magistrate, Funmilayo Timeyin, would have hoped to live out her days off the bench in peace and relaxation. With no young child around the house, as all her children are grown up, she employed 21-year-old David Idah, a Benue State indigene, as housekeeper who killed her in cold blood with three cutlass blows to the neck around 6pm on Friday, March 28, 2014..
Here is what he told Punch..
I came to Abeokuta from Lagos this January. I was working in a Calabar Kitchen in Ojodu-Berger (Lagos) before I lost the job. I was both a cook and a waiter there.
I was living with my sister in Lagos but we quarrelled. She was the one who got the for me job and I was being paid N12,000. Initially, I was spending N2,000 monthly out of the money and saving N10,000 with her.
But she later complained that I was keeping late nights, sleeping out and spending all my money without saving any with her again. I worked in the restaurant for seven months but when I became fed up with my sister's complaints, I called a friend who works in Abeokuta here and I told him I did not like the job I was doing in Lagos and he advised me to come to Abeokuta.
When Idah got to Abeokuta in January, he said it did not take long before he was connected with someone who arranges domestic helps for those who need them and he was told he would work in Timeyin's house.
He said the retired chief magistrate took him in and put him on a N10,000 salary per month.
I initially liked the job but later, the woman, who was nice to me before, changed. I started getting tired of the job.She accused me of behaving badly. And I did nothing wrong. She would call the person who connected me to her and complain all the time.
Well, I stole some things because she was maltreating me. I stole two mobile phones, DVD player and speakers, perfume, wrist watches, three trousers and four shirts belonging to her son.I planned to sell them. She did not pay me my salary. I wanted to sell those things and use the money to leave. But she discovered that I stole them and handed me over to the police.
The police informed Timeyin that the young man would be charged to court. She pleaded with the police to release Idah but disengaged him from her employ.
However, a few days after Idah was released from custody, he decided to pay a last visit to his former boss' house.
After I was released by the police, I realised I still had some of my things at mama's (deceased's) house. I went to the house in the evening and placed a ladder on the fence.
I jumped into the compound and took the cutlass I used in the house to cut grass. I laid an ambush in and waited till she came out of the house. When she came out, I hit her on the neck with the cutlass, I hit her again and again because I was angry.
I only hit her three times. She was screaming and that attracted the neighbours. She was shouting 'help, help!', so I dropped the cutlass and jumped over the fence. I hid in the bush behind the house.
Some neighbours who rushed inside and saw her quickly told other neighbours and the vigilante in the area to surround the bush. They were about 25 people. They sighted me in the bush where I hid and got hold of me while I was trying to escape. I did not even think of the consequences while I was hitting her, I was just angry with the woman
Police Public Relations Officer of the state command, Mr. Muyiwa Adejobi said
When the woman went to plead with the police to release him, she was even preaching to him, telling him that he should change his ways so that he could be successful in life.
The woman herself wrote a letter of withdrawal to the police. She said she did not want him tried. She was just a peaceful woman who did not want to compound the suspect's woes. But she disengaged him there and then.
NaijaVibe HoT DOWNLOAD
👇