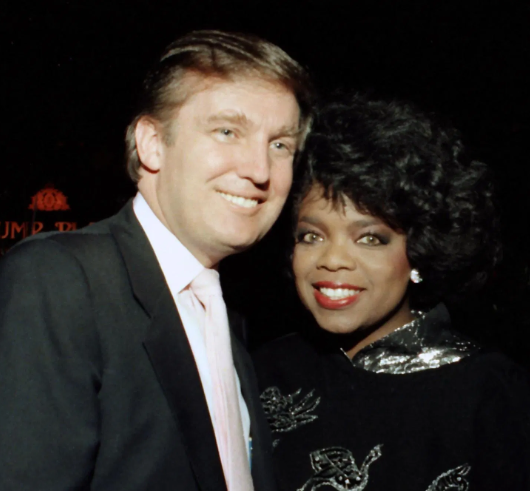 President Donald Trump has talked about his one-time friendship with Oprah Winfrey.
At a recent rally, he had this to say, "She used to go to Mar-a-Lago. She loved me until I decided to run for office."
He also added that even when Oprah and her friends, Barack Obama and Michelle Obama, supported Stacey Abrams in the Georgia governor's race in 2018, she still lost to Brian Kemp, the candidate he supported.
Despite their different views, Trump said he still loves Oprah and she will always be his first choice.
His words, "I love Oprah, she would always be my first choice. … I'll tell ya, she's really a great woman, though. She is a terrific woman. She's somebody that's very special."
How sweet.
Donald John Trump (born June 14, 1946) is the 45th and current president of the United States. Before entering politics, he was a businessman and television personality.
Trump was born and raised in the New York City borough of Queens, and received a B.S. degree in economics from the Wharton School at the University of Pennsylvania. He took charge of his family's real-estate business in 1971. He renamed it The Trump Organization and expanded it from Queens and Brooklyn into Manhattan. The company built or renovated skyscrapers, hotels, casinos, and golf courses. Trump later started various side ventures, mostly by licensing his name. He co-authored several books, including The Art of the Deal. He owned the Miss Universe and Miss USA beauty pageants from 1996 to 2015, and produced and hosted The Apprentice, a reality television show, from 2003 to 2015. Forbes estimates his net worth to be $3.1 billion.
Trump entered the 2016 presidential race as a Republican and defeated 16 other candidates in the primaries. His political positions have been described as populist, protectionist, and nationalist. He was elected in a surprise victory over Democratic nominee Hillary Clinton, although he lost the popular vote. He became the oldest first-term U.S. president, and the first one without prior military or government service. His election and policies have sparked numerous protests. Trump has made many false or misleading statements during his campaign and presidency. The statements have been documented by fact-checkers, and the media have widely described the phenomenon as unprecedented in American politics. Many of his comments and actions have also been characterized as racially charged or racist.
During his presidency, Trump ordered a travel ban on citizens from several Muslim-majority countries, citing security concerns; after legal challenges, the Supreme Court upheld the policy's third revision. He enacted a tax-cut package for individuals and businesses, which also rescinded the individual health insurance mandate and allowed oil drilling in the Arctic Refuge. He appointed Neil Gorsuch and Brett Kavanaugh to the Supreme Court. In foreign policy, Trump has pursued an America First agenda, withdrawing the U.S. from the Trans-Pacific Partnership trade negotiations, the Paris Agreement on climate change, and the Iran nuclear deal. He recognized Jerusalem as the capital of Israel, imposed import tariffs triggering a trade war with China, and started negotiations with North Korea towards their denuclearization.
Trump and members of his 2016 campaign were suspected of being complicit in Russian election interference that favored him, but a special counsel investigation did not find sufficient evidence to establish conspiracy or coordination with Russia. Trump was also personally investigated for obstruction of justice, and was neither indicted nor exonerated. Separately, in September 2019, the House of Representatives initiated an impeachment inquiry alleging abuse of office for political gain. In July 2019, Trump had asked Ukraine to investigate Hunter Biden, whose father Joe Biden is a potential rival presidential candidate for 2020, and a whistleblower alleged that the White House had tried to cover up Trump's request.
Trump abstains from alcohol, a reaction to his older brother Fred Trump Jr.'s alcoholism and early death, and claims to have never smoked cigarettes or cannabis. He is known to enjoy eating fast food. He has said he prefers three to four hours of sleep per night.
NaijaVibe HoT DOWNLOAD
👇