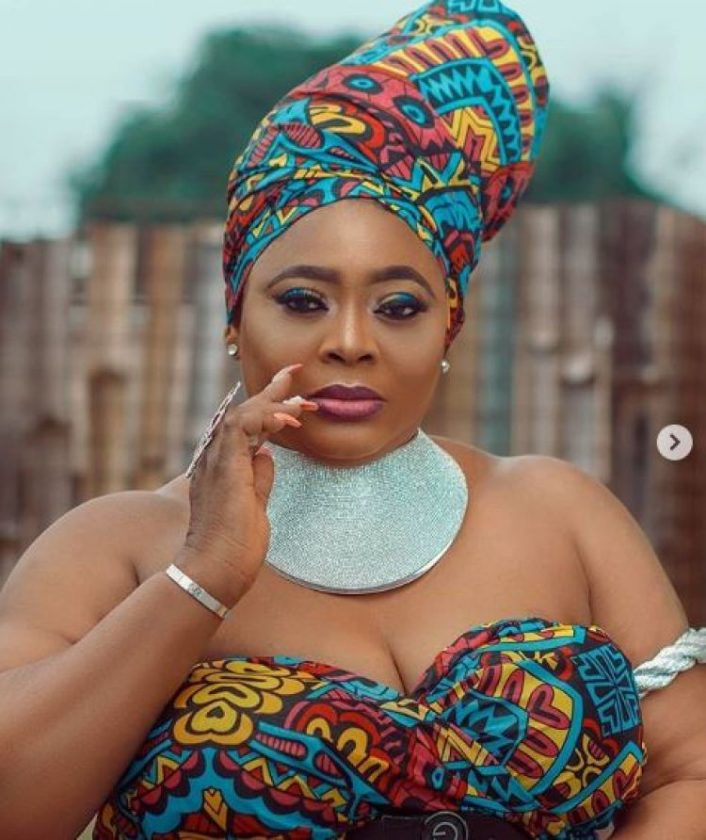 Actress Ayo Adesanya recently got talking about her love life and her plight trying to remove the big tattoo of her ex husband and baby father Goriola Hassan she has on her arm.
Both the actress and her ex-husband have the same tattoo on their arms.
The two were married for about eight years but in 2008, things took a new turn when Ayo packed out of her matrimonial home with all her belongings from their Banire Street Surulere, Lagos residence to an undisclosed place while Goriola had gone clubbing with friends.
Prior to the time, Ayo had moved out of the matrimonial home several times.
Reasons for their break-up were not well established but Ayo Adesanya claimed she was not happy in the marriage.
Here are excerpts from her interview.
There is need for you to put the record straight?
Of course, I have definitely moved on. I'm not searching. I'm trying to say that I'm satisfied with what I have because I definitely have somebody in my life
Have you finally cleaned your tattoo?
I still have it but it's fading off gradually. I recently had a surgery. I'm supposed to have gone for another one. I'm clearing it off but it's so painful. It gets swollen and too painful.
Wasn't it painful when you were doing it?
It was painful but then removing it is more painful.
But then it reminds you of the past
As funny as it is, I don't remember anything whenever I see it. I see it as part of fashion. I actually went to a church to pray and they gave me a Bible verse, I never knew it was against Christianity. Until the Pastor opened a passage that I should read, and that was how I knew. It's actually so beautiful when you have tattoos but immediately I knew it was a sin then, I made up my mind to clean it.
But your ex also has the same tattoo. Doesn't your new man complain whenever he sees it?
He's not even that kind of person. He's a very cool person.
How is your boy taking your new man?
Both of them have a relationship. They get along.
Doesn't he miss his dad?
Please let's not talk about that for security reasons.
Okay, you don't want to talk about your ex because of your new man?
Not because of him but it goes beyond that. I don't really want to talk about my past.
Very painful I guess?
It's not as if it's painful. I'm just trying not to contradict some legal matters here.
Okay you're still in court?
Not really. I don't want to talk about it
Okay, let me guess – you are still in court and you don't..
We were never legally married in the first place. So, there's nothing about being in court. It was just something that he did on his part. I don't want to talk about it. It was a long time.
Looking at life, do you have any regret?
Well, I don't want to say I regretted my marriage because I got something positive from it which is my boy. But really, if I'm given a chance to walk through that experience again, I'm not going to do it that way. I'll do it differently
You are not going to marry him?
I won't.
We would love to know your thoughts on this post. Drop your comments
Follow NaijaVibe


HoT DOWNLOAD
👇