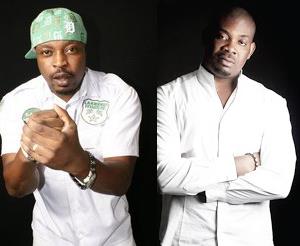 Eedris will not let this matter rest sha. Remember some time back when Donjazzy tweeted
If you are a rapper, your father will never be proud of you..
When Punch asked him he said Donjazzy was lucky he didn't mention his name because he would have flogged him..
First of all, why didn't he stay in London for the British government to give him a record deal?

Shebi all of dem stayed in London, while some of them, like Banky W, went to America? But they all rushed back to Nigeria because it is here they could make such money. Of course, in America, they will not get paid $10,000 for a show. Even some of the Americans like 50Cent, the highest they will get for a show in their country is $50,000. But they get paid $500,000 here. If you could make such money here, you don't have the right to stand up and say as a rapper, your parent will never be proud of you. Fortunately, it was money from rap music money that I used to build my houses. It was through rap music that I could venture into other businesses and do my agricultural project. It was rap money that I used to sponsor other guys on their trips to Europe.

When Don Jazzy posted that Twitter message, he specifically said: 'For example, Mode 9'. He did that because he knew Mode 9 will not do anything to him. Why didn't he mention Eedris? I would have sent people to bring him and get him flogged very well.

But I would have used that to teach him a lesson. Some people may call it controversy, but I will say controversy loves me. It is important to address that issue. This guy has allowed everything to get into his head quickly. He was feeling like Meen, so na Nigeria we dey make all this money now? The British government wouldn't have given him that opportunity. So, it is we that made rap and R&B possible to the extent that you get paid nicely that you are now insulting. Apology or not, it was important that I addressed that issue.

Funny enough, I am happy that they called me a thug. At least, I am an educated thug. People can say whatever they want. Some even say Eedris is proud. I am proud because hip-hop is proud. But the problem is that dem no know my secret. Dem no know how I dey take dey survive. I never come to dem papa house come ask for money before. The money some of these guys are making in the industry, I am the one that ignited the revolution for them to make it. I am fine and happy that I am doing very well. I am a musician, farmer and businessman. I know what I export to Europe. Germany is my base. I speak German. I am a businessman. I know where I am coming from. I am not an idiot. Let them call me anything; I have friends in the industry, but I am very choosy. 2Face Idibia is my very good friend, Dr. Fresh is my friend and Terry G is my brother. If I am not friends with you, that mean say we no dey the same level and I'm not going to force myself. Na Eba I wan chop, you say make I chop amala. Na by force?
NaijaVibe HoT DOWNLOAD
👇