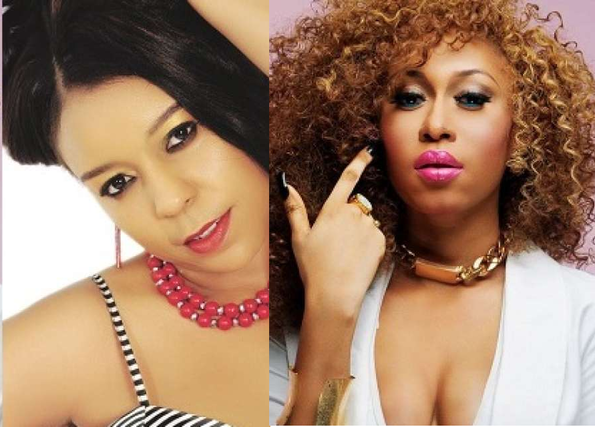 The fight between singer Queen Ure Okezie and an up-and-coming act, Cynthia Morgan, is getting more interesting but Ure is insisting she is not at war with Cynthia.
Late last year, Ure, who is Soul E's former wife, took Cynthia to court for allegedly infringing on her copyright with the song, Popori. Cynthia had released her song which she titled Porpori, (pronounced same way despite slight difference in spelling) sometime in November but Ure felt the Northside first lady was infringing on her rights. She went to court and got an injunction to stop Cynthia from using the word 'Porpori' as the title of her song.
Then, earlier in the week, Cynthia took Ure to the cleaners on her Instagram page saying:
I never knew this lady existed, obviously, she is not in my generation. My mum doesn't even know you because you weren't relevant in your time not to talk of now.. You are a failed artiste. You are lying around that my Porpori has been banned, how? I didn't steal your song, my dog sings better than you. Where is your case and sense? I know your story and it is super, don't let me start
she wrote.
However, while speaking to Saturday Beats on the phone, Ure said she wasn't going to "stoop so low" by going on social media to exchange words with "anybody".
The court has said that her song should not be played and that is it. The title of her song is the same pronunciation as mine even if it is not spelt the same way. The court is aware of all of these and the difference in spellings even before it gave the injunction.
Talking about Cynthia's claim that her song is still aired on radio stations, Ure said,
The order is yet to circulate to all radio stations and it will be done soon. The injunction is there and anybody who doesn't want to comply with the injunction knows the consequences. The Federal High Court gave the injunction and it has to be complied with. Nobody is above the law.

There is nothing personal here. I am not at war with anybody. I am not fighting with anybody. Come on, I don't intend to go on social media to reply anybody. Such things don't mean anything to me. This is a legal matter, I don't engage in such nonsense. A queen doesn't behave that way, I am a queen and I can never do that
she said.
NaijaVibe HoT DOWNLOAD
👇