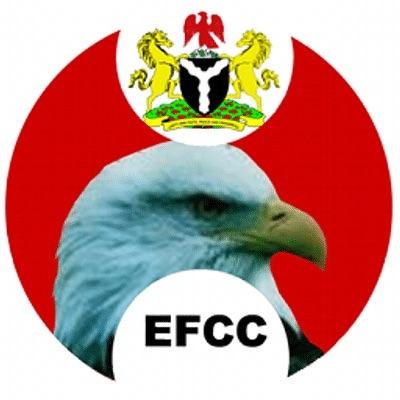 The Economic Financial Crimes Commission (EFCC) has come out to say it arrested ex-Attorney General and Minister of Justice, Mohammed Bello Adoke when he arrived at Nnamdi Azikwe International Airport, Abuja on Thursday.
Mohammed Bello arrived in Nigeria from Dubai, United Arab Emirates around 3;45 pm accompanied by INTERPOL officers, and he walked right into the waiting arms of the EFCC operatives.
According to a press statement released to the media by EFCC's spokesperson, Wilson Uwujaren, Adoke was arrested for alleged abuse of office and money laundering.
It read, "Adoke who fled the country in 2015, has pending criminal charge brought against him by the EFCC for alleged abuse of office and money laundering in respect of the granting of the Oil Prospecting License (OPL) 245 to Shell and ENI."
Investigations by the EFCC into the deal revealed crimes of conspiracy, forgery of bank documents, bribery, corruption and money laundering worth $1.2 billion against Malabu Oil and Gas Limited, Shell Nigeria Ultra Deep (SNUD), Nigeria Agip Exploration (NAE) and their officials, which has resulted in criminal charges against Adoke, Etete and others, which are pending at both the FCT High Court and the Federal High Court, Abuja.
We wait to see how this will pan out.
The Economic and Financial Crimes Commission (EFCC) is a Nigerian law enforcement agency that investigates financial crimes such as advance fee fraud (419 fraud) and money laundering. The EFCC was established in 2003, partially in response to pressure from the Financial Action Task Force on Money Laundering (FATF), which named Nigeria as one of 23 countries non-cooperative in the international community's efforts to fight money laundering. The agency has its head office in Abuja.
Under the previous EFCC chairman Nuhu Ribadu, the agency has addressed financial corruption by prosecuting and convicting a number of high-profile corrupt individuals, ranging from Nigeria's former chief law enforcement officer to several bank chief executives. By 2005, the EFCC arrested government officials including, Diepreye Alamieyeseigha.
In September 2006, the EFCC had 31 of Nigeria's 36 state governors under investigation for corruption. In December 2007, the Nigerian Federal Government, after extensive investigations by EFCC and other organisations, cleared the Vaswani brothers of any wrongdoing and invited them back into the country. Leading Nigerian daily "This Day" and other major newspapers reported the facts of their clearance quoting text from FG issued directives. In April 2008, the EFCC began an investigation of the very influential daughter of the former Nigerian President, Senator Iyabo Obasanjo-Bello for receiving N10 million ($100,000), stolen from the Ministry of Health. The former Health Minister and her deputy are currently on trial for stealing over N30,000,000 ($300,000) from the ministry's unspent funds from last year.
On June 6, 2008, Chief (Mrs) Farida Mzamber Waziri was sworn in as the new chairperson of the EFCC. Then on the 6th of August 2008, the former chairman Nuhu Ribadu was demoted from Assistant Inspector General (AIG) to Deputy Commissioner of Police (DCP). Waziri was dismissed by President Goodluck Jonathan on 23 November 2011 and replaced by Ibrahim Lamorde as Acting Chairman, who has since been confirmed on the 15 February 2012 by the Nigerian Senate.
NaijaVibe HoT DOWNLOAD
👇