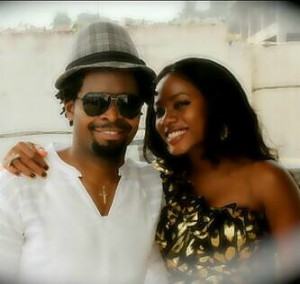 In a recent interview, here's what BasketMouth said when he was asked how he met his wife.
How long have you known your wife and how did you meet her?
I've known her for about 10 years. When I met her the first time, she was doing shakara and when a girl does shakara for me, I love it. That is when I will even get more interested in her.
She gave me a fake number and when I called, a guy picked up the phone and insulted me, and told me to never call him again.
So I decided to go back to where I met her and went to the same spot for three nights until I saw her again and she gave me the right number.
When I called her, she started giving me attitude. Out of anger one day when we were talking, I cut the call, deleted her number, cleared the call log and I now started looking for the number again (laughs). Then one day I bumped into her when her school was having a party. We started talking and that is how it began.
She suffered me oh, so as her punishment, she must give me 8 children. But I love her so much and that is all that matters.
*lol* Here are more excerpts from the interview.
You don't step out with your wife very often to public events. Why is that so?
The first day I did red carpet with my wife, they insulted her dress. I know she was looking good but people will always get angry at her, saying why she go fine like dat? I am used to it but I don't want her to get exposed to stuff like that so that is the last time you're going to see her or me on the red carpet.
Now that you are a father, what kind of upbringing are your children having?
Luckily for them, they were born as ajebutters so they are getting all the things they deserve. I'm giving them the best of education and the best of my time. I try as much as possible to make sure they are happy and get the best of everything. They are what I live for. I need to be alive for them, I need to be healthy for them, I need to work hard for them. Trust me, I didn't use to work this hard. When I was a bachelor, all I needed to do was just one show and I am OK for a month. They are making me put more into my career which I love.
Still talking about some buzzing topics, I read somewhere that you recently purchased a car that costs N10 million. Is that true?
About the price, I'm not even going to admit to that one.
How much did it cost?
I can't even say it. I didn't go out of my way to get a custom made car. I was in Belgium visiting my friend and we went to a car shop where I saw it and I loved it. When I said I wanted to buy it, they told me they had to build it. They took me to their computer and told me I could design it as I wanted it. So they built everything from scratch and it took them about three months to deliver the car. Fortunately or unfortunately, I'm the only person that has ordered the car from this region.
This region meaning the whole of Africa?
Yes, but it's not my fault. I did not go and look for a car that is the only car in Africa.
How did you spend the money from your first big break?
I gave my mum N20,000 and I kept N10,000. Out of my N10,000, I went to the railway line at Tejuosho market and bought Okrika clothes with N2,000. Then I went to Lagos Island and bought a suit for N1,500. Men, I was hot!
What is happening to your music career?
I'm still working on it, I'm not done with music yet. I'm going to be releasing an album this year.
We would love to know your thoughts on this post. Drop your comments
Follow NaijaVibe

NaijaVibe HoT DOWNLOAD
👇