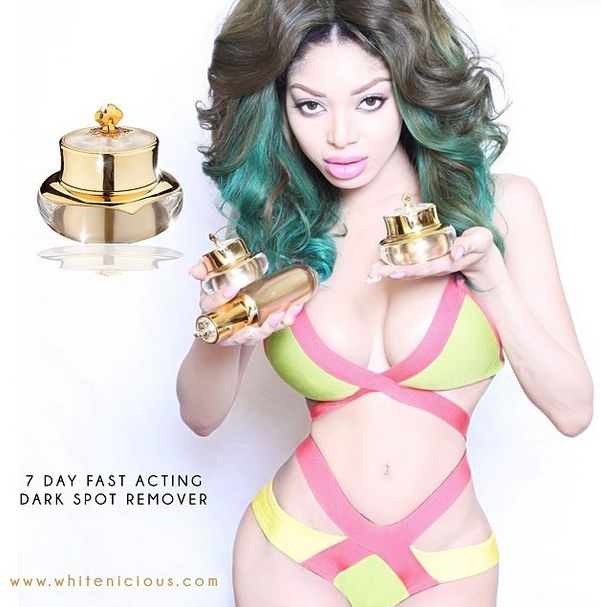 The Gist around town is that the National Agency for Food and Drug Administration, NAFDAC could banDencia's Whitenicious 7 Day Fast Acting Spot Remover cream from entering the country because the product has not been approved by the Food & Drug administration.
The goal of NAFDAC is to "safeguard the public health by ensuring that only the right quality food, drugs and other products are manufactured, exported, imported, advertised, sold and used". This includes cosmetic products. Any product that has not been registered or approved by NAFDAC can not be imported into Nigeria.
This is not to say that every single product being used in the country is NAFDAC approved, however with the massive amount of publicity Whitenicious by Dencia has received internationally & locally with mentions on PerezHilton, MediaTakeout, Ebony Magazine and an appearance on Oprah Winfrey's network, she has allegedly inevitably attracted the attention of NAFDAC.
As at time of publishing, there has been no medical research done on Whitenicious to ascertain potential risks or to prove the claim to fade dark marks in 7 days. She says so herself in an interview with Ebony when she said, "Yes, There is no medical research!" In the same interview she said Whitenicious is all natural, with no Hydroquinone, steroids, or mercury. Legitimate cosmetic products usually have their ingredients listed on the packaging or container, the same can not be said about Dencia's Whitenicious, no listing of the controversial pigment altering cream can be found anywhere, not on the container, not on the website.. only Dencia and her chemical mixers know what's inside the cream.
Whitenicious costs $60 for a small pot and $160 for a large one
Attempts to reach Dencia & NAFDAC for comments were unsuccessful.
NaijaVibe HoT DOWNLOAD
👇