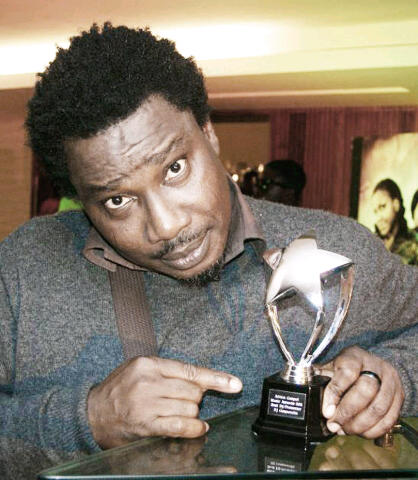 The Nigerian music industry definitely moved to the next level this year (2012) and we expect that the industry will keep getting better with a lot of re-branding that took place in the year which prompted international collabo; some made headlines others didn't cause the artist decided not to promote the song thinking it will get a lot of buzz cause it has an international act on it. Things seem to be different these days cause even with the greatest international act, The Nigerian economy doesn't permit people sitting around, everybody is on their hustle, which is the reason why a PR team is now needed. Is it because I'm a PR person? Yes and No: No because here at NaijaVibe we listened to some songs and say to ourselves this is a definite hit with or without a video and yet the general public just ignore the song.
The year started with a lot of artist releasing songs on how they felt on the situation of the country with the #OccupyNigeria saga – Flavour, Chidinma, Sound Sultan, Eedris Albdulkareem, Suspect, Aduke to mention a few joined the rally in lag and still released songs on the subsidy saga.
Few weeks after that a lot of hits were dropped and just like that Nigerians forgot the worries and danced away their sorrow as Timaya, Wizkid, Davido, Olamide released Bum bum, Azonto freestyle, Ekuro and ilefo illuminati. February came we started talking about M.I's illegal Music 2 (Mixtape), Banky W and Wizkid got international calls for the theme song for war against AIDS/HIV amongst youth for 'Shuga' and before we blinked P-Square dropped the remix of their hit single 'Chop My Money' which featured Konvict Boss, AKon after it was announced that they've signed up together with Wizkid and 2face to the Konvict label.
March came and things spiced up a little in the industry as the 'Beef' between Reminisce and Vector was the talk of the whole country. Who won that beef? I'd let you guys be the judge of that. March was a little cold, i don't know why?
Dammy Krane released his first official single after been signed up to 2face Idibia's Hypertek and 323 Ent. still in the same March P-Square got called up by the legendary french R&B superstar for the french remix of 'E NO Easy'. M.I's buzz for IM2 got stiffer when he released 'fuck you' which featured label mate Ice Prince Zamani, Iyanya dropped a follow up for his 'Kukere' hit 'Burst Me Brain' which still couldn't over shadow the Kukere hit; eLDee also dropped another hit for his 'Undeniable' Album and Naeto C returned with 'Bad pass', EME crew dropped 'Baddest Boy' from their forth coming all star album, Olamide continued to create buzz for his YBNL album as he dropped another single 'Road to YBNL' and beauty queen turned rapper Munachi Abi dropped two singles too all in April.
The year got more busier in May as 2face also dropped another single for his album 'Away & Beyond', Timaya proceeded with 'Sexy Ladies' after 'bum bum' became a club banger the rumour of D'banj and Don Jazzy going their separated was confirmed after the duo got signed by Kanye West's G.O.O.D Music. Sauce kid and Wizkid got on a song together and the song turned out to be a child's play but later went L.O.K.O on a track that had Timaya on it, Lynxxx still featured Wizkid and this time a hit was produced in 'Fine Lady', different remix of D'banjs' 'oliver twist' was released and sold only on itunes and started his international career as he was later ranked 8th in the Uk charts and later alot of unfinished work between D'banj and Don Jazzy were released and it was clear that they were not finished yet. Monicah Ogah won the Project fame few months back released three singles and as expected she didn't really get the attention she was looking for. Wizkid continued to enjoy the success of his 'Superstar' album as he released a couple of freestyle from his yet to be released mixtape. Achievas Ent, Solidstar released another single for the follow up of his hit single 'Omotena' that made more ladies fall in love with him to the point that he denied his girlfriend on national TV. He released 'Skibo' and got everybody on the line.
In June it was about Timaya for me even with P-Square setting the pace with featuring another international act and this time its Maybach music boss, Rick Ross on the remix of 'beautiful Onyinye'; Timaya still had the month locked down with his 'Upgrade' album, shoutout to Young D for producing the album, Davido also made a couple of statements with 'No Visa', 'Enter The Centre' and 'Complicated'. Few weeks after Mo'Cheddah left Knight House she release three singles 'D'Ting', Lady and 'Louder' that has been on our screens for weeks before she finally released it. In a bid to keep been in the limelight, D'banj got on some songs that were released; One with Sarkodie on some Vodafone theme song in Ghana and the other on his younger brother's song 'Sister Caro'. Vector dropped a special freestyle for us and later went on to drop what is regarded as the diss song of the year to Reminisce who hasn't replied that till now, although he has been talking indirectly to VEC on a couple of tracks but haven't mentioned name(s). Samklef, Yemi Alade and AY.com also made a good come back. Finally Duncan Mighty teamed up with the legendary reggae artist, Shaggy.
July came and it seemed Nigerian artistes were gaining more ground across Africa and at the same time getting the attention of haters/enemies and whatever you wanna call them. As Flavour got into trouble after a group in Ghana claimed that he copied their lyrics and beat, when you listen to their song though, they may have some point but its called sampling #lobatan. D'banj signed a new producer to fill the shoes of his former producer and friend, Don Jazzy, and yea there were alot of criticism and skepticism when D'banj signed J.Sleek and had him produce his first song 'Oyato' after Mo'Hit was dissolved. Yung6ix also gave us another exclusive hit 'Shey' and also dropped 'Gidi Grind' on his birthday. Iyanya also finally found a new single that could compete with 'kukere' in 'Ur Waist' as M.I and Ice Prince released 'Fuck You'. Olamide teamed up with producer Samklef to release another single off the YBNL album 'Stupid Love'.
August visitors were Banky W as he tried to redeem his image by remixing 'Setting P', Djinee made a come back in 'On Me' which featured female rapper, Muna, K-Solo had a lot to say after he was publicly seen as a woman beater in 'Lobatan' while M.I and Naeto C were chosen as the Hennessy artistry leading act and had to record a theme song for 2012 and they did 'Bartender' which was later remixed featuring Mani Lapussh, the Hennessy artistry and Beat FM Cipher champion; B.O.U.Q.U.I also returned with 'Good or Bad' which had Obiwon on it. Remember Lexy Doo? 'Baby Ske Ske' from back in the day? Well some of you will that's if you are at the age range as i am and maybe not if you're not, as he dropped a new tune 'Pop Champagne' that had 9ice on it come back didn't stop there as Sasha P also released 'Badt Girl P'. Then the 'ghen ghen' of the year started when a P-Square song leaked 'Alingo' and it was traced to May D and his crew *i didn't say so* as he got kicked out of Square records amongst other things, ridiculous right? P-Square released the original version same day. Vector had a good month featuring on four tracks, i guess – 1. with faze (my girl) 2. Tillaman (komaroll) 3. Allan B (Ma yeye mi), Skales dropped a song produced by Davido – That song im never letting go; then came the remixes of life, Sinzu called up 2face, M.I and Lynxxx for 'e don det madt' remix and D'banj jumped on Iyanya's 'Kukere'. Finally to kill all sorts of comparism Hakym dropped a freestyle of him not being May D or Orezi, but frankly the trio look alike. Hakym still remains the Lamba King.
September to remember like we all like to say but not much to remember as artist took to releasing videos of their hit songs to boost promotion; Jahbless releases 'uku uku' which had reminisce on it and reminisce still got on Oritse Femi's Tomorrow from his sophomore album. Sound sultan called up an old friend, Wyclef on 'People Bad' remix and the preacher son killed it as usual, DB records released 3 singles of K-Switch after D'banj signed 'eldeevee' who was responsible for 'Sister caro'; Chuddy K returned with 'Brazilian Hair' which to me can compete with his rave hit 'Gaga Crazy'. Duncan Mighty's album finally got release and it had Wande Coal, Timaya and shaggy on it; Azadus made a comeback with 'See Trouble' calling old friends 2face and souldsultan to jump on the track with him, still talking comebacks Tolu Maintain, remember him? the other half of Olu Maintain of the Maintain crew, yeah, dropped 'Time Time'. Wizkid and his EME crew were on tour and to confirm his Konvict music status, Konvict music hiphop act Kardinal Marshal had him on a song 'For My City' which was released worldwide, we still expecting a video for that jam, just when we thought Wizkid's international collabo was done! Kenyan's Camp Mulla dropped another hit which had the EME/Konvict superstar on it 'Prices'. Did i say not much much to remember in September, i must have been kidding cos this time, Project Fame winner, Monicah Ogah dropped one of the love jam of the year 'Body Hug' as she featured Wizboy who also produced the track, 2shotz and Omo akin all had Jesse Jagz on their songs who has been quiet so far and the collabo of the two respected indigenous rapper made the month a hot one as Phyno and Olamide got on 'Ghost Mode' and the rest was history. Brymo released 'Go Hard' Off 'The Son Of a Kapenta' album and also had a freestyle done for an international mixtape which also had M.I's 'Fuck You' on it.
Independent month, October started with Chocolate city announcing the signing of an R & B singer, Nosa who also released a song 'Nigeria', Morachi released 'Gbogbo Dis Gurls' which had Naeto C on it. Sina Rambo released his first official single 'Ijo Sina' after Davido announced his signing to HKN Gang, he was also on the track. Sinzu released freestyles every week even till now 'G Check', 'Over There' to mention a few, after the 'Ghost Mode' with Phyno a lot of song that had Olamide on it were released cause of the Buzz he was getting at that time.
Then Nollywood actress started to sing, Shan George, Tonto Dikeh, Stella Damacus. Bracket released a new single after the success of their 'Cupid' album. Wizkid didn't stop after all the buzz he got in September, He released freestyles 'Ole' Lamba Cover and 'Turn On the Light'. The 'Ole' Lamba cover paved way for the Hakym The Dreams' Lamba remix which still had Wizkid on it. M.I Abaga release a song on how he felt about the ALUU killings before it all went FRENZY for D'Prince and the Mavin Crew.
November is one of my best month in 2012 as Davido released the official remix of his hit single 'Dami Duro', Sinzu continues to drop freestyle as he had Burnaboy on 'Headless Chicken', Terry G released three singles, iLL Bliss released another single 'My Heart Beats' which had Banky W, Playbuoy and Terry Tha Rapman got together to drop two singles, Reminisce finally dropped the remix of '2mussh' and finally one of the album that made the year for me dropped Olamide's YBNL, Lynxxx returned after he dropped 'Fine Lady' earlier in the year 'Eziokwu' it had ikechukwu, iLLBliss and Phyno.
Harrysong dropped 'Ogogoro' and if you haven't heard the song, you should cause it had Timaya on it and their collabo is very crazy, Trybe records lost an artist and got a new one in Aramide as she dropped two songs and Eva Alordiah dropped Big Biggie after she left Trybe records. Durella left the Zanga on 'Ozo', Hakym dropped 'Miracle' and Omawumi returned with 'Stay Alive'. Ruggedman and Mbryo released a joint album. Mosofunyin Entertainment, Dagrin's record label prodigy Tee-blaq released Press Rewind which had Dagrin and Hakym on it. Banky W released two singles and this time they mark his return to the music scene and for his album to be dropped in february, 2013. Bigiano returned with two singles, remember him? The 'U no go come my party make una no shayo' guy but seems people already forgot about him cause even having Wizkid on the 'Chillin' track didn't get him the buzz he wanted.
December is always quiet, but it had its loudest day on the historic 12-12-12 date that had every artist planning to drop a single and Vector dropping his highly anticipated second album 'The 2nd Coming' – T2C, War against Women Violence was one of the top moment of the month which had, M.I, Waje, Omawumi and eLDee. Terry G release four singles in a day can you beat that? Djinee released two new singles, Goldie released another single and it had J Martins on it but the shooting of video in South Africa got to a halt when J Martins complained about kind of hospitality he was receiving; Another interesting day was the 21-12-12 when Cossy Orjiakor launched her album and had Durella on 'Sexual Seduction', one of the tracks. Teeblaq also dropped the remix of his 'Robo' single which Dammy Krane and Olamide, 9ice also returned with 'Oba Won' to keep his fans anticipating his double album release. Did i hear u say double album again??!!
Relationship wise Naeto C, Samklef, 2face Idibia to mention a few got married this year.
Well for events, Rick Ross, Keri Hilson, Chris Brown, Pusha T and Big Sean were some of the big names that thrilled fans all over the country and the industry is still growing. 2013 is definitely going to be better and Bigger and your favorite media site for the latest in Naija music, videos, interviews and reviews will be here to keep you posted.
Compliment of the Season
Follow NaijaVibe


HoT DOWNLOAD
👇