Celebrity News
Obasanjo is my best friend and my mugu – Eedris Abdulkareem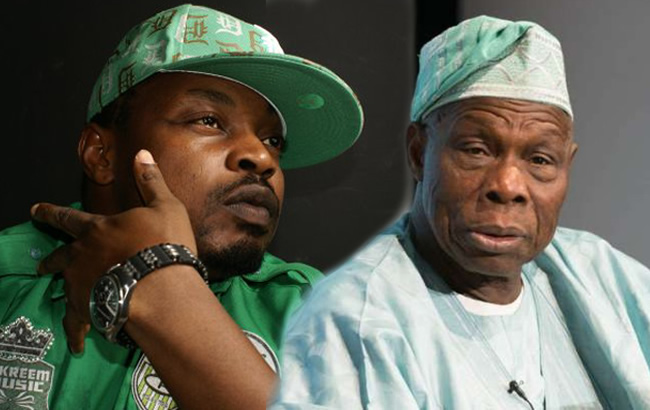 Excerpts from his new interview with Encomium
What's your current relationship with former President, Olusegun Obasanjo?
Obasanjo is my best friend and my mugu.
Can you expatiate more on what you meant by mugu?
What I'm saying is that when I came back from raising the Olympic torch, God inspired me to sing Nigeria JagaJaga. Luckily for me, the then president (Obasanjo) came on a national television, insulted my family and all sorts. Some people said the President might kill me, but I told them, "I'm not scared of anybody. I'm a muslim, I fear no one except Allah. I read my Quran". So, I was happy that Obasanjo replied because his response brought food to my table. He made a superstar and elevated me above all my colleagues with his reactions to my song. That's why I said he's my mugu.
Why do you think Jonathan is the right choice?
First, everybody has a choice, but for me, Jonathan is my choice. For goodness sake, Buhari has ruled us before. He was the governor of North Eastern State (presently Yobe and Borno). He was also the Minister of Petroleum and Mineral Resources when he was 32. He was also Chairman of NNPC at 36, and at 41, he became the head of state. What else does he want? We are tired of him. We want to move on. We want a young man like Jonathan. To me, the whole Boko Haram saga was created by some people to humiliate Jonathan so as to make him look like a fool. This propaganda doesn't work anywhere. It's only Jonathan that can save Nigeria if allowed for the second time.
There is speculation that you have collected huge sum of money from Jonathan to campaign for him, how true is it?
Collected? Do I need to collect money before showing support for president that meant good for this country? I didn't collect any money, I have not even met the president. If I'm opportuned to meet him, I have one question to ask him, "Why did you say you don't want to jail anybody, including the corrupt politicians?"
NaijaVibe HoT DOWNLOAD
👇