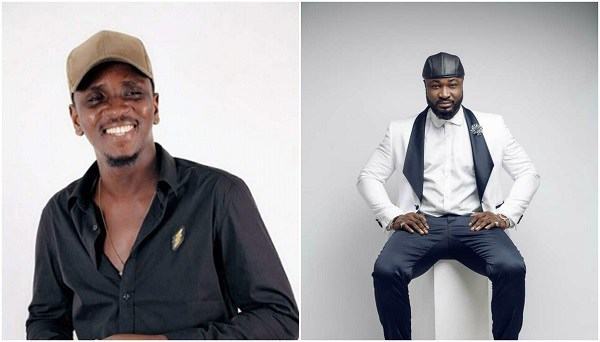 Chimbalin, in a chat with Pulse NG, though he had no written agreement with Harrysong when he produced the song, he got a verbal agreement from the singer as to what he would get from proceeds of the song.
The producer said following the production of the song, he was promised to get 10 percent of the proceeds should the song make it to MTN caller back tune and ring tones – which the song eventually did.
Chimbalin then went further to explain how he met Harrysong and all that transpired between them before he decided to call it quit with the singer.
How They met
I met Harrysong in Warri some years ago when one of my friends worked with him on a song. My friend brought him to my studio then, we did a song and afterwards, Harrysong showed interest in me and wanted to work with me.
I produced Ogogoro featuring Timaya and some other songs for Harrysong after which he urged me to leave Warri saying my talent was bigger than Warri and I thought about it before relocating to Lagos.
Relocating to Lagos
We started working together when I relocated to Lagos. Then, Harrysong was still signed on to Question Mark and we did a couple of songs and we worked together like a team striving to attain greater heights. So when Mandela died, we decided to do something and I produced the track which he sang on for the Tribute to Mandela song.
After the song, I wasn't paid but we had a verbal agreement that I was going to get 10% of whatever proceeds comes out of endorsement from the song after which MTN took over the song and till now, I'm yet to get my entitlement as the producer of the song.
The Betrayal
I saw Harrysong as a brother and a friend when we did all these songs, hence there was no written agreement or any kind of law binding agreement other than the trust and verbal assurance which I took to be his word and his bond.
We never had any form of payment model, it was always about getting the job out and he sometimes tips me as a form of remuneration because I was working with him as his personal producer so I never expected it to turn out this way.
However, Harrysong keeps reassuring me that once he hits it big, I will be well and officially compensated and these I believed until now.
Five Star Journey
I was actually one of the two in house producers for Five Star Music. I worked myself out for a total of one year before I moved on. I stayed with the music crew that included Kcee, Skiibii and Harrysong.
I was producing music alongside Dr Amin, another producer before I decided to move on when all I got were assurances and reassurances and no deal, agreement or contract signing.
Setting The Records Straight
I have kept quiet all these while even though I had tried reaching out to Harrysong a couple of time even before he left Five Star Music and when he started Alter Plate but it was still reassurances until his manager, Mr Desmond started telling people that I have been paid for all the jobs I did for Harrysong.
And I also learnt that Harrysong also told Kcee while he was with Five Star that he had sorted me and paid me in full for all the songs I produced and I found that not only disheartening but shattering to my trust in his words. I'm surprised why his manager, who was not working with him when we were working together, can continue saying I have been paid when Harrysong fully knows that that is not the case.
I am not fighting with Harrysong, neither do I want to ride on his fame for anything but truth must be told in plain words. Truth is I really don't like it when people say things that aren't true. If I was paid, I won't have the nerve to come out and say all these.
Follow NaijaVibe


HoT DOWNLOAD
👇