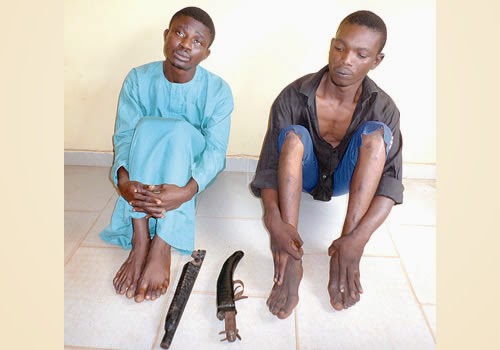 According to information gathered by Crime Reports, the gang members, including Sodiq Asimiyu (21) a.k.a. Nokia, Lekan a.k.a Goddey, Ayo a.k.a. AY, Seun Ojo a.k.a. Sepe, Kassim and Sunday, among others, assembled at a hemp joint at Ojupa area, Oke-Bode, Abeokuta, on May 31, 2014, from where they took off to a robbery operation, using two Bajaj motorcycles.
They succeeded in their moves when they came across a man driving his Nissan Xterra Sport Utility Vehicle, whom they dispossessed of his vehicle in front of State Hospital, Ijaye, Abeokuta.
Unsatisfied with the previous day's loot, the gang took off again with the X-Terra vehicle at about 5am. on Sunday, June 1 and moved to Elite area, Idi-Aba, Abeokuta, where they blocked a car driven by a Reverend at about 5.50a.m. while on his way to church with his wife and daughter.
A police source further informed Crime Reports that the man was dispossessed of N150,000, a Samsung Galaxy tablet and HTC phone belonging to his daughter, among other items. Not satisfied, one of the armed robbers who eyed the cleric's daughter with lust, ordered her to move away from her parents into the church, with the intention to sexually abuse her.
On sensing this, the Reverend was said to have pleaded with them to spare his daughter since he had surrendered all they wanted to them. In a fit of anger over the pleading, one of the gang members pulled the trigger of the gang's gun and shot the man in the mouth. Not yet done, another member went to their operational vehicle, brought out a bottle of beer, opened it and poured the content on the man of God where he fell. They left afterwards.
Nemesis however caught up with Sodiq when he was arrested on September 11, 2014 when he reportedly came back to Abeokuta for another operation. He was caught with a cut-to-size single barrel gun put in a bag. Also arrested was one Tunde Egunjobi in whose house Sodiq was nabbed. Egunjobi was said to be the one releasing his motorcycle for robbery operation and had confessed to the police that he knew the gang members as armed robbers. Both are currently undergoing investigations at the Anti- Robbery section of the State Criminal Investigation Department, Eleweran, in Ogun State Police Command.
Below are the excerpts of interview with the two suspects:
Sodiq Asimiyu
This is the first I would be going for robbery with the gang. I started with the gang six months ago. Ayo a.k.a. AY introduced me to robbery. I met AY at Saidi's hemp joint where I used to smoke marijuana. He asked me to follow him somewhere but I didn't know we were going for robbery.
We went to Suraju a.k.a. Dajunja's house at Oke-Bodea area of Abeokuta, from where the gang took off for robbery operation. I did not follow them that night but I knew they were going for robbery.
Early the following morning, we entered the vehicle and started moving round the town looking for a victim to rob.
Suddenly, I saw that AY who drove the vehicle blocked a vehicle by the side. We ordered the driver, his wife and daughter to lie down and dispossessed them of their belongings. Kassim shot the Reverend and Goddey opened a beer bottle and poured its content on him.
I was given N40,000 out of the N150,000 collected from our victim.
I returned to Lagos after the operation to continue my meat selling business. I came back to Abeokuta recently and was given a gun by one Mojeed who is a cultist. He told me that there was clash between him and other cult members over the presidency of the Eiye cult to which he belongs. He asked me to join him on a revenge mission. He put the gun in a bag which he gave me. I was also initiated into Eiye cult about four months ago.
What happened was that anytime I had nothing to do, I would borrow Tunde's motorcycle and one guy called School Boy and I would use it to snatch bags and dispossess people of their belongings. I used to give Tunde returns. I have been smoking marijuana for a very long time. I cannot remember the exact number of years but it is not less than five years.
Tunde Egunjobi
I knew Sodiq and School Boy also at hemp joint where I used to smoke marijuana. I knew that they were robbers but I didn't report them because we live within the same community. Sodiq was arrested in my house.
When contacted, the Ogun State Commissioner of Police, Mr. Ikemefuna Okoye, confirmed the story, saying that the two suspects would be charged to court after the completion of investigations.
Nigerian Tribune..
Follow NaijaVibe


HoT DOWNLOAD
👇