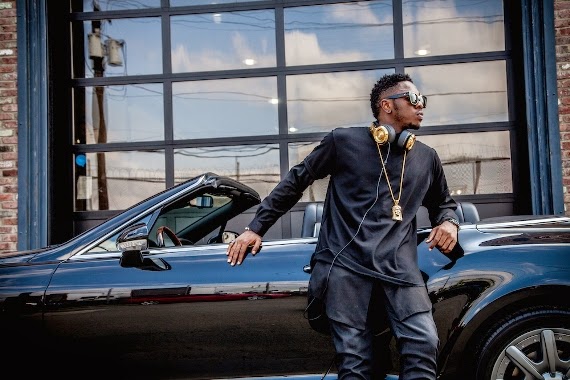 Nigerian pop singer, in an interview has addressed the issues between him and his record label EricMany Entertainment.
In the interview conducted, Runtown spoke about his troubled relationship with his record label boss, Prince Okwudili Umenyiora [aka Dilly], the C.E.O of Dilly Motors.
Speaking on the same day when a court injunction stopping Runtown from commercially benefiting from his brand was made public. The singer revealed that his relationship with his label was filled with contract breaches, emotional abuse, threats to life and disrespect.
Check out the top 5 things Runtown said from the interview below.
The first video we did together was 'Domot', I noticed that when money started coming in from shows, I was having a lot bookings, and I noticed that the label started taking all the money. The contract stated that I get my percentage which is 35%, until when we recoup like half of what we invest in the career, then we will renegotiate the contract. I accepted and said let's go ahead.
Who would have ever seen the moment where his vocal ability singing wise trumped his actual ability to rap? Earlier on in his career, singing was something learned on the fly. It was never a standard feature to his creative toolset. Sir Graham probably won't be seen anymore as a top tier lyricist following last year. But who cares, he dropped one of the biggest mixtapes of the year, came out on top against Meek Mill, got an Apple deal and made 'Hotline Bling'. Though he's transcended to the Mount Olympus of pop icons, his status within rap hasn't been the same. I have a hunch he understands that by now as well. This means Views From The 6 could go any direction at this point.
In 2014, I went to London, and the label started calling me and saying that 'Why didn't I tell anyone before going to London?' I didn't go to London for shows or anything, I went there for vacation. When I got back, I went to Mr Dilly's house, and he started ranting, and asking 'Why did I travel?' I told him that it's just like travelling to Enugu to see my mum, that it's just London, just like anywhere, that the contract does not state that I cannot have personal travels. The next thing, He (Dilly) pulled out a gun, and threatened me, and said he was going to f**k me up. I felt scared and confused. I didn't go to London to do a show and they found out. I went there for my vacation. So the threats kept going on.
He kept on calling about the Nicki Minaj people that he is ready to pay. Then he brought a contract extension for another two years stating that if he pays for the Nicki Minaj deal, then he will need a 2-year extension to recoup his investment. I wasn't around then, so the management handed the contract to a guy we worked with, and dropped it there. Neither I nor my manager, Aneto-Okeke Bugwu, were around. He called me on the phone threatening me that if I don't extend the contract, he will kill me, and bury my career, and that he isn't going to release my album.
Then I stopped talking to him, and he tried to get people to get me to talk to him. I told him that we should keep it on a business level, and that we should stick to the contract, and that we shouldn't be friends. He still kept up threatening me. He then filed for an injunction, and then we also had the beverage and the prom show. I have a US tour in June, and he wrote to the organizers requesting for all the money to be paid to him.
He then filed an injunction, and in it, he claims that he knows nothing about the US shows. When we had issues, and I left the house (the record label provided), he sent me a long email stating that this is the beginning of my downfall, and if I don't talk to him, he is going to deal with me.
NaijaVibe HoT DOWNLOAD
👇