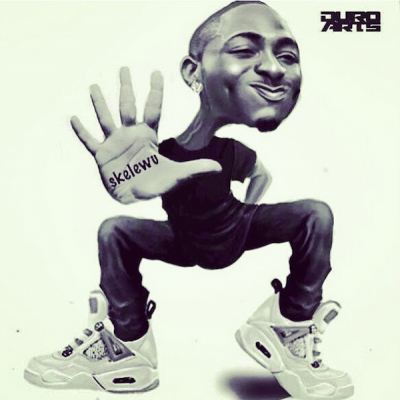 Every industry has people who made it to the very top of it with seemingly little talent when compared to some other floor members of that same industry. My very first example in this case is Nelly, the US rapper! Maybe some right connections or money bought them fame, I am not here to debate that.
Dami Duro was once the talk of the town; that, I believed was when Davido made the statement of his arrival. With massive airplay and other promotions, the point was obvious. Love it or die! It was rumoured that Davido spent around N30million naira for the whole promotional work. Now that is some cool cash! But for a song that was the anthem of the year and also won him the best new act, he did not spend too much.
Davido as a singer has marvellous power he rarely put to use. I don't know how he came about the song titled 'All of you', but that was a good song. It is practically different from his usually loud and banging style. Also, the energy Davido put in his songs can be rivalled by only a handful of people in the music industry and if this rightly used, it can make up for his music talent deficit!
Fast forward to now; DAvido seems never to be love staying away from controversies. He bought the song 'Gobe' from Password, which was a mega success for him. At the moment he has also reproduced another anthem of the year titled 'Skelewu'.
Without a doubt, Skelewu could be said to the song of the year, close competitors includes 'Limpopo", 'The Kick', 'Rotate', 'Eminado' among others.
But what is wrong with Davido?
Let us break down Skelewu.
The Skelewu song:
I am not against buying songs, but I am against pirating intellectual properties! I read on Nairaland, that he could have supposedly stolen the song from an up and coming act called Mystro, who sang Skelebe and dropped it a week before Davido dropped Skelewu. I don't know how true this is, but with the song being on most of the popular blogs in Nigeria, we cannot rule that out. This means there is a chance that the title was not even an original concept of his.
The Skelewu Dance:
Tilting to the back, bending your knees, rotating you outstretched arms like you are driving! For God sake, I thought I was the only one that noticed that was Dammy Krane. Much thanks to the bloggers that brought the issue out.
The Skelewu Video:
With all due respect to the parties involved, that was a little bit below par video but not as bad as are taking it. The most annoying thing was the reckless way Davido insulted Sesan by saying Moe Musa would shoot the next video. I am sure Sesan would have explained the video concept to Davido and/or his crew; they would have planned the pre-production, production and post production process together, and if perhaps, Davido and/or all is crew members were so busy not to do this. Davido and/or his crew would have seen the video over and over again before eventually uploading it on YouTube. Which practically means Davido was cool with the video before the fans rejected it. I see a man just trying to shift the blame of his failing on another man.
The only thing I could expect from a man, is either not to give a damn about what people said or you apologize and take direct responsibility for what happened. I personally see this as a lesson for Davido. Money cannot buy you talent, Money cannot buy you common sense or a sense of responsibility or dignity. That is what you need to learn, Davido!
Written by @africanman12
Follow NaijaVibe


HoT DOWNLOAD
👇