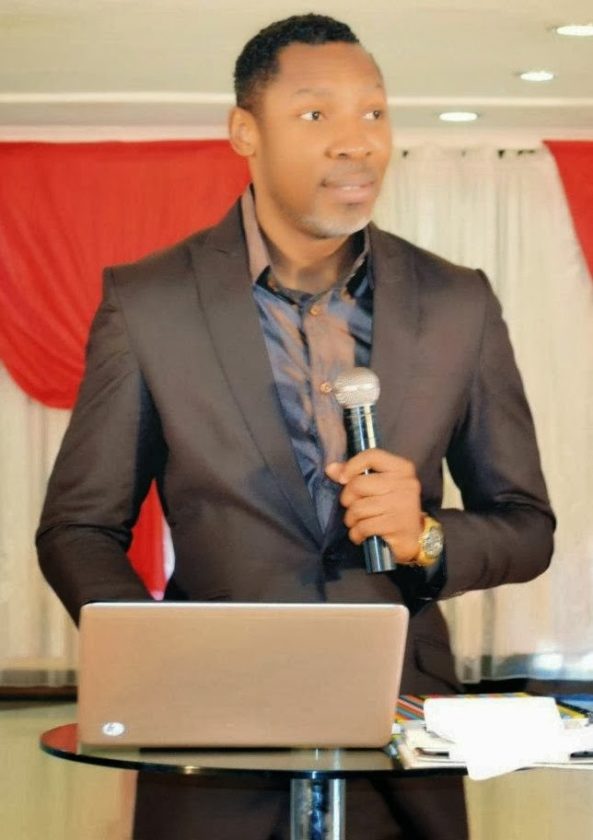 18 years old virgin killer Ikechukwu who implicated controversial Lagos pastor Sign Fireman in his alleged ritual murder of a 12 year old girl, Bose Ogoja, has been accused of lying by his own mother.
And according to his mum, her son is a serial rapist, who became one after he was cursed by a neighbor in 2009. That the alleged ritual killing had nothing to do with rituals or Pastor Fireman but was a clear case of rape that led to murder.
Talking with reporters yesterday, Mrs Esther Egbo said:
My son has been under a spell since 2009 when he was cursed by one of my neighbours in Badagry. Sometimes, he suddenly sees young girls, grabs them and starts trying to molest them. He only behaves like that in the afternoon and the whole neighborhood knows.

In 2011, he was arrested after touching a 15-year-old girl inappropriately. Later, he was arrested for attempting to rape a 17-year-old girl. Most times, it is residents that call to tell me that my son has been detained at the Badagry Police Station when I am looking for him.

In November, he did it again and was arraigned before a Badagry Magistrates Court for attempted rape and remanded in Badagry Prison for 19 days. He was released on December 10 after he was acquitted. It was three weeks later that he killed the little girl.

I asked him what happened that day and he said he was eating at one woman's shop and saw the woman's daughter pass. He stood up and followed the girl and dragged her into an uncompleted building where he killed her. He was caught as he attempted to run. He said something came over him.

We even started a deliverance programme for him at the church and he never even met Pastor Fireman. After his interview with journalists, I asked my son why he lied against the pastor and he said it was because he was threatened.
The victim's mother said although they attended Fireman's church, they never met with him because as the General Overseer of the church, it was not always easy for members to see him at random.
She said her son did not even have Fireman's telephone number and wondered where the supposed meeting he had with her son took place.
Ikechukwu had earlier said he approached Pastor Sign Fireman for money, but he told him that he should strangulate a little girl.
That while strangulating the girl, she would pass out faeces in the throes of death. and if the boy could do this, he would give him N100,000.
However, the suspect's mother says the boy later confessed to her that nothing of such happened and that the 12 year old only passed feces due to the rape and strangulation.
An aide to the pastor has also described the allegations against Fireman as ridiculous, adding that Fireman could not have stooped so low as to encourage a teenager to commit murder.
I have spoken to the boy (Ikechukwu) and he told me that he was coerced into saying what he said to the press. Pastor Fireman is a very rich man. What sort of money ritual would he want to do? His father owns a gold factory in Russia while his mother is a professor at ABSU. This is a man that has distinguished himself.
Meanwhile, it was learnt that many church members had elected to give the pastor free legal service.
Fireman's lawyer, Peter Oboyi, said the police had no evidence against the pastor adding that his client's home had even been searched on Wednesday and no evidence was found.
He said:
Pastor Fireman has over 100,000 members worldwide and does not even know one tenth of them let alone a small boy in the Badagry branch of the church. The boy has even confessed to the police that it wasn't the pastor that sent him to the dastardly act. The allegations are frivolous and based on hearsay. If you want to send someone to kill another person, you will send someone that you trust, someone that wouldn't give your name up easily. How could pastor have done such?
Contacted by Vanguard, Dr. Fireman said he was innocent of the allegations, saying he does not know the boy.
He said:
Follow NaijaVibe


HoT DOWNLOAD
👇



I don't know that boy and if anybody should know him or his family as members of our church, it's the Badagry branch pastor. I am the GO of my church. You can imagine how possible it would be for an 18-year-old boy from a distant branch to have easy access to me talk alone contracting him to kill someone on my behalf.