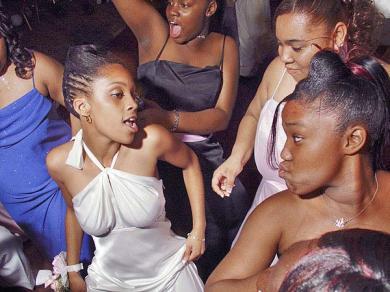 Bisi stared at the girls on the stage. They were her friends. Why wasn't she up there with them? The answer was simple – because she hadn't entered Harmony High's talent competition. She couldn't sing like Ntombi, dance like Lettie, or tell a joke like Asanda. No, the only talent she had was being late for school! A loud cheer went up around her: "Usebenzile!"
In front of her Unathi leapt from his seat and punched the air. "Yes!" he shouted. "I knew they could do it!" He turned and grinned at Bisi triumphantly. "Aren't they great?" Bisi looked away from Unathi's stupid, grinning face. She turned her back to the platform where Lettie, Asanda and Ntombi stood smiling, waving and blowing kisses at their adoring fans.
"Let's give a round of applause for our dream team. We are proud to have three such talented students at Harmony High. They are going to go on to do great things!" Bisi had never seen Principal Khumalo so excited. "Ntombi paved the way for Harmony High with the Teen Voice Competition. Now her two friends are proving that they are just as talented." His words made Bisi sick. She was Ntombi's friend too – her third forgotten friend.
There were more announcements – about the soccer game that weekend and the extra lessons that were being offered after school. One of the teachers found a pair of underpants in the girls' toilets. "Could the person responsible please come forward," the teacher said. The girls in front of her giggled. They were so childish, thought Bisi. She couldn't wait for assembly to end.
Once the teachers left the hall everyone crowded around Ntombi, Lettie and Asanda, wanting to be their new "best friend". When Lettie turned and smiled and waved at Busi, she couldn't smile back. She picked up her bag and pushed her way to the back of the hall, where she told a prefect that she needed the bathroom.
"Now", she said. The prefect nodded.
***TO BE CONTINUED***
NaijaVibe HoT DOWNLOAD
👇