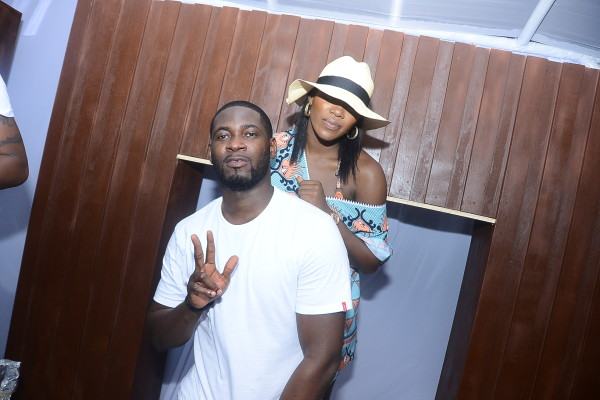 According to TheNetNg
Barely a week after their widely celebrated wedding, Tiwa Savage's husband, Tunji 'T-Billz' Balogun is in the news for attacking a photo-journalist.
For allegedly taking pictures against his will, the 323 Entertainment boss snatched the camera in front of several witnesses and crashed it in on the floor damaging the lens and other accessories in the camera. The incident, which happened last Wednesday, November 27, 2013 at Façade Thai Restaurant, Bishop Aboyade Cole, Victoria Island, Lagos raised a few eyebrows as the photographer and some guests challenged and condemned T-Bill's actions, while querying the photographer for shooting without permission..
Reports from eyewitnesses say T-billz who was at the venue the birthday of musician Sound Sultan 'angrily attacked the photo-journalist, snatching his camera and breaking it for taking pictures of him'.
When contacted for his side of the story, the photo-journalist Victor Obot also known as Elejo denied directing the camera at T-billz. 'I wasn't even pointing the camera at him. The camera was directed at another guest who was sitting next to him, and then all of a sudden, he snatched my camera from me and smashed it.'
We're told other guests at the party strongly condemned the talent manager's actions.
The former Kennis Music artiste, Azadus was infuriated by the incident and was forced to confront one of T-billz's boys who threatened to beat up Elejo.
Speaking to our correspondent in a telephone conversation Azadus said 'From what I gathered, T-Billz had warned Elejo (photo-journalist) not to take snapshots of him. Much later, I saw T-Billz grabbing the camera from him and then the camera fell on the floor in the process. Although I do not endorse T-Billz's action, but I think the Elejo should have respected his wish and not try to take snap shots of him'
When our correspondent reached out to T-Billz by telephone, he however denied destroying the camera. He said, 'It is not true. You can go ahead and cook up whatever story you like. It is not going to shake me in anyway', and then he angrily hung up.
Sound Sultan who was the celebrant however refused to confirm or deny the story. 'I do not wish to comment on this matter. Thank you', he said when asked to get his side of the story.
Another witness, Tomi, a PR consultant who works with Sound Sultan said 'she's been trying to reach out to Elejo in order to resolve the issue amicably. 'On the day of the incident, myself, Sound Sultan and Don T were trying to come in between, but they (T-Billz and Elejo) both wouldn't listen. I invited him to the party, so, just feel he should have reached out to us before going to the press. The next day I still called him and asked him to let it go, but he seems to be insistent on doing what he must'.
Multiple sources confirm that the photographer and T-Billz actually have a long-standing working relationship. 'Elejo has done several jobs for Tiwa and T-Billz. As a matter of fact, he goes to their house at 1004 Flats in Victoria Island to meet up with them sometimes, so he is not a stranger to T-Billz', said a source.
Elejo confirmed the once cordial relationship to our correspondent. 'For the jobs I did for him months ago, he is still owing me the sum of N150,000 and so I do not understand why he is being hostile to me.'
T-Billz has made no secret of his contempt for photographers in recent times. For some reason, at his recently held wedding to Tiwa Savage, photographers and recording devices were barred from the main hall. A guest at the wedding even got his phone smashed by security for trying to take a snap shot of the groom.
Follow NaijaVibe

NaijaVibe HoT DOWNLOAD
👇