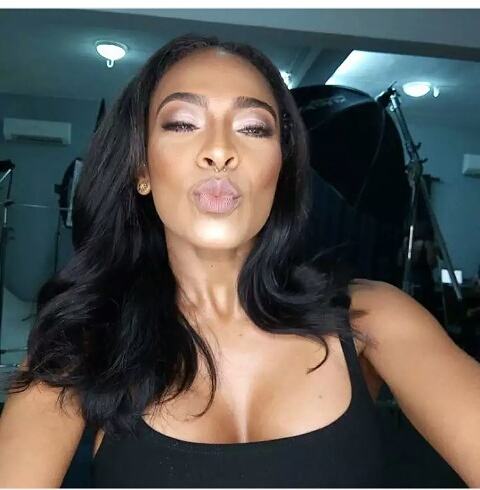 ​
Tokunbo Idowu popularly known as TBoss has opened up on her relationship with Kemen since he got evicted from the Big Brother house over alleged sexual assault.
TBoss says although they have met a few times at functions, she isn't ready to speak with him. She added that she felt violated by Kemen's action.
She also spoke about Comedian AY's joke about her at his show, a joke which the Comedian since apologized to her for.
See excerpts from the interview below:
I considered Kemen a friend. He was my go-to guy. He was my buddy, my muscle. He encouraged me. He motivated me. So for what happened to have happened considering all the people that look up to me, it was sad. I was angry. I was humiliated and I did feel violated but I don't play the victim card.

I honestly think that the decision that Big Brother took was the only decision that could have been taken. And everything that Kemen has to say about that, na him get him mouth, e fit use am talk wetin him wan talk but he knows and we know.
Asked if she has seen him since she came out of the house, TBoss replied:
I have seen him a few times but I really don't want to talk to him because honestly the day you (Ebuka) came into the house with Karen, I was thinking what would happen if I see Kemen because I thought there would be a party after then. I just wanted to slap him.

I think I even said that but then I came out and I said you know what everyone can make mistake because I am an attractive person but then, I come out and I hear the interviews he has given, today he makes an apology and then tomorrow he comes out to say TBoss knows what happened and that if there was no N25 million involved, hopefully she would tell the truth.

What truth are you talking about? You are contradicting yourself. And then you are calling me? He has called me like over 15-20 times but I don't want to speak to him. I am not ready because if I talk, I would say the wrong things. I want to calm down.
On AY's joke, TBoss says:
I totally feel it was insensitive of him. It was very insensitive because like I said, I have a lot to say. Everyone who watched the show knows I am a very emotional person and I am very sensitive and this is not something that can be overlooked or joked about. I see the comments.

I sneak into my Instagram and see the comments and I am like look, you are a female. This could have happened to you. This probably has happened to you. This incident was on camera. People saw it and people still chose to make light of this situation and make a joke out of it.

If I consent to you touching me, that doesn't mean I consent to you kissing me or going the extra mile. if you do that to me on international tv and someone out there feels it is content for a joke, it's unfair. You do not have to have a daughter or a sister or any female that is close to you for you to know that what went down was not ok. You just made a mockery of my emotions and my pain. That was insensitive.
On Reuben Abati's article, TBoss said:
That was sad, that was just sad. Coming from someone of that calibre.
NaijaVibe HoT DOWNLOAD
👇