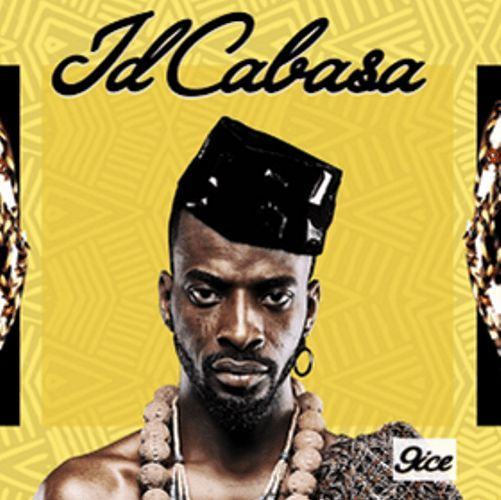 It was an early morning drive to Eko hotels, in the usual traffic around Onikan are the Cd hawkers. I beckoned at one of them to hand me a copy of 9ice's new album Id Cabasa. We had a slight argument as regards the price as a CD in traffic is customarily N150, I wanted to know why Id Cabasa will cost me N200.
After a few banters, I had to part with my N200 while he did his CD.
I always knew 9ice dropped a new album, but truth be told, the PR of the album release was not strong enough. If you ask me I will say it was a little wacky as you would expect quite a lotta buzz about a 9ice album.
Back to my journey, there in traffic I looked at the Cd in my hand and the design was bleh. I am here being as honest as possible. Holding the Cd in my hands, there was nothing appealing about the jacket that would have made me buy it if not for the recommendation by the best graphics artiste I know Arc Olayemi Graphix AOG. I remember saying to me a couple days before that 9ice dropped a fantastic album and all the songs on the album are well above par and close to perfect an album Id Cabasa is. Another reason why I went for the album that morning was because the night before, I took a bike to go get fuel for my noisy generator and from one of the cars, I could hear a nice 9ice song from one of the cars queued to buy fuel. The quality of the sound was so good, it wasn't a familiar 9ice track, so obviously it was from one from the Id Cabasa album.
Let me be quick to say that 9ice has never dropped an album below par, that was an added advantage to have to buy a physical copy and I sincerely appreciate 9ice kind gesture towards Id Cabasa. Naming an entire album after the veteran producer Id Cabasa and having all proceeds of the album go to him is one gesture that can only come from a man with a good heart. On behalf of Id Cabasa, I say Thank you 9ice.
Now about the album, like I earlier stated about the album cover and the PR of the Id Cabasa album, these two could have been better. They definitely should have been better. The Jacket is very unappealing and if you are not a music person, you wouldn't even know 9ice dropped an album.
As a person who would rather talk about solutions rather than the problem, as regards the issues aforementioned, the Id Cabasa could be repacked by his new management company, renamed Id Cabasa International Deluxe album with a proper and international standard album cover and a proper PR that befits a veteran's album.
Now let's deal with the content.
The album is a 20 tracker, and for the sake of your time as I know you have several other things to do, I might not be able to dwell on every track but I will do well to make mention of each of them.
The first track GLASS HOUSE produced by Dj Coublon is a good welcome into the Id Cabasa Journey. No one would have expected anything less from a 9ice/Dj Coublon union. Glass house gave a feel of the traditional 9ice. The lyrical content is what we always knew 9ice for. Good synchronization between, producer, artiste. Good fusion between the beat and the lyrics. The call and response in the chorus is what we always knew 9ice for. With this intro, I knew I was going to go all the way to the outro.
POISON by Da Piano in my opinion should have been named after Hadiza. A very good track I must say. Although the beat has a similar progression to that of Banky W's Loving you, I think that even made it a little more appealing. Something about good familiar sounds.
For me, Da piano made good use of that progression to create something fit for 9ice. The way 9ice bounced all through the beat is very fantastic. This is something that should attract his Northern fans, even though the song has more of Yoruba lyrics, 9ice did well with the fusion of a few hausa words that gave the song a little different feel. This is another good product of the synergy between artist and producer.
The third track OJO brought back the 9ice of old. This song demonstrated 9ice proficiency in yoruba. What would you expect from a KrisBeat production. This song will really appeal to the older folks not just because of the use of words, but the lyrics and the sequence of the beat. Any lover of King Sunny Ade and Ebenezer Obey will really groove to this song. KrisBeat has now enacted his name in the long list of Back to back hit making producers. With a lil beat of several genres of music as Juju, Hip life and more, KrisBeat gave 9ice a good raw material which 9ice converted to a fantastic end product.
9ice introduced maybe not a brand new producers, but i think this would have been his first major project Sammytex on the track he titles ALO. Obviously Alo as a track has quite some input by legendary Danku as 9ice wouldn't let us rest with the frequent repetition of his name 'Danku' anywhere possible. The song is another good one, but in all honesty doesn't match up to the previous 3, but what can I say it's an album, there are 16 more tracks to go. That been said, the Alo song isn't a bad one in any way.
LIVING THINGS produced by Hit Factory with a recently dropped video is everywhere on the streets already. The song is banging from clubs to bars and almost every Dj has it on one playlist ior the other. Aside the little irony in the chorus which i would not go into further details about, the song is a heavy tune. 9ice had a target market for the song as it is a material aimed for the 'successful' yahoo boys. Towards the end, 9ice had to Ayefelelize his song by mentioning quite a long list of names from the group of people mentioned. Kudos to 9ice for giving the street a material to groove to.
I could see what 9ice was trying to do with the track OH BABY produced by Id Cabasa. This track is supposed to be something for his Igbo fans. 9ice an artiste who is customarily known for his use of yoruba language in his music wanted to do something for the eastern folks, but it did not cut it for me. Probably because I am not the target audience of this song, it almost did not appeal to me at all, if the song wasn't on the album, we won't have noticed its absence.
Depthwise, ORO produced by Olumix is very deep. The track is synonymous to what the yoruba folks call Ewi only that this has beat to it. Here 9ice talks about the happenings in the polity. My heart lost count for a second when I heard him mention a few names towards the end of the song. Taking a cue from what Audu Maikori is currently going through, I was almost afraid, then again i remembered 9ice is another pseudo-politician.
AIYE by veteran producer Puffy Tee, in case you don't remember Puffy, he is the man that produced the evergreen Yahoozee, also he introduced Mayorkun to us as the son of the Eko seller. Aiye dropped sometimes ago as a single. Not particularly a hit single, but it was and still is a fantastic song. The slow tempo and lyrical content of the song makes a song for the older folks. You know that thing they say about old wine? Aiye as a song is aging well. For a song that was dropped a while back and still sounds that good on the album, Thank you Id Cabasa, sorry I meant 9ice.
Makossa-esque ABEFE produced by Olumix is another good song that dropped as a single. A good song for yoruba parties. Although the video which was released a while ago did not cut it for me because listening to the content of the song, then you go far away South Africa to shoot Abefe with a white lady, what a wawu. That's like having my pizza served in a sphere shaped box.
MIO YO produced by another veteran, the man the album is named after Id Cabasa, is quite good. I used quite because you probably need to be a 9ice fan or a fan of country music to really be in love with this song. I personally like the production perspective Id Cabasa came from, and as regards the lyrical content as usual 9ice came through, but welcome to Nigeria where our most beloved genre of music is gbagbagba. Mio yo is in a lot of ramifications another good song off the album.
ECONOMY!!! What a heavy tune. The wizard Dj Coublon again came through on this track. The union between both parties have never been below par. A fantastic pair the 2 of them are proving to be. Economy talks about the situation in Nigeria and on this song 9ice tries to pacify the people in his own way. Everything will be alright.
Yes a video was shot, thats is one video that should have been promoted very well. Great material Economy is. Somewhere in my head, I think the acceptance of the song must have given 9ice more confidence about the success of his forthcoming album.
OGARA funnily is one of my favorites off the album. This song also dropped as a single and I must say when it dropped it topped my playlist of most played song on my phone at the time. Ogara was produced by Id Cabasa, and as at when produced it gave me another side to 9ice. Rumour also has it that he directed the video himself. Ogara is another fantastic song if you ask me.
BEAUTIFULLY SPOILT without mincing words shouldn't have been on the album. The song sounded fake deep to me. Probably 9ice had a target of a 20 tracker album, that's is the reason the song made the cut, if you again ask me if I was the executive producer, I'm sure not having a song on track 13 spoil my already beautifully made album.
AUNTY!!! The way 9ice introduces himself as ancestor fingers my brains. I don't know what he does and how he does it, ancestor as an intro gets me everytime. Here he sings for a girl that he spends on and break his heart. He calls her aunty. This is a beautifully arranged song. Produced by Tony Why, a name I am seeing on a Cd Jacket for the first time.
Now maybe I can be permitted to say 9ice has introduced to us 2 new producers who did not disappoint. Aunty is another dance-able tune too. Kudos 9ice.
Remember I said earlier that I heard a brand new 9ice booming from a car on the queue at the filling station? OLORUNSOGO is the song. IF any song deserves a video, then it has to be this song. Produced by Id Cabasa, this song is a classic. Notice how I haven't called any song a classic all through.
A prayer song that will suit every occasion. Every music lover should listen to Olorunsogo. From the production to the the lyrics, to progression, to delivery to the ad lib, to the harmonization this is one song if well promoted can almost do what Gongo Aso did back in the day. Listen to what Id Cabasa did to the beat towards the end? The match past rolling!!! Where did that come from? On this one, it's indeed Kudos to Id Cabasa. If 9ice ever reads this, he needs to shoot and heavily promote Olorunsogo. In no time, even the celestial churches will have it on their playlist.
Nothing much can be said about AIYE FAMILETE KINTUTO produced by Id Cabasa. This song also dropped earlier as a single. Arranging it immediately after the banger Olorunsogo could either give it more audience or for people like me who always have Olorunsogo on repeat no airplay at all. Permit me again to say here that Olorunsogo is a jam and half.
Sugar Sugar Sugar Sugar, this song shouldn't have made the cut. Maybe good as a single, but this album, Nah! I will not take away the effort of the artiste and producer Puffy Tee, but as executive producer? I won't let this sugar give me pile.
9ice can be pardoned already cos himself had it in bonus tracks.
Smart man 9ice had one for his real fans. By real fans, I mean the people that will spray him money at parties or could just call him to request his account details. On this song, he hails the real street kings, lowkey rich men and NURTW bosses. It is one song for dance floors ATM, (At the Moment) is a good song for dance floors. Whenever 9ice is invited to sing at any event where any of these men is present, be sure he/they might empty his/their bank account on him. Money must be made because indeed that's why we are here.
I was a little offended that FAAJI was placed amongst the bonus tracks. To think songs like Beautifully whatever and Oh Baby made the cut and Faaji was placed in the bonus section almost made me fault the track arrangement. Dapiano! Dapiadapiano!! That is one hell of an intro. The hook of the song, 'Dapiano fun won ni piano Dapiano wa polongo o'' is one that will make you have the song on repeat. Dapiano indeed made a song for faaji and faaji lovers. This song again establishes the chemistry between 9ice and Dapiano. On this one, Kudos to the producer Dapiano.
LORD'S PRAYER produced by Puffy Tee is a good way to exit the album. Though song was earlier dropped as a single, it doesn't take away the joy of listening to it as the last track of the Id Cabasa album. Lord's prayer will make you want to listen to the entire album again from the beginning.
All in all Id Cabasa is a very good album, an overall fantastic album I must say, this again make me trust the music judgement of the best graphics guy I know AOG as he was a catalyst in my purchase of this album. A move I haven't regretted ever since.
My 2cent will be that for a larger audience, the album can be repacked to fit international standard, a few tracks taken off and a few others added and then sold as an international deluxe edition.
Another side of the coin is having the album heavily promoted in the south western states of Nigeria, also London city. These are places where 9ice has a wide range of fans, also these people can easily relate to his lyrics. South western Nigeria need to feel the impact of a new nice album. The entire album should be rolling back to back on radio in states as Osun, Oyo, Ondo and Ekiti. Djs in these states should be put to work. With the Id Cabasa album, 9ice remains a legend, and not an outdated one.
I will not fail to acknowledge the effort of every Sound engineer on the album, Swaps and co did a fantastic job. The clarity of sound and arrangement of vocals is top notch. Kudos to additional vocalist too, Klem, Danku, Eazy Plus formerly known as Minus 2, The man himself Id Cabasa and Puffy Tee.
If there is anything I learnt from the Id Cabasa album project is that every good deed will eventually be rewarded.
Scandal free Id Cabasa since inception has been perceived and known as a good man, helping the likes of 9ice, Reminisce, Jahbless, Olamide, Pheelz to limelight.
One day 9ice wakes up and decided to name his album after him, I'm sure he will die a happy man. He also gets the proceeds from the album, I congratulate him and hopefully this is a lesson for all and sundry, just DO GOOD!
– Wale Applause
@waleapplause01
NaijaVibe HoT DOWNLOAD
👇