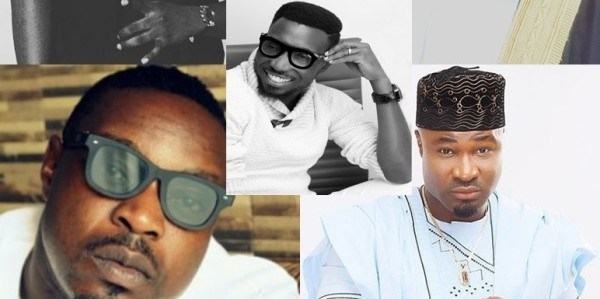 This week came with a lot of astonishing singles; Wale joined Alaga Ibile, Reminisce on the remix of 'Asalamalekun', the American rapper with his accent did better than what we heard on his remix with Lil Kesh on 'Cause Trouble Part 2'. Wale is more confident and flows well on the beat. Of cause, Alaga Ibile did his 'Local Rapper' stunts with some deep barz.
Timi Dakolo is fast becoming a legend with the way he's approaching music from an evergreen angle. We totally fell in love with his new single, 'The Vow', released to celebrate fourth wedding anniversary with his beautiful wife, Bukola. The lyrics and his wonderful rendition on Cobhams Asuquo's beat capture our hearts. If you are not careful as a lady, while listening to Timi Dakolo's 'The Vow', you will want to question yourself for now marrying him (LOL). After he released 'Iyawo Mi' in 2014, 'The Vow' is another single that oozes love, promises and deep emotions, watch the video to understand better. We Love It!
Gala Ambassador, Mr Songz profoundly called Harrysong who successfully put the 'Share the Gala, Share the Booze' signature tune in our head hits us with another addictive single 'Baba For The Girls' featuring his label mate, KCee. First listening of 'Baba for the Girls' sounds off, but the more you listen to it, the more you catch the groove and eventually get addicted. Kcee's appearance on the track was really not needed, but as a birthday song, we can say, Mr Limpopo celebrated with Mr Songz by featuring on the song. Harrysong knows how to carry his fans along with his songs.
Baci reaches out to Solidstar, they both duet on '100 Bottles', a song that's expected to kick off every party in town. With the soft beat produced by PBanks and resourceful strings by Fiokee, Baci didn't make the wrong choice of artist to feature on '100 Bottles', as usual, Solidstar dazzles on the easy-grooving jam. Baci's new joint will make you nod your head steadily to its sweet rhythm, before you eventually get explosive as the DJ slides in other banging jams.
Indubitably, Skales has been wonderful over the years with uncountable songs, he's really working hard towards his forthcoming sophomore album and this can be appreciated on his new single, 'I Want You' which is also expected to be housed on the upcoming album, Skales hits us with the audio and clean visuals at the same time. Although, we now see more videos with full interpretation of the lyrics and imaginative visuals that tells a story to entertain, Skales failed to achieve this in the 'music video of I Want You', shooting a music video with ladies shaking their butts and displaying their 'endowments' is fast becoming archaic but, we still have to give Kudos to Unlimited L.A for the visuals.
With Morell's solid ground in the music industry as arguably the leading rapper from the North, he released 'Sarauniya' which means 'Queen' in English Language, a beautiful song to soft-soap your crush or female friend. One can easily relate to 'Sarauniya' with the infusion of English language which makes the song more understandable and communicates across borders.
YBNL's in-house music producer, Pheelz is not just a creative sound engineer, he's also a great singer, having produced different street anthems for Olamide, Lil Kesh, Adekunle Gold and more, the versatile producer threw out a wonderful 'Adekunle Gold-inspired' single christened, 'I.J.N.' If you are conversant with Adekunle Gold's style of music, you will understand Pheelz infuses the 'Orente' crooner's soft melodious touches on his new single that will put you in the mood of worship. This is a beautiful piece from the YBNL camp.
Kida Kudz is still in search of his next hit single, he follows up 'Awo Lor' with CDQ-featured single, 'Dab It'. Kida Kudz' hustle is becoming real, two tracks in two weeks; we need to keep seeing Kida more than before, but, is he going to keep the pace going well? Kida Kudz and CDQ did pretty fine on 'Dab It'.
Obesere has released few songs since he delved into hip-hop like Pasuma and he's been improving since then. Obesere who is also known as 'Omo Rapala' is one of the living fuji legends we have in Nigeria, his new single, 'Ebelesua' features Baddo Sneh otherwise known as Olamide. On this track, Obesere steps up his hip-hop game and sounds better than his previous tracks; 'Ebelesua' is really impressive.
It's been long we listened to songs that address social vices, songs that open our eyes to places we look into, but failed to see what's really happening in there. Eedris Abdulkareem raised our curiosities to a whole lot of things in 'They Don't Understand'. Eedris Abdulkareem speaks to Mr President as an activist, freedom fighter on the song which he claims 'is clinically packaged to mark the milestone of being a social crusader exposing/correcting the ills of the society, so that the youths and those concerns can change or make amendment'.
NOTE: Covers and Freestyles won't feature on the weekly review.
9. Obesere ft Olamide – Ebelesua (Prod. By Glorious)
8. Harrysong ft KCee – Baba For The Girls (Prod. by Dr Amir)
7. Reminisce ft Wale – Asalamalekun Remix (Prod. By Sarz)
6. Baci ft SolidStar – 100 Bottles (Prod. By PBanks)
5. Morell – Sarauniya (Prod. By Drummer Boy)
4. Skales – I Want You (Prod. By DJ Breezy)
3. Pheelz – I. J. N (Prod. By Pheelz)
2. Eedris Abdulkareem – They Don't Understand
1. Timi Dakolo – The Vow (Prod. By Cobhams Asuquo)
By Adeyinka Mayowa
NaijaVibe HoT DOWNLOAD
👇