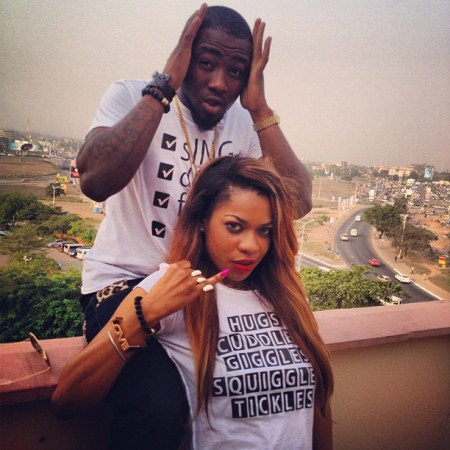 Popular fashion designer & Fashionista, Yvonne Nwosu was rumored to be dating Ice Prince.
In an interview with Punch, she opened up on her relationship with him..
Are you in a relationship?
No, I'm very single.
Did you ever date Ice Prince?
Ice Prince is just my friend. It has always been that way. It does not matter if I put up pictures. I could put up pictures of anybody. I never said anything, next minute people were saying I'm dating him. I never said anything. I don't have a boyfriend, he is just my friend.
Why did you not debunk the rumours?
Me? You think I have time for Lagos? You think I want to go out there and talk? I don't have time. I have better things to do, I'll not go on Twitter and say it's a lie. Say whatever you want to say, it is my life. I don't do that.
How did you feel when you heard the rumours, didn't you feel bad?
No, I did not feel bad. He is a good looking guy so why will I feel bad? Do they want to dash me boyfriend? I did not feel bad at all, I let everything be.
Why do you have so much tattoos?
I have about four tattoos and they represent different things. I have some in some undisclosed places but the ones you can see, you can see. I have on my hand, which represents my daughter; she is my angel. The one on my leg is my Leo star sign. The other ones, let's forget about them.
Can you tattoo something about your spouse on your body?
No, I wouldn't do that. Why would I put the face of my boyfriend on my body? What if he leaves me tomorrow? You know how guys are really. So I can't just have a guy's face on my body and tomorrow he goes away. What will happen?
What is it like for you, being a mother?
I really love my daughter. I love her so much, she is going to be 10 this year. She doesn't live in Nigeria, she only comes on holiday. Being a mother is the best thing that has happened to me. It has made me really calm and focused, knowing that I have to work towards something; at the end of the day, build an empire for my daughter, my children, the ones that are going to come after her. I've not had pains though, just been happy.
Do you not miss her?
I do miss her but she would rather stay in London than stay here in Nigeria. She is staying with her dad. She would rather stay in London.
How about her dad and you? What happened?
We are not together anymore, he was my partner but now we are no more together. We met and that was it. We started from there, got along, dated, had a kid, lived together and that was it. We never planned on getting married
We would love to know your thoughts on this post. Drop your comments
Follow NaijaVibe


HoT DOWNLOAD
👇