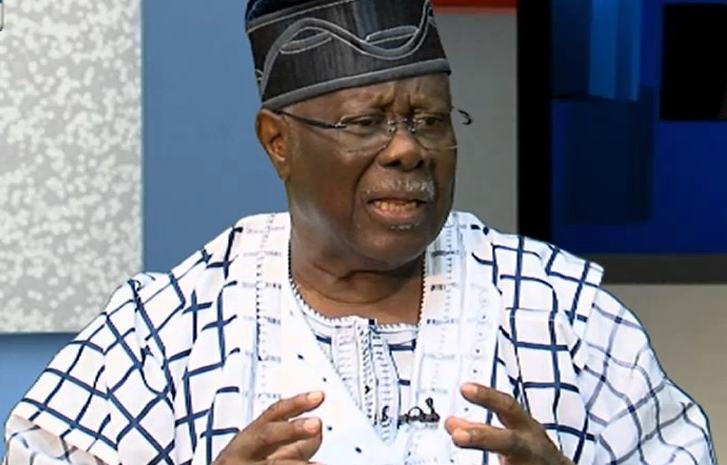 Ex-deputy national chairman of the Peoples Democratic Party, Olabode George has come out to express disappointment that the Independent National Electoral Commission is reverting to the manual system of votes collation after the reported failure of its Bimodal Voter Accreditation System meant for the seamless transmission of election results electronically into its server.
He recently had his say while speaking to the press, and Nigerians have been reacting.
According to him, the move is not acceptable at all because it is the same as taking the country back to the period of misery when election results were manipulated between the polling units and the collation centres.
He added that he can only hope INEC is not trying to force the dismal APC government on Nigerians.
His words, "It is the most despicable shameful act, after the certification of the veracity of the BVAS, for the transmission process of results, which was attested to by the mock process successfully embarked on by INEC before the election, coupled by the successful deployment of the system for the Ekiti, Anambra and Osun governorship elections."
"How on earth can INEC turn around at this critical period, to discredit the system? I hope they are not trying to foster the dismal APC government on Nigerians, who have expressed their determination to do away with this retrogressive party through the poll last Saturday. For instance, Tinubu, was said to have secured 50,000 votes cast in Ikorodu, how can we accept this?"
"I make bold to say, this is a big embarrassment to Nigerians and the international community, whose hopes were raised that the giant of Africa and the most populated black nation has finally got it right and found a permanent solution to her intractable electoral quagmire of several years. Alas, we are being drawn back to our disgraceful past, which to me is also dealing a severe blow to the effort of developed countries like the United States, who made huge financial and material commitments to our electoral process, expected to chart a new course and place Nigeria in her rightful place among the comity of nations."
"How can we accept this uncivilised abuse against an established electoral reform already gazetted and entrenched as Electoral Act in our constitution? This is nothing but a reversal of our political fortunes by several millions of backward steps."
"I am concerned that the international community who have invested their several millions of dollars in financial and material resources would be most bemused by this most unthinkable madness, being demonstrated by the Nigerian electoral umpire. A nation is not about narrow irredentist fixation. It is larger. It is about common goals and shared values. It is about common destinies and common verities. Anything is a conglomeration of indifferent, wobbling and wavering entities. It is deviation from the normative patterns of a nation-state."
"This is hardly the path of building an enduring nation. Great nations are built upon accommodating largeness where everyone must have a sense of belonging. The fair society insists on merit, frowns upon nepotism, encourages participatory inclusiveness, creates equal opportunity for everyone to actualize themselves. I am hereby calling on the international community, who have their observers on the ground, monitoring this election, to rise and condemn this most self-destructive and annihilating political malfeasance being perpetrated by our INEC."
NaijaVibe HoT DOWNLOAD
👇