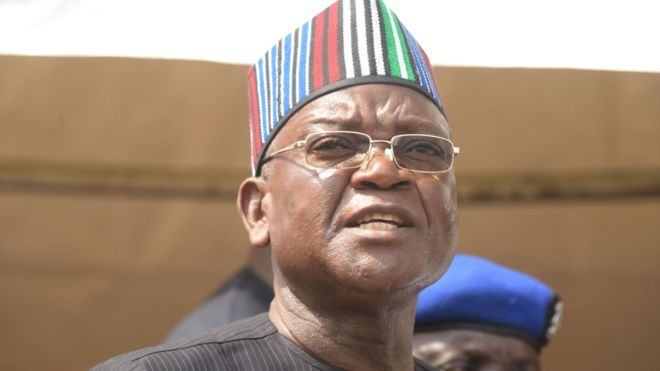 Governor Samuel Ortom has come out to say that he has zero plans to anoint anyone to succeed him.
Speaking as he addressed PDP stakeholders yesterday in Makurdi, Ortom told them that he is leaving it to the party to name a worthy candidate for the governorship election in 2023.
His words, "If someone tells you that I have anointed him as my successor, tell him that he is lying. I will work with any candidate that the party fields in 2023.
"Nobody should deceive you that he is my anointed candidate for the 2023 general elections."
"Zoning is the only thing that will give us the results we want at the end of the day. Zoning is very critical in politics.
"I advise people intending to contest the council polls to back down if the zoning formula is not in their favour. If you are not favoured by the zoning arrangement, do not go there. Do not even buy form. Do not waste your resources.
"We are going to set up a committee that will collect the results after the primaries. We will screen the results. Any aspirant not favoured by zoning will be disqualified.
We are going to do everything in a transparent manner. I am not going to impose any candidate on you."
Samuel Ioraer Ortom is a Nigerian philanthropist, businessman, politician and administrator. He was a Minister of State Trade and Investments in Nigeria during the presidency of Goodluck Jonathan. Ortom was elected governor of Benue State as a member of the All Progressives Congress in 2015. He was re-elected as governors on 29th of May, 2019. But during his tenure as APC governor, Ortom's administration owed state workers billions of naira due to the strain on Nigerian economy by the recession of 2017 caused, largely, by mismanagement of federal funds and state funds. As of 2019, the Benue state workers are still waiting for the outstanding salaries withheld from them during the recession. Also in early 2017, the state government retired some high ranking Chief Nursing Officials without gratuities or pensions paid to them and to the date of writing this no comments or explanation came from them (Benue State government).
He was born 23 April 1961 in Guma Local Government Area of Benue State, Nigeria. He attended St. John's Primary School, Gboko in 1970 but moved to St. Catherine's Primary School, Makurdi in 1974, completing his primary education in 1976. Chief Dr. Samuel Ioraer Ortom was admitted into Idah Secondary Commercial College, Idah in Kogi State in 1976. He did two years in the school before his father's retirement in 1979 ended his dream of completing formal secondary school education for financial reasons. He became a professional driver.
He later obtained the General Certificate of Education as well as Diploma in Salesmanship. He enrolled at Ahmadu Bello University, Zaria and obtained both the Interim Joint Matriculation Board Certificate, in 1995 and Diploma in Journalism in 1998. He later attended the Benue State University where he obtained the Advanced Diploma in Personnel Management in 2001 as well as Master of Public Administration in 2004. Ortom earned Doctor of Philosophy, Ph.D, from the Commonwealth University, Belize, through distant learning.
Follow NaijaVibe


HoT DOWNLOAD
👇