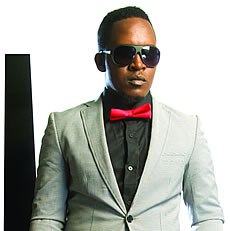 "Well, in making music, I try to make the beat fun; I try to make people dance to it. But if it's one or two people that get the message, I'm fine; if you can convert one soul a day, it's not bad," he said.
M.I, the UN Ambassador
Recently, the Chocolate City rapper was appointed a United Nations Goodwill Ambassador on Smuggling of Migrants in Abuja. M.I's role would be to speak against smuggling. Other noteworthy UN Ambassadors include Joke Silva, Jackie Chan, Celine Dion, Nelson Mandela, Shakira and Angelina Jolie.
"I've always been involved in social projects; I've always put in my best whether it's autism, cancer, women against violence, etc. When the project came up for them, they were looking at some names. The female Ambassador for human trafficking is Joke Silva; so, they are always looking for serious people," he said.
Along the line, M.I was contacted.
"When they called me, it was very humbling. I was like, 'small me; will I be able to handle this?' But they were so passionate at their office; we flew to Abuja and we visited their restoration home, where I spoke with people that have actually been to the field to bring people back," he said.
You may wish to say 'congrats,' but for the rapper, it's time to get down with work.
"When I got the appointment, everybody was telling me, 'congrats.' But this thing is a four-year project; this is time for work. At the end of the four years, you can come and congratulate me," he intoned.
On the procedures for becoming a UN Ambassador, M.I said, "it's a lengthy process; they really do their background checks. For the most part, what the UN does is, when they appoint you, they expect you to have an idea of what you would like to bring. Basically, for me as an Ambassador for Smuggling, my mandate is to educate people about the dangers of illegal migration from Nigeria; I've been educated so much."
With his sleeves rolled, the rap star called on young Nigerians to be careful with lucrative offers from some fraudulent individuals, promising abroad trips.
"It starts by somebody telling you he can get you somewhere; maybe you are a footballer or artiste. They will tell you, 'don't worry, we are taking 10 people to Italy.' You pay them money and they tell you, 'you can't fly from Nigeria.' So, they will take you to Niger; you get there, you see that you are stranded. Gradually, you start moving to Chad, to Morocco and Libya," he explained.
According to the Jos born-singer, the numbers of Nigerians that are stuck in the desert are over 50,000.
"These are people who willingly went on their own; there are people who were trafficked or taken out of their will. We are talking about people, who got frustrated in Nigeria and wanted to move abroad. By the time you get into the desert, whoever that took you there will abandon you; making you to fight for survival," he said.
Record also has it that many Nigerians; as well as young people from other African countries, have lost their lives on that route.
"People die in the desert. There's a gentleman, Osita that came back and wrote a book about his experience. They told him the trip would take five days from Nigeria to Italy, but he was in the desert for 91 days. By the time he came back, he had lost weight. He couldn't even go back home for two years because he didn't want his parents to see him; so, he stayed in Kano where he picked up a job. It's a very serious thing and I'm doing my part," he said.
As part of his contribution, the rapper plans to go along the migrant trail and shoot a documentary, which will be used as part of his sensitisation campaign.
"Of course, it's dangerous, but we are going to partner with people that are serious about this campaign; I know the EU are interested in the project. We need to educate young Nigerians about the dangers of such ventures," he said.
As for those, who genuinely need to embark on foreign trips, "the Immigration is very focused on getting information for young people; if you have to travel, you need to do it the right way. We also plan to do a song with a video on this; I'm excited about this project," he enthused.
I'm more involved with Chocolate City now
NOT too long ago, there were rumours that M.I was gradually disengaging from Chocolate City. By the time he floated his record label, Loopy Music, many concluded that his relationship with his long time boss, Audu Maikori, must have gone sour. But in a swift reaction, the rapper waved the rumour aside, pledging his allegiance to Chocolate City.
His words: "In fact, I'm more involved in Chocolate City now than before; I became the VP of music last year. After a long while, in appreciation, the company gave me shares in the label, of which I'm very grateful. Later, they said, 'M.I you brought Jessy to us, you brought Ice Prince and Brymo; you know what .. run this label for us now? Audu the CEO has now become the CEO of Chocolate City Group, so, I run the label. Of course, we have Paul, who is the Chief Operating Officer across the group and we have Yahaya Maikori, who was the chairman of the Board. But now, Bello Osagie is the chairman of the Board."
As for Loopy Records, his brainchild, he said, "when I started Loopy Records, everyone thought there's going to be a friction. But Chocolate City is like my wife; Loopy Records is my daughter. I don't run Loopy Records; it's my company, but I have a CEO running the business."
Was there any issue that made you to set up your personal label?
"I didn't start the business because I was unhappy with Chocolate City; it's just about growth. Chocolate City has its focus. As a person, I saw something else and went to Chocolate City to say, 'I want to start this thing,' and they were happy for me. In fact, they even own shares in Loopy.
"So, it's a great partnership; this is like working with brothers. Audu .. he's such as great mentor and brother. So, it's one family together, just that as we grow, it looks like we are growing further apart, when we are actually growing stronger," he said.
He continued: "In recent times, I sort of sat back to do more corporate stuffs. We always take it for granted as artistes; when we see people like Jay Z doing CEO of Def Jam, we think it's very easy. It's a lot of hard work; you need time and dedication. You have to listen more and pay attention; I just had to take out some time to learn. My focus is to position the label (Chocolate City) as a music force to reckon with."
Loopy Records is primarily a label that focuses first on talent.
"Lucky enough, we have artistes that we feel marry both – talented and commercially viable. Hip-hop is doing well in Nigeria, but what about the other genres? What about people, who want to play live music?"
When you talk about humility, M.I has it going for him.
"Maybe it's because where I'm coming from. It used to confuse me when people say 'M.I, you are so humble.' Unless you think you are big, you can't be humble. Somebody like me, I don't act like I'm anything. Humility to me is somebody that is big, but pretends to be small. But I'm small, what's there to pretend about?
"Yes, a lot of artistes are misguided; you get into fame and start to believe that's you; it's very dangerous. But I like the fact that in Nigeria, the society would call you to order. They will tell you, 'who are you? Who do you think you are?"
To the rapper, humility is the way to go for any artistes that wants to succeed.
"One of the greatest exports Nigeria has ever had in the hip-hop scene is such a humble guy; Tuface Idibia. No matter how humble any artiste thinks he is, Tuface continuously embarrasses you. He's so humble, so down to earth; he is such a great guy. If we have such a guy to look up to, we have no option but to conform," he said.
Not minding his high rating in the industry, you still see M.I rolling with upcoming chaps.
"God has really blessed me to be around some of the best young talents. When I was coming up, I had the likes of YQ, General Pype, Wizkid, Eben, Ice Prince and others on my first album; it was an opportunity for me and for them. I think that's how the industry should be. You need to learn what's going on. Also, if you have the mind of helping people, it gives you the opportunity to make impact," he said.
Looking at his success career, with fleet of cars to show for it, one might begin to think M.I was born with silver a spoon. However, the truth is that hard work and humility brought M.I this far.
"My parents tried; we didn't have a lot, but love is everything. If your parents love you and they work hard, they can shield you from a lot. As a young person, that's the lesson I've learnt; no matter what the situation is, just work hard and do your best," he said.
"Coming into music was not easy at all. But for me, I'm somebody that has never seen myself as something. So, it is just part of the process for me. The truth about it is that, it gets harder the higher you go. You need to be more focused. You just have to keep working and stay humble; surround yourself with people that can tell you the truth," he added.
Share your thoughts..
B3rrilyn
Follow NaijaVibe

NaijaVibe HoT DOWNLOAD
👇