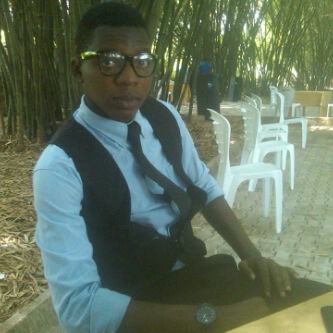 I have actually not written in a while not of my own making,
But NYSC is over and I've been trekking the streets of Lagos,
Submitting my C.V everywhere possible,
I can bet that even that office where you work has a copy of my CV.
Please, if you come across it,
Kindly inform your Oga at the Top to please
Help your man out.
Thanks and God bless
Anyways as usual my story goes way back
(Nollywood classic olden days flute begins to play)
To a time in the university, when I was popularly known as MC Stevo, and ma phone always used to ring with calls to anchor shows.
I had gotten a phone call from an upcoming crew in school,to anchor their clothing line Launch party.
The party was making headlines in the entire school,Cos the concept and mouth wen the boys put inside the thing plenty gaan.
Very Few red carpet parties where holding in school, and this was going to be the first of its kind,
With the Glitz and glamour of paparazzi and models.
They even went through a hellova time selecting the red carpet anchors.
Me sef, wen go anchor the main event, dem book hotel room for me
And even gave me their custom T-shirts, that I would have to wear that day.
Nice..
Mobilization and publicity, na die.
I got phone calls from female friends in neighboring schools,
Who told me they had been invited and would be around for the party.
Omo mein, all in all this was going to be a blast. I had to be on my best.
No time the D-Day reached.
Rain started falling
Rain fall fall fall fall ooooooooooooooooooooo
We begin fear.
Party wen suppose start by 6pm
Delay till about 8pm
But I like young people.
That rain was on its own
The general mindset was one of:
If thunder like make e dey strike inside the party venue
E go dey fire us as we dey rock.
We must dey there..
As they still trooped in, in their numbers
If you see crowd eh! Jisox!!!
My Horny school boys can't fit to dull
When dem don hear say convoy of babes dey come from all the neighboring schools
And with 1:7 Girl Boy ratio in my school,
This was that sea of babes,
A lot of boys had been praying would flow through the school
So they could cast their Setting P nets to catch their kote, Titus, Croker or whatever kind of fishes the Sea goddess would bless them with today.
The babes,
Both the Internal and External ones….them no gree at all
The designers of all this their millimini gowns eh! Only god go judge them
Ahn ahn!
Den they wee now wear all these tops with bra's wen go come package the bobby like can coke
Choi!!!!!!
Men go dey look mineral dem no fit drink…. #sad.
But all in all you get the general idea,
The Red carpet started in earnest and all of a sudden,
It Seemed everybody just returned from jand, see accent everywhere.
(nodding) Dat one sef dey.
In an hour it was my turn to coordinate things
I was introduced to the crowd,
Amidst cheers and girls tearing their shirt and throwing undies at me
And begging me to sign in hinterland places on their bodies ("stevo sign here sign here please")
Yeah!! I know bad belle! Na lie! Mtchewwww
But trust me people shout sha
I got on stage,
Looked at the crowd,
Choi! See babes everywhere.. I mean there were boys there too but c'mon na
Na the babes a straight nigga like me go see na
I gave the best Performance of my Life that Night
Cracked all the joke for this life
One babe fell down from her seat and was clutching her stomach
And for my mind am like "correct!!!! Market dey move".
The event was going well
But you know boys na
Anything wen dey happen for party no be their concern
Only one section concerns them
DANCE DANCE DANCE
I kept the atmosphere alive, buoyed and prepped the girls
For the defining moment of the party
Even taunted them, that they could not handle the boys here..
All the taunting suppose be play o
Until I see babes they shift seats go side dey clear space for dance dance dance
Chineke!!!!!
Sharperly Dance Dance dance started
Choi!!
The babes were on fire
Very minimal forming, and since they greatly outnumbered the boys and were from another school.
I guess they travelled down to just give it hot to my school boys
See rocking everywhere..
Normally,
I have a system, a principle of sort.
Whenever I anchor an event like this and it goes very well
I usually just sit at a corner and watch the dance dance happen
Whilst sipping something, since it is a personal rule for me not to drink on the job
But omo today, that principle na for my pocket
These girls carry me
"ehen! Mc make I rock u small" na wetin u go hear
And before u know, person wen say e wan rock me "small"
don hook me for wall, dey grind me like fresh pepper….
And like say na wrestling, before 5mins another one wearing a far shorter gown
Than whoever I was dancing with before go shake the other one hand, enter the grinding ring.
E no easy o
When you're under such enormous amount of rocking induced duress,
It's difficult to tell your Oga down below not to react
It all of a sudden starts pointing upwards
And if the source is not removed quickly everyone would see it happen.
One babe wan rock my soul sotay
Reaction bin wan start
I had to be thinking of our savior.
How he was flooged, how he was crucified, how he cried, how he took my sins away
Even dey hum sober Christian music for my head if it will allow my oga to remain at his normal place.
And seriously it works. Tested and trusted. You can try it.
At a point I could not take it anymore I wrested myself off the hands of the current grinding machine and made towards the door slowly,
Blending in with the crowd and hoping no one would catch me again
I needed to rest mein, I was exhausted and needed a drink
I don almost reach the door
When I heard "steve are you leaving, we've not danced na"
I wanted to turn and rudely reject the dance offer
When I turned back and saw
Jisox!!!!!!!
The girl set abeg
Mapoyakakak talalala mfrinto ( yes! E reach to speak in tongues)
Her eyes were just out of this world
Very pretty young lady like this, clad in of course a micro MINI gown
Nice curves, and just forget mein the girl make sense
How me, wen bin wan vex before begin smile, I still can't fathom
But I managed to explain to her that I wanted to go for a drink
And that she should join me.
She put her hands inside my own and as we dey waka e dey like I win world cup
To cut Long story short
I was flirting with the girl
And she was flirting back
We did not return inside the party hall
Dis one wen I dey for outside here pass whatever I could get in there.
1-2 buckle my shoe d babe don dey my Lap
We just dey talk funny, dey laugh, drink don dey enta eye..
Normally, I don't pick up girls too from a show based on principle
But this particular night, I was like omo mein let me just go with the flow and
Before I know, we don dey waka go the room wen doz organizer boys book for me
And as I put my hand inside my pocket to bring out the keys
I couldn't find it
I cursed out Loud because I knew what had happened
During all the grinding one of the organizer boys asked for my key under the guise that
He wanted to safeguard something in my room
And me wen dem don collect all ma sense with rocking
I just free the sharp guy key
Now he was in there, blocking dis my paroles
Guess tonight was not my night.
So na so we dey o,
Entered inside for some small rocking
Came out went to one corner of the venue and sat there
Sha sha I stole some kisses
And since we could not proceed any further we exchanged phone no's
In the hope of continuing in a much more conducive atmosphere **winks**
I had the feeling all that happened that night could be blamed on the alcohol
But with the way we continued flowing over the phone, and with a promise that
She would visit the next weekend..
I sha was hopeful..
Friday The next week: The Deal Day
She arrived safely in the evening..
We went to eismann fries to hang out with my guys
Amidst them teasing me about how this night na die
"Stevo the man for the job"
"Stevo the great fisherman"
"Stevo, Mr. all night Long"
"Stevo the Oga at the top" (lol they did not say that obviously..)
Give or take in a few hours..
We were prepared to go home
I noticed she did not drink much that night sha..
But anyway na way..
We got home..
(GHEN GHEN)
Na me first enter go baff
Cleanse maself in preparation for the ceremony ahead
Came out looking all fresh and clean
By then too she had unloaded all those their bags them dey kari come..
Entered the bathroom too to have her bath
Me just lie down for bed as a gentleman turn face the other side
Make e no dey like I dey rush sha.. lol!
I Had entered the bathroom after Stephen had got out
I peeped through a hole in the bathroom door
There he was on the bed
All smiles, and spread out in anticipation of a great night ahead
I still had not decided if to fulfill his dreams or just outrightly dull him.
I took my time to undress
Showered for what seemed ages until I knew he would start getting uneasy
With the amount of drinks and dancing tonight
It would be expected that fatigue would get to him with all this my time wasting in the bathroom
But once more I looked through the door
And he was eyes were wide opened like those lions in NATGEOWILD waiting for their prey.
At a point he could not bear it anymore and he called "honey are u okay, in there"
I just reeled in laughter.. kai! boys eh!
I must suffer him a little..
Which kain dirty baff dis girl dey baff sef
She dey wash trailer?
Make she do come outside na..
Hope she's sha not dead
"Honey are u okay in there" I asked
And her lovely voice responded "all correct sir"
SHE STEPPED OUT!!!!
Let's first start from the fragrance dat filled the air
Gave my room this kind of dreamy feel, like I was in a fantasy
And then on to the nightie
No need to describe am my people, just know that It was intended to cause maximum brain injury
It took me a lot to comport myself aswear
Cause at a point my mouth was open
U need to See how he was looking at me with open mouth
I had achieved my intentions
Tempt the hell out of this boy
Stars, where beginning to build up in his eyes, different fantasies of the would-be tonight
I had my own plans for him too though
So I quietly went to the bed
Laid down beside him and faced him encouraging him to say
The exact words I knew he would say
"wow youre beautiful" I said to her
And she smiled with those her beautiful eyes dimming a little
In acknowledgment of the compliment
"thanks" she said, "but did you really think so before now?"
Ehen! Babes, dey can like dis thing eh! See question
I had to pick my words carefully,
I had to combine the right amount of water and bimbo detergent to ensure the washing was successful
"of course, I have always known so, but you see it seems like the perfect thing to say this moment.
looking you in your sparkling and enchanting eyes and having you this close to me, Just makes me want to say it over and over again all night long"
Shebi u sef feel that line na.. (hi five joor, she dey craze drycleaner like me? She never see washing)
"Wait so this is the perfect time? Or is it just because I'm lying on your bed in a nightie?"
if you see the big spit wen I swallow, am sure she noticed, dis girl wan make life hard sha.. WTF mehn!
"I actually think it's the perfect time cos dat day at the show my tots wia not so organized and stuff
But now I'm beholding you again, I just had to voice it out, that's what makes this time a perfect time (I say make I switch topic sharperly) and about the nightie
I really really like it, it's really cute on you"
Wen I think say e don finish she cleared her throat and was like
"oh! So it's the nightie you like not me eh?"
Now this was just outrightly annoying
I go begin write jamb again after I don get admission?
But all week over the phone before coming here
Na she dey ginger my spirit since, so why this kind of dulling all of a sudden
Anyways this is the drill I just gast follow through
"c'mon now honey, the only reason I even remotely like the nightie is because you are wearing it, Am sure it would be far less admirable if someone else not as beautiful as you are did wear it, I like you a lot, plenty, much, numerously, uncountably, you've been at the center of my thoughts all week and every single day has been counting down to
This day when I'll eventually see you. I'm happy you are here, so I can get to know you better and understand why I'm falling
For you the way I am."
(abeg try clap for me, abeg! I suppose open church see preaching.. If that one no work
Then obviously my village people are at work again, or what do u think.. abi?)
She went silent and just kept looking at me for about 5mins and I was wondering what she was thinking
The washing work abi e no work..
Stephen, very funny boy
I could see the rising frustration on his face with each of my questions
Am sure if not for God he would have maybe broken my head.. LOL
But he was just a gentleman, responding to every single one of my questions
In that sweet way that makes a girl feel like the entire 9 planets revolve around her..
I saw the way his eyes looked longingly at my nightie
I had chosen this one out especially.. cos of its tantalizing effect
After his response to my nightie question, with that long poetic line
I kept a straight face and just kept looking straight at him..
LWKMD4H
He struggled to maintain a straight face, but I could obviously see the
"abeg wetin dis girl dey think sef" thought showing occasionally on his face..
This was a true test of patience..
I wanted to see how far he could go.
After about 5mins I smiled..
5mins later she smiled
And said "that was just so sweet"
I took the cue to mean that was a go ahead..
I moved a little closer and continued saying plenty other sweet sweet things
Abi na sweet things she want.. she must get diabetes this night..
She kept up with the smile..
And I kept inching closer aiming for that kiss.. **winks**
Small small
D distance between the lips don dey reduce
Den I angled my face a little ready to dive into the kiss..
And just as my lips landed on her face
she moved back a little and said
"steve your rushing things, slow down a little, like you said, tonight lets get to know each other better at least before anything happens"
S M. H
"I know most boys are football fans, so what is your favourite club?"
No way!
No no no
This was a deliberate attempt.. this girl know wetin she dey do..
She wan frustrate my life.. but Tufia! Dat ain't happening
Long story short I was a nice guy
No rushing for this life
My middle name na patience
I kept answering her.. "I like Chelsea and u?" (although no be with my mind I ansa dat question oh.. LOL)
Favourite Club?
Wia did I think of that sef.. but dat was enough to test his patience
D boy don tire for me by now
But he kept answering questions..
Although with obvious frustration sha
I decided to end his suffering temporarily sha!
I held his face and gave him a kiss at the point he was answering what his best food was..
Well I don't really have a best food my best food is..
Omo see kiss!! Chileke! I wanted to pause and wonder for a minute why the kiss was comin now
But mein no time to check time
I mean, I can wonder very very well when we are done with every..
The girl lips soft abeg
Slowly I carry my hand go back, while opening one of my eyes to see if she go wan move back
But she held me tighter.. choi! See Jackpot oh!
My hand began to move places
Begin dey grab, dey touch things, dey kiss things, dey turn up and down
One minute I dey up
Next one I dey down
I just dey everywhere.. east, west, north and especially south..
Nightie don dey short more more..
With no single resistance from her own end..
Nightie off, my boxers in an unknown location in the room, given the force I flung It away with
When the thing don dey wan turn obstruction to my happiness.. lol
So in a few minutes.. na adam and eve na him dey d room
Everything was heading towards **coughs**
When all of a sudden..
The real..
GHEN GHEN
GHEN GHEN GHEN GHEN (ACTION time must dey my story na!!! I dey mad?)
BAD BOY, Stephen
he was in full control of the situation and I was merely at his mercy enjoying every bit of it
turning me left and right
probing and prying delicate areas of my body
letting throes of passionate sounds escape my mouth.
it Was all goin well till I was losing my breath a little
I tried to adjust myself a little but still..
I could not breathe properly..
I think I knew what was happening..
After almost months of it not surfacing?
I was having another asthma attack
She started coughing, and wheezing,
The devil in me was like abi dis girl don start again
C'mon na not at this point wen my oga don ready to login into the nscdc website
But on closer examination of her face..
I saw the genuine and intense struggle to take in air..
Her breathing became faster and more labored
Panic struck me as I quickly realized this was an asthma attack..
Whatever medical knowledge I had in me was coming to light
Cos if this girl die here..
Newspaper will read
"student kills student with nothing but love making"
Nobody go hear say, we neva even start anything..
So my priority here was to ensure she stayed alive
I quickly opened all my windows and doors to ensure there was enough air in the room
And I proceeded to search her bag for an inhaler..
But as I was doing that, the labored look on her face told me the obvious
Which was that she did not have one as she had not expected it to happen
KAI I DON DIE.. so dis is how I went to prison finally..
Because of rubbish
My oga below dropped instantly
Panic seized me, she was now seriously gasping for air
And in all my adamic nature, I was confused as to what to do next
When I remembered that the caretaker of our lodge.. ONYEOMA..
He Was a go to person.. He lived in – house.. at the lowest floor while I lived at the topmost floor
Of the lodge.. he just had this funny way of having whatever you needed at hand.
Boys in d lodge used to tease him dat if someone wanted a human head.. onyeoma must have
And so I was just convinced he would have an inhaler..
So with my ordinary nyash because I was too confused to even find my boxers
And my lodgemates seeing me naked as against a dying girl.. My choice was obvious
I dashed out, flying steps in a bid to get to onyeoma's room before the girl died..
I don comot say make I piss!.. na y i no dey like to drink star.. piss piss every minute..
Even for this midnight.. I know knw d fool wen still dey play dis kain loud music
Abi if I go there now go talk.. dem go say ONYEOMA wahala too much..
As I comot for my door.. I hear person dey run come from upstairs..
All dis foolish boys for dis lodge only God know wia dem dey run dey go..
I waka go near the step say make I see who be that.. wen I see one naked mad man dey run wan come catch me..
Chileke!
I tear race.. dey run go my room
As I dey run, the mad man dey call my name.. dey talk say onyeoma onyeoma no fear na me..
Na you who? No time to ask, na make I reach my room carry my cutlass, scatter him head be my own
As I enter my room.. wan go where my cutlass dey.. d mad man dive me come hold ma hand..
Heiiiiiiii!!!! I shout
As I got close to the step I saw onyeoma and he took off
Wouldn't blame him, much, with darkness and a young naked man running towards you,
We would all have the same general reflex response
I chased him immediately towards his room
Flew at him, grabbed his hands and managed to muffle the scream he was about to let out.. plus whoever was playing the loud music also helped my case!
I calmed him down.. and managed to explain my predicament to him..
He could not stop Laughing.. after he realized what had happened..
So you wan use dis ting he said pointing towards my down below kee d girl abi..
"onyeoma abeg we go laugh later.. just give me inhaler abeg or follow me go upstairs"
Just like I thought..
He had an inhaler
What he was keeping one for I still don't know
But long and short of it,
We both went upstairs, the babe was almost immobile when we got there
Or so she looked because I was panic stricken..
Onyeoma took over from there..
His eyes widened as he looked at her body, he turned and looked at me too as if to say "kai so na wetin u wan enjoy b4 devil punish u be dis?"
He started Applying the inhaler, and generally helping her recover
He was so good at it..
I just sat at one corner.. Watching the proceedings and praying that she recovered
After some minutes,
She slept off..
Onyeoma left me with the inhaler, some good laughs, and a promise not to tell anyone..
Even while she was sleeping
My mind no dey at rest at all
Once in a while during the night because I could not sleep
I go still go check her body, see whether she dey breathe..
Morning no gree come..
We come get longer night shorter day..
When she woke up,
The next morning
She was looking better and as if nothing happened
But omo mein.. once beaten hundred times shy..
I managed to convince her to go home and see a doctor
Since she said it had not happened in a while..
The girl no wan go sha
Dey form she wanna spend time with me..
The devil is a liar.. abi una know..
She left..
I laid on my bed..
Thinking of what would have been
Thinking of how I would have been an ex-convict
Thinking of how na so all my engineering pursuit for end..
Thanking God for saving my life
For his goodness and mercies
Promising myself never to bring a girl home again (eh! I know say na wash.. but relax na part of the thinking process)
Whew!
Close shave
And while I was thinking of all this things
An sms entered my phone, it was from her
It read
"Stephen, am really sorry, about how things went yesterday night, your a really cool guy and I like you a lot,
Your funny and wonderful to be with.. it's just unfortunate things went the way they went last night.. I promise
Next weekend I'll come over and I'll make it up to you.. cross my heart.. TCCIC xoXO"
Hian
see me see wahala o
We dey talk d one wen happen d babe dey cross heart say she go do another one..
This my village people sef eh! They were hell bent on ruining me..
I kept looking at the phone
And all I could think of was "the devil is a liar" not again mein not again..
Baby better uncross that your heart.
Cos if I try it again, the newspaper headline would be something like
"Student kills fellow student with his Oga Down Below"
Dazall
Thanks for reading
Be sociable, please share on twitter, bbm, facebook
Twitter – @itsunclestephen
Bbm: 21F24441
NaijaVibe HoT DOWNLOAD
👇