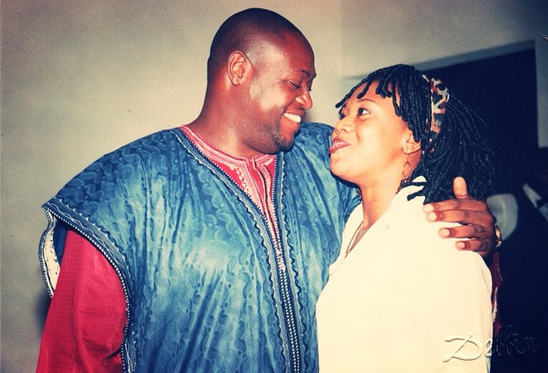 See her tribute on his 10th death remembrance anniversary. Stella Damasus' late husband and father of her two children Jaiye Aboderin slumped and died while playing basketball with friends on December 3rd 2004. He was just 33 years old. May his soul continue to rest in peace…Amen
Every morning I open my eyes from sleep, the first words that come to my lips are 'Thank You Lord for the miracle of sleeping and waking up'. I am thankful to God for his grace, his favor, his blessings and also for the privilege he gave me to have had an amazing man in my life who was my friend and husband. JAIYE, today makes it 10 whole years that that you left us here to a better place. It's been 10 long years without your words of wisdom, your gentle personality and your warm heart.

You were a source of strength for me and everybody that came in contact with you. Yes, you left us suddenly but the impact your short life had on this earth will stay with us forever. I miss you Jay but I know you're in a better place. Thank you for showing me what true love is and for making me know how it feels to truly love and be loved. It is my prayer that people at some point in their lives get to experience someone as great as you.

I've learnt to live life. Love life. I've learnt to appreciate every moment of it because sometimes those moments may be lost forever and never return. I've learnt to say I'm sorry to those who I hurt because I may never get a chance to say it tomorrow. I've learnt to say I love you to those who I love because they may not be here tomorrow to hear it from me. I learnt to say goodbye to those who are in my life as barriers because they may be holding me back from extending love and gratitude to those who should get it. I have learnt to be me for me.

Thank you Jaiye because you brought that out in me. I am grateful for the life I shared with you. I am grateful for who I am now because Sharing a life with you made me a better person. I miss you and the girls miss you too. Continue to rest in peace Jaiyejeje Aboderin.
NaijaVibe HoT DOWNLOAD
👇