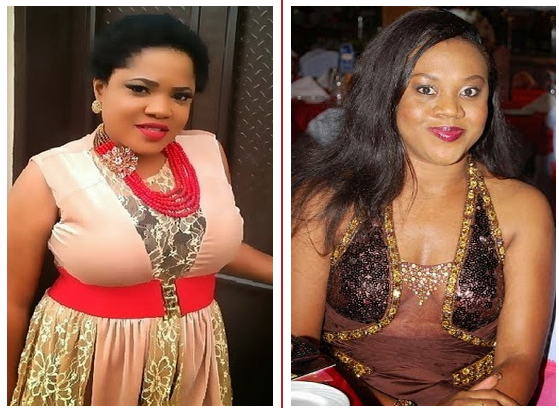 In a video diary she released yesterday titled 'Mean Tweets and Hate Mails', actress Stella Damasus replied mean tweets directed at her from fans and 'haters'.
She read out the mean tweets & responded to every one of them, most times with a laugh. The last one she read out was one from actress Toyin Aimakhu who wrote "Madam, Nigeria is my country. Nobody is killing anyone cos no be only you do video. #VisaDonExpire. #BringOurSonBack #AttentionSeeker #LoveYouStill.
Bring back our son would mean Doris Simeon's son? Well, Stella replied Toyin.
See what she said
Stella replied;
"First of all, sister girl. I love you too. I love you like crazy. Let's just look at your hashtags again. Okay? We need to sort this out. You said hashtag visa don expire. I've been here for about two years and nobody has asked me to leave. And apart from that I am doing a lot of work with the United Nations. So if I had a problem with my visa, I don't think they will be working with right now. I'm doing radio, I'm doing TV. Doing a lot of things and nobody has come to knock on my door to say your visa has expired, leave. Honey, when it comes to the visa let's be sure what we're saying.
And you said hashtag bring our son back. Is your son missing? (looks around and asks 'does she have a son?') If your son is missing, let's look for him. You know me, I can do plenty videos. Tell me and I will scream till my lungs burst or something and make sure they return your son.
Then you said attention seeker. My dear, this issue of attention beats me because I have been told that I have been trending. People talk about me everyday. I don't know who's writing, what they are saying, please educate me. Even people that pay for PR they don't have as much publicity as I do so hey… Love you still!"
NaijaVibe HoT DOWNLOAD
👇