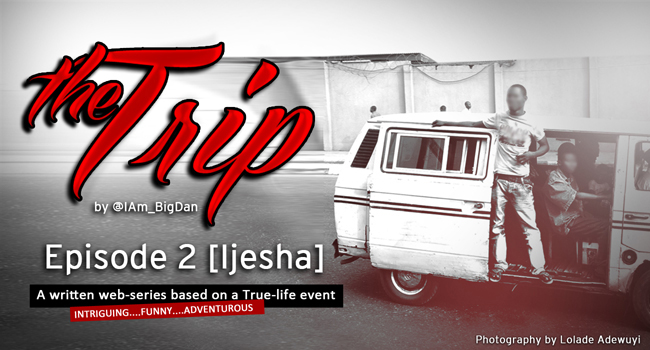 ..As I scanned the Ojuelegba Underbridge bus stop for a bus to Ijesha, I wasn't able to settle for tha Ijesha Scream from conductors in the park as they all barked different location names. Look out for the Long Buses, Ma Cousin had told me. Moving close to the first sight of a long bus I saw, I asked "Alaye! Where I fit find Ijesha Bus?" "Go front, Hold your 70 Naira Change o". I Marched forward, Oh No! This bus is almost empty, I'd have to sit and wait forever before we move.
I Climbed in, settled myself comfortably in a single seat close to the window just before the last row. I thought of my last bus encounter and prayed quietly that this doesn't go like the previous. "Madam move make Him siddon na." The Conductor Yelled at the Fat woman behind me to the far left which I didn't notice as I sat making myself comfortable in my seat. My Head turned left then back, Lo and Behold, My first thought of her size was a blown Airbag. As she Yelled back at the conductor "No Space here o." I instantly got the drill, We'd be sitting 5 in a row. The Tall slim man found himself another seat and the conductor mumbled something under his breathe. 2 more passengers climbed in and it was sure gon' be a long day waiting for this bus to fill up. "Madam siddown well well na, na 5-5 o".
"How the hell would anyone fit into that back when she's taken the space of 3 people?" "You must be very stupid" was the next thing I heard. Damn! I must have been thinking out loud. There were laughs from some young peeps in the bus while the fat lady continued her insults on me. I Turned back to say I'm sorry but her size froze my lips and I just turned forward and buried ma head while I giggled.
Time flew by and the bus was fast filling up. I was lost in my Novel. Nothing seemed to make me lift up my face from the novel as I had paid my fare earlier and was ready to read a great deal of the novel before I alight at Ijesha.
The smell was back! I glanced up to see the reaction of the people in the bus and Goddamnit! The smell came from the "Mallam" who was about to settle beside me. My brain flickered, As he lifted the middle seat, I lost words and mumbled while trynna say "Aboki, person dey there." He smiled at me and spoke a language I understood not. For a moment it felt like this was reality and the previous Trip was a dream. I'd have to cope with this smell till I get to Ijesha? I quickly pulled my Phone out of my pocket to call my cousin asking the distance to Ijesha from Ojuelegba. Fuck it! My phone had gone off, stupid battery.
"Thank God" I said out loudly, coincidentally, The bus hit the cab in front as it tried to manoeuvre its way out of the park. "This boy you be devil, wicked boy" the exact words of the fat woman behind me. Amidst all the "Yeeepa" and other exclamation from passengers in the bus, Her Words did hit me hard. I had to speak back at her this time. "Madam what's with you and me nah? We dey fight?" "Why u go talk Thank God if u no wicked." At that Instant I got it, My THANK GOD which I said was an expression that finally the Bus was full and moving but she took it for the HIT. I Ignored her totally.
I settled back for my novel amidst tha odour, I could hear lil murmurs from peeps in the bus. "Driver my change". I couldn't count how many voices chanted the clause. While the conductor tried settling his debt with the demanding passengers, a very aged man who I depict is supposedly over 70 turned and sat on the engine compartment between the driver and the co-driver seat in front.
"Good Morning everybody o." I concluded already he was about advertising a certain herbal drug as I've seen in most long buses. He spoke in both Yoruba and Pidgin. I laughed out loud as he started his Marketing speech. "Na wa o" Sex related herbs? And he claimed he had tried them and they were effective. I Lost it again as I laughed continuously. This Old man must be joking, But all na Hustle sha.
A voice from behind "Fine boy", I paused reading, steadied ma sight and tried listening again for who was calling fine boy. Then I felt a double sharp pinch on ma shoulder blade. I turned around and WOW!, "Was this FIONA outta DISNEYLAND?" I asked myself. "What's the title of that Novel?" "White Star", "By Who?"…"James Thayer" I replied quickly. "Is it Sweet?", I was tempted to say "No, Its Bitter"….."Yh! Its Interesting" and I turned back front. She was relentless to keep a convo with me, "Can I see it?" I ignored her. "Please are u almost through with it?" I nodded NO without looking back. I guess that silenced her, Who knows? And time went by.
"Gbogbo ero" I turned to see if this was the Market last bustop. I hurried down before the Fat Lady makes a dash for me. As I climbed down and scanned around for the Bike Park, Miss FIONA spoke again, "Fine Boy, Pls wait" and I knew I couldn't just escape the next convo.
by @IAm_BigDan
NaijaVibe HoT DOWNLOAD
👇