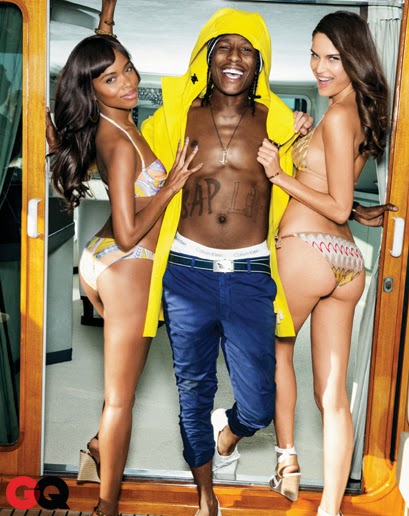 Rapper ASAP Rocky has bragged about having an orgy with nine women after taking LSD (an illegal acid drug which causes hallucinations). He said his drug fuelled sex parties took place this past March at South By Southwest Music Festival in Austin, Texas. Asap who has dated Chanel Iman, Iggy Azaelia told the New York Post
My first tour [in 2012] was with Kendrick Lamar and Drake.
I lost my virginity when I was 13, I f*ked loads of women by the time I was 18. This s*t ain't nothing new to me. I'm not a mainstream n*a. My taste level is so alternative that if I do something that becomes mainstream, it's only because I wanted to do it.
There's definitely a psychedelic influence on my new album,'Makonnen gave me acid at SXSW. This n***a looked like Buddha with a Jheri curl! After that, I went back to my mansion and f***ed nine chicks. It was pretty rad. That's a true story. "Yeah, [nine women] but not all at one time,' the Peso rapper explained. 'It's like group sex. You have three at a time, and then you have three orgies. That's nine chicks.'
"He also slammed Rita Ora in his new single Better Things.. He raps
'I swear that b**ch Rita Ora got a big mouth / Next time I see her might curse the b**ch out / Kicked the b**ch out once cause she b**ched out / Spit my kids out, j***ed up all in her mouth and made the b**ch bounce'.
NaijaVibe HoT DOWNLOAD
👇