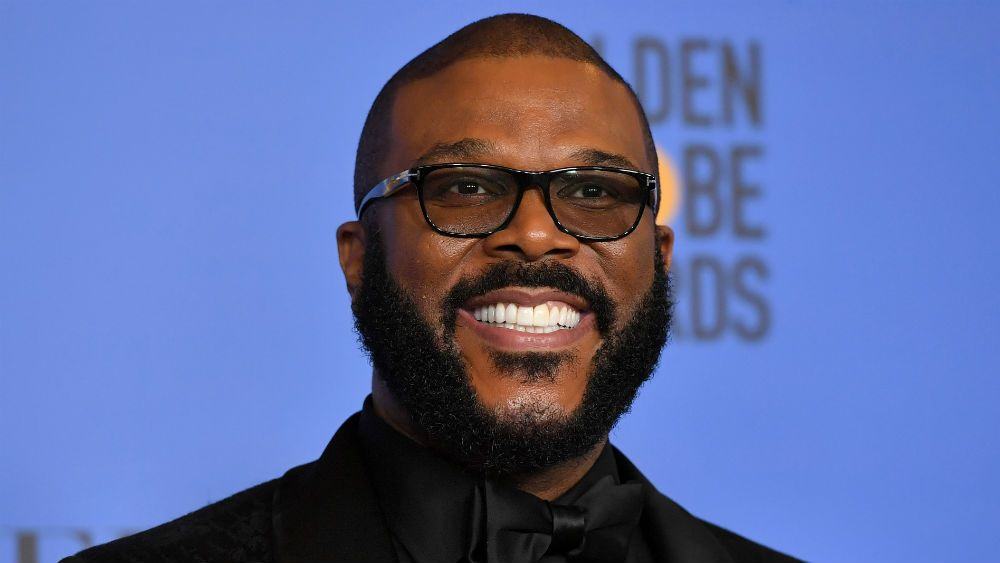 Popular movie maker, Tyler Perry has revealed an inspirational story about how he battled and worked relentlessly to make it in life.
In an Instagram post, Tyler Perry said he was inspired to share the story after seeing some highway signs getting changed.
According to him, the new events reminded him a lot about how far he has come in life.
His words, "Driving into work today I saw these signs on the highways being changed. My eyes filled with water knowing what God has allowed to happen in my life."
"Atlanta has truly been the promised land for me. I came here with nothing, lived off Sylvan Road, ended up homeless and starving, but I was always praying and believing. I was always keeping the faith, knowing that if I worked hard, did my absolute best, kept my integrity, honored every blessing, and remained grateful through it all that everything would work out. And it has, thank God."
"But to all of you looking at my life now, I want to share a scripture/prayer that helped me keep going from St. Mark 9:23-25. It's a simple prayer by a man who had faith, a man who believed, but still had doubts. He said, "LORD I believe but help my unbelief." Even in my darkest times when I wanted to give up, I kept believing, and I asked God to help me to believe past any naysayer, any doubt, and any problem."
"Just know that it is possible to believe in your dream and still wonder how or when it's going to happen. Stay the course. Pray, work, believe and repeat. You'll get there. Just believe for as much as you can, and ask God to help you believe for the rest!"
Tyler Perry (born Emmitt Perry Jr.; September 13, 1969) is an American actor, playwright, filmmaker, and comedian. In 2011, Forbes listed him as the highest-paid man in entertainment, earning $130 million USD between May 2010 and May 2011.
Perry created and performs the Madea character, a tough elderly black woman.[4][5][6] Perry's films vary in style from orthodox filmmaking techniques to filmed productions of live stage plays. Perry is estimated to have earned around US$75 million by 2008.[7] Many of Perry's stage-play films have been subsequently adapted as films.
Perry wrote and produced many stage plays during the 1990s and early 2000s. Perry has developed several television series, most notably Tyler Perry's House of Payne, which ran for eight seasons on TBS from June 21, 2006, to August 10, 2012. On October 2, 2012, Perry struck an exclusive multi-year partnership with Oprah Winfrey and her Oprah Winfrey Network. The partnership was largely for the sake of bringing scripted television to the OWN, based on Perry's previous success in this area. Perry has created multiple scripted series for the network, The Haves and the Have Nots being its most successful. The Haves and the Have Nots has given OWN its highest ratings to date as of 2014, with the series also referred to as "one of OWN's biggest success stories with its weekly dose of soapy fun, filled with the typical betrayals, affairs, and manipulations."
Perry has additionally acted in films not directed or produced by himself, including as Admiral Barnett in Star Trek (2009), the titular character in Alex Cross (2012), Tanner Bolt in Gone Girl (2014), Baxter Stockman in Teenage Mutant Ninja Turtles: Out of the Shadows (2016) and Colin Powell in Vice (2018).
Perry was born in New Orleans, Louisiana, as Emmitt Perry Jr., the son of Willie Maxine Perry (née Campbell) and Emmitt Perry, Sr., a carpenter. He has three siblings. Perry once said his father's answer to everything was to "beat it out of you". As a child, Perry once went so far as to attempt suicide in an effort to escape his father's beatings. In contrast to his father, his mother took him to church each week, where he sensed a certain refuge and contentment. At age 16, he had his first name legally changed from Emmitt to Tyler in an effort to distance himself from his father.
NaijaVibe HoT DOWNLOAD
👇