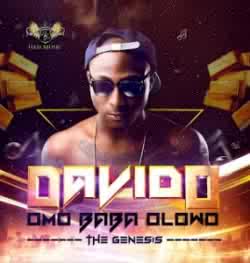 The Wrap Up's Afrobeat columnist Nonny Orakwue recently caught up with Davido – one of Nigeria's hottest new kids on the block. Making his emergence on the scene in 2011 with the smash 'Back When', the teenage artist and producer has already performed to audiences in four continents, opened for DBanj and been nominated for a string of awards.
We speak to Davido about the evolution of the Nigerian Music industry, his heartthrob status and more
The Wrap Up: How would you describe your sound in three words?
Davido: Sexy, enjoyable and danceable.
TWU: You could be described as a triple threat with your skills in performing and production. How did you start out?
Davido: I started as a producer at first in Nigeria, just pushing local artists, then I just thought I would sing. I got tired of taking my work to the studio to get mixed, so I learnt that too and that's how I got into the producing, singing and engineering.
TWU: Which artists have influenced your sound and music?
Davido: A lot of Nigerian artists, from 2Face to D'Banj. I like American music as well, people like Timbaland, Pharrell, Vybz Kartel, Movado – a mixture of stuff really.
TWU: You're best known for your two distinctive hits 'Back When' and 'Dami Duro'. If you could have any artist remix, then, who would it be?
Davido: Chris Brown and Tyga for 'Dami Duro' because I heard a DJ mix on the internet where they put Chris Brown's verse on it and it was insane. For 'Back When' I'd put Rick Ross on it for something hard.
TWU: What was the inspiration behind 'Dami Duro' and 'Back When'?
Davido: I recorded 'Back When' in London on Old Kent Road. I just did it; I came back from the club and went straight into the studio and that's when it just came out – thank God it worked. I recorded 'Dami Duro' back in October. In Nigeria I was getting a lot of critics asking if I was a one hit wonder, so I made that song for the haters really – but I'm happy with how it came out.
TWU: You hooked up with UK afrobeats artist Dotstar on the 'Expensive' remix. How did that come about and do you have plans to work with any other UK artists?
Davido: My manager was helping Dotstar with some stuff when I heard that Dr. Sid was there – me and him are close, so I just hopped on it. I want to work with Tinie of course. And L Marshall; we went to high school together before he moved out here and we're planning to do something as well. Tinchy too that's it really.
TWU: When you're not making music, what do you usually get up to?
Davido: I chill with my cousins and friends but my life has always been around music. I'm trying not to slow down because in this industry I feel like there's always somebody out there that's hungrier than you and wants your spot. If you try and relax, somebody will take it. So I'm Just trying to work, work, work. I'm not even trying to take a break at all.
TWU: Which three items can't you leave the house without?
Davido: My phone, of course! My headphones, because I try and take them everywhere so that I can listen to stuff and my ATM card.
TWU: Right now in African entertainment you're seen as a bit of a heartthrob. What is your ideal woman?
Davido: I don't really have an ideal woman, it is just whoever I fall in love with; but she would be smart and have her own money because I'm not into girls who just want money. I'd like someone who has her own goals and who would support my stuff.
TWU: You and the whole HKN crew are quite distinct in your style – you dress in a similar fashion to UK and US artists. What has been the response from the older generation in Nigeria?
Davido: If I am performing at a wedding or something I make sure not to expose my body, but I feel like the people that really care about things like that are getting older and younger people are replacing them. In America, there are a lot of things you can get away with in the industry – you can have sex tapes or pictures of people smoking and people don't really care. I am not saying that it is right, but I feel like in Nigeria people are moving more towards that direction; but people have to be careful. I look at myself as a role model and I wouldn't want kids looking at me saying 'Davido has tattoos, I want tattoos!'
TWU: Speaking about the evolution of the Nigerian music industry, where do you see it going?
Davido: I see it going super international. We have D'Banj working with Big Sean and Kanye West and P Square working with Akon. It's crazy, it's about to go down!
TWU: Finally, what features or collaborations can we expect from you in the future?
Davido: I have tunes with Ice Prince and Wizkid coming out, and May D and I would like to work with Flavour.
NaijaVibe HoT DOWNLOAD
👇