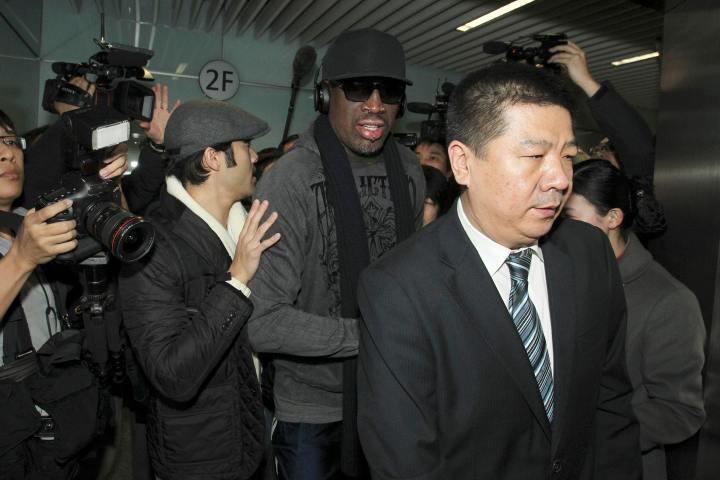 The tale of Dennis Rodman's bizarre visit to North Korea got a little stranger on Monday, when the former NBA star's visit to Pyongyang became a topic at both the White House and the State Department. At press briefings in both buildings, Obama Administration representatives spoke with caution about the quality time "The Worm" spent watching a basketball game with North Korean leader Kim Jong Un, whose regime calls America "the sworn enemy of the Korean people" and produces YouTube videos of Manhattan's destruction. And they implicitly rejected the invitation conveyed by Rodman on behalf of Kim for Obama to pick up the phone and call the North Korean leader.
The United States has direct channels of communications with the DPRK
explained White House spokesman Jay Carney, using the acronym for the Democratic People's Republic of Korea.
And instead of spending money on celebrity sporting events to entertain the elites of that country, the North Korean regime should focus on the well-being of its own people who have been starved, imprisoned and denied their human rights.
The State Department offered a virtually identical response:
We have direct channels of communication with the DPRK
deputy spokesman Patrick Ventrell said dutifully, before repeating the rest of Carney's response almost verbatim.
North Korean words and stunts such as this have no meaning
Ventrell added.
What matters are the actions they take and the need to come in line with their international obligations.
Is it true that Rodman's trip had no meaning at all? Clearly, his visit to the country (sponsored by Vice Media, which is filming for a newsmagazine show that will debut next month on HBO*) isn't about to alter Pyongyang's nuclear policy. But wasn't there value in seeing the Hermit Kingdom's relatively new leader's weakness for American basketball – one that American diplomats might try to exploit?
Not really, say some North Korea experts.
We have learned something more about Kim Jong Un's love of basketball
says Charles Armstrong, a Korea specialist at Columbia University's School of International and Public Affairs. But, he adds, Kim's fandom was already known to outsiders, in part because it was shared by his hoops-loving father.
And while hanging with Rodman – who in his post-NBA life has become an oddball reality-TV character – might reveal Kim's comfort with American culture, that shouldn't surprise anyone, either. Both he and his late father Kim Jong Il are known as fans of American movies and other cultural exports:
Hollywood and NBA may be American icons, but Kim's demonstrated affinity for such forms of amusement does not signal an overture to Washington
adds Sung-Yoon Lee of the Tufts University Fletcher School of Law and Diplomacy.
It certainly does not indicate intentions of reform or opening, coming just a couple of weeks after a nuclear test.
In July, after all, North Korean television aired an unusual video of Kim taking in a performance that featured Mickey and Minnie Mouse, as well as women in clothes that were revealing by North Korea's prudish standards. Yet that glimmer of cultural liberalization didn't prevent Kim from overseeing a provocative missile test a few months later.
But while Rodman has been pilloried for praising the leader of a regime that operates gulags and presides over mass hunger as "awesome", Lee cautions against assuming that his visit amounted to a domestic p.r. coup for the young dictator. It's not clear that Kim, an heir to power with few accomplishments under his belt, has the full trust of his country's powerful military establishment.
If anything, such displays of pro-U.S. pop culture will only irk the old guard. Kim Jong Un clearly lacks the gravitas that his counterparts in the neighboring capitals carry, and even that of his late father
Lee says.
He may believe that he is exuding an affable 'average guy' image by being seen with Rodman but to some Koreans he may underscore his image as a lightweight.
As for Obama calling Kim: it's not going to happen. As a candidate in 2007, Obama said he would hold direct diplomatic meetings with North Korea's leader and criticized the Bush Administration for not conducting more aggressive diplomacy with Pyongyang. But as North Korea has continued to test missiles and nuclear weapons, even multilateral diplomacy has been stalled for years. Today, Obama's North Korea policy is largely shaped by Seoul and Beijing, and mostly amounts to "strategic patience", which translates as buying time and hoping that the regime buckles or collapses.
Surely a little more insight into the thinking of North Korea's reclusive leader would help the Obama team plan its next steps. But at the State Department on Monday, there was little sign that top officials would be contacting Rodman to hear about his quality time with Kim.
We welcome those who want to get in touch with us after a visit to North Korea
said Ventrell.
We take the call.
But when it comes to Rodman, he added: "We haven't been in touch."
NaijaVibe HoT DOWNLOAD
👇