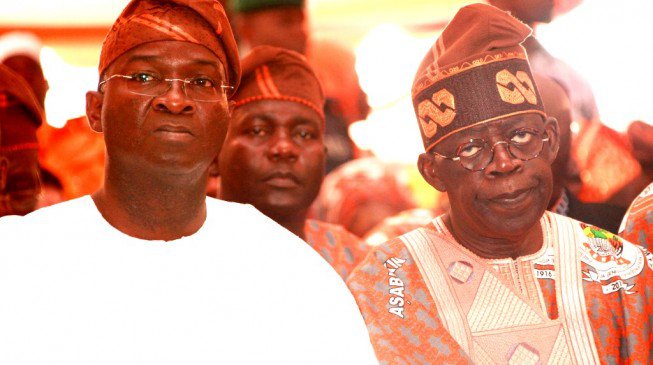 Suddenly on Saturday morning, a new player came into the race for the APC ticket for Governor of Lagos state; thus the fight was made official and the date is 8th October, at the gubernatorial primaries for APC governor for Lagos state.
The first round of this fight was held 4 years ago when Gov. Fashola wanted a second term, and the undisputed head of the ACN, Bola Ahmed Tinubu, said "NO" because some of the governor's actions were clearly out of plan. The fiery gloves were worn, and both political pugilists (who hitherto were father and son) were poised for the fight to actually begin. Alas! A truce was declared at the nick of time, and both parties left the ring with what they wanted.
The second round of the fight has come with a blistering surprise; this time the protagonists, the Governor of Lagos and the leader of the APC, are merely playing the role of ruthless sponsors. For the Governor of Lagos on the blue corner is Sasore (SAN) and on the red corner is Ambode (ICAN) for Tinubu.
I'm in support of a healthy and transparent competition, and may the better politician win. But I fear that the winner of this political battle may be determined by who has more money to throw around or by a deft political intrigue masterminded by the protagonists to chart a new trajectory for APC. In other words, the battle may provide answers to either of two important questions?
Question 1: whose cash chest is bigger, Fashola or Tinubu?
Question 2: Is this like the "make believe" fight we witnessed with Bukola Saraki and his father four years ago where they made Kwara people believed father and son were fighting for the soul of Kwara when it was just a hand over of the control of Kwara politics from father to son?
The second question and premise is inspired by a supposed hidden agenda that the great man, "Lion of Bourdillon" is about to systematically pass on the throne to a worthy technocrat, Babatunde Fashola (SAN). Don't ask me how this will pan out, but a shocking revelation may just be on the way?
Scott Oritsejemineyin Igbene
Living in Lagos since 1974
Follow NaijaVibe

NaijaVibe HoT DOWNLOAD
👇