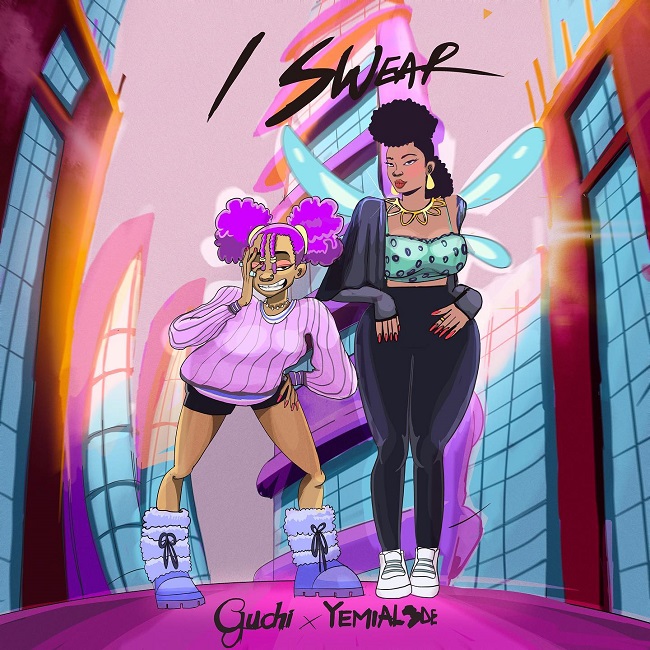 Guchi & Yemi Alade – I Swear
Guchi and Yemi Alade share remarkable chemistry on the record titled "I Swear".
For her new single "I Swear", Nigeria's purple pop princess Guchi arrives decorated with a highly anticipated Yemi Alade collaboration. Over a soothingly steady afro-groove knitted by ChechDaProducer, Guchi and her guest are struck, smitten and unabashedly bleeding sonic love. This release marks the last lap before the delivery of Guchi's second studio project.
While Guchi is the crowned queen of heartbreak pop, this song represents a different phase of the cycle that produced hits like Jennifer and Shattered. "I Swear" addresses steadfast love and its calming effect on a satisfied partner. Guchi and Yemi Alade go verse for verse, in the appraisal of a lover who ticks all the boxes. Guchi acknowledges the insanity of this kind of love and Yemi pledges her availability, pleading for the emotional frequency to be maintained. The chemistry shared makes both stars almost indistinguishable, as they seamlessly blend their auras on the track.
The cultural significance of Guchi and Yemi Alade's alliance is just as beautiful as the music. The product is a contending fan-favourite, laced with millennial appeal and bursting through the borders of their unique demographics. Killing two birds with one song, Guchi's fulfilment of working with Yemi Alade also quenches the thirst of fans who have long hoped for the duo to collaborate.
I Swear is available for streaming and download on all preferred digital music platforms.
Listen Up & Catch the Vibe!
Guchi & Yemi Alade – I Swear DOWNLOAD
NaijaVibe HoT DOWNLOAD
👇