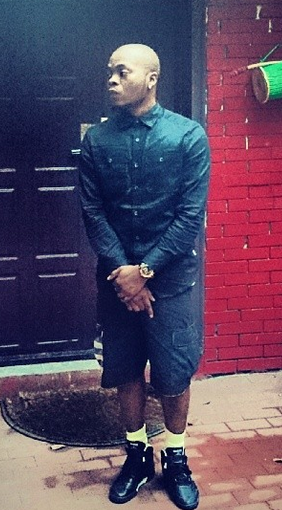 Nigerian Rapper Olamide recently had an interactive session with pressmen at his office in Parkview Estate, Ikoyi to address controversial issues, his career, boo and lots more.
Enjoy!
Olamide known for his indigenous rap style, disclosed that he is the black sheep in his family adding that he doesn't have a good relationship with his parents.
My mom and dad.. I've never been that close to them. I don't stay at home often; I am just that stupid boy, more of a black sheep. I can't lie about it but the blood and love is strong. We love each other so much and we still keep in touch but my brother and my sister are closer to my parent. I am the middle child – between my sister and my brother.
On his academics
I dropped out of school for music but I intend going back. I will be doing a professional course in South Africa to study Music Business and I'm certain about it. Hopefully in 2015.
Clearing the air on his alleged beef with singer Wande Coal, he said
We never had any beef. We spoke on phone three days ago. When I heard the gist, I was also surprised. He is my guy, he is a street boy like me. Why I said they want to Wande Coal me, they want to Davido me on my song is that people are just out looking for who to use for a scapegoat, trying to bring you down.. that was all I was trying to say. I don't have issues with them.
He further cleared the air on the controversy he once had with media personality Tony Payne,
Tony Payne is my mother, my angel. ID Cabasa is also my angel. They both helped me to get where I am today in my music career. If not for them, there will be no Olamide. Even if I once had a problem with Tony Payne, mistakes are meant to happen; nobody is perfect. She got a wrong piece of information about me. Wagging tongues told her stuff about me that were untrue and she took it and got vexed. But she didn't take it to the heart, she's still got it cool with me.
When asked to address his relationship with D'banj, the 'Durosoke' crooner said
D'banj is just my big brother. He calls me to advise me, he hides nothing from me, tells me about the industry, and he respects me for my hard work and puts me through business wise. We were just planning to do business; people hear things and get it twisted. Baba and I are still doing business low key and we have a lot of surprises coming very soon.
On marriage and female fans
My female fans, I treat them like my girlfriend. My girlfriend knows I show them love, but I keep it low key. I don't go too far. I don't want to take anybody for granted. I don't want it to seem like God gave me private part so I should be getting laid with every lady. I appreciate my fans, I show them love.. God will decide when we'll get married
He concluded by stating that he rarely has time to sleep
I'm just chasing my dream, because based on my research, it seems Aliko Dangote doesn't sleep, Obama doesn't sleep, Bill Gate, the richest man in the world, still needs more, so I need no sleep either.
Follow NaijaVibe

NaijaVibe HoT DOWNLOAD
👇