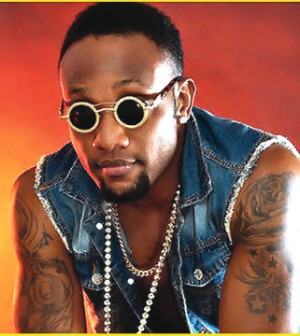 Many people don't know him as Kingsley Okonkwo, but if you mention Kcee, then you are likely to get everybody thinking it is time to dance. This is unconnected with the fact that his latest hit, Limpopo has become an anthem of sort on the lips of the young and old in the country and outside. Kcee has been ruling the airwaves with his new single.
In the big interview below, the singer bares his mind on various issues.
Excerpts:
How do you feel about the success that has been trailing your career recently?
From where I was coming from to where I am today, it has been God. Basically, I always tell people it is God because I have been working harder than I am doing right now, but right now the story is different and I can say that God has been so merciful to me.
You have worked hard over the years, but it seems the rewards have started trickling in, are you surprised about the turnaround?
Laughs.. Yes, I will say I am surprised, but if I look at it again from another perspective, I had always known that I would hit it big someday. I already had that determination since I started singing, but honestly speaking, Limpopo was a divine song from God. I think God just felt it was time for me to step up my game to the A'list level.
When you were writing the song, where were you?
It just happened like every other song that you want to release. I was in the studio with some friends. We were all playing in the studio and the song just came up. It was not one of those songs that you already have the idea of what you want to do about it, I mean the arrangement and other stuffs. But something very funny happened in the studio that day, after recording the song, we decided to celebrate it as though we knew it was going to be a massive success. As luck would have it, the song became an instant hit in its first two weeks of release. My brother, I was surprised; I could not contain the joy. In less than one month, I was receiving calls from different parts of the world and in two months, it was something else. It is the anointing and the power of God that I have been enjoying since I released the song.
Talking about anointing, are you that religious, considering your style of life?
It is the anointing. It is the power of God. My life style has nothing to do with my religious life. I know where I am coming from. The truth is that you need to recognise God and appreciate Him for what He has done for you. Today, when I am performing and I see the way people appreciate my songs and performance, I don't need anybody to tell me that this is God working.
You were said to have left the country immediately after the recording, some people said you were afraid the song won't do well..
No, that's not true. We travelled out of the country after the recording to shoot the video of the song. I dropped the song while I was in Spain. We came back a week after dropping the video. When I came back to the country, the response to the song was massive, bigger than what I have ever done.
What does 'Limpopo' mean?
To me, Limpopo means let us have fun. It's just my own way of saying let us go and have fun.
But you have released some singles and videos before now, why is Limpopo different?
It is not like people didn't know I am a musician. When I did Opeke remix, people did not act like they saw it; I did a remix with a South African artist, we no hear anything; I did one with Davido; Nack me with HarrySong; I did a song with Flavour, nobody said a word. Limpopo was the eight single that I did since my partner and I broke up. As I am right now, you don't know if I will be doing a song with Beyonce and Jay Z tomorrow. If I had given up before now, I wouldn't be talking about all these. I just believe that there was something in me that I need to express; the journey has just begun.
Let's talk about your deal as MTN's brand ambassador, how did you come about that?
The truth is when God wants to bless you, He blesses you on every side. Yes, other brands were calling me for deals, but just as were talking about it, the MTN deal came and I was very happy about it. The deal was worth taking, if it was not, I won't take it.
Is the deal not restricting you in any form?
The deal is good and of course it came with some restrictions. But if you consider the benefits of the deal, I am comfortable with it. I think MTN is just trying to support the industry and I appreciate the company for what it is doing. Limpopo song was just the bridge that connected me with some of the deals and top places I have visited since I dropped it. I was surprised when I heard President Jonathan and his wife, Patience dancing and singing Limpopo at a function. They love the song so much, especially top government functionaries. So, the song is a huge success.
Are you not feeling weighed down under the burden of the success?
(laughs).. there you go again. One thing I know for sure is that God won't give you the kind of blessing you can't handle. He had prepared me for it before He gave it to me. He has given me the strength and energy to move on. Success and I are on the same page. When you hear Kcee, you hear good music. I will be dropping my album very soon, when you hear it, you will know why I am made to sing music. My kind of music is totally different from what I used to do; no vulgar words, strictly for mature minds.
How do you relax?
I try to relax, but it has not been easy. You need to work out and work hard.
What is it about your love for exotic automobiles, I learnt you just took the delivery of a BMW BMX6 and a Range Rover. Will you ever stop acquiring cars?
I don't see them as cars, but big toys. It is normal because those that know me would tell you I appreciate good things of life; clothes, cars, house, videos and anything good you can talk about. I am not complaining about how I live my life. If I buy anything today, I do it because I could afford it.
Follow NaijaVibe


HoT DOWNLOAD
👇