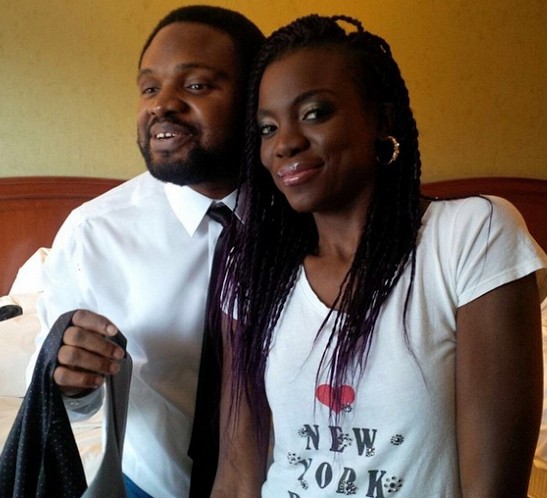 Award-winning producer and songwriter, Cobhams Asuquo has been married to Ojuolape for four years. In this chat with Punch the couple talk about their marriage
How long have you known each other?
Cobhams: I have known her for about 13 years and still counting.
Ojuola: We met in 2001 but we didn't start dating until 2009. I was 18 years old and about to go to college in the United States of America when our paths crossed.
Where you searching for love at the time you met?
Cobhams: I wasn't searching for love when we met for the first time. I told her that I liked her but she did not think I meant what I said; maybe she felt I was just another fellow. We were both fresh out of high school and about to get into the university. When I realised she did not think I was sincere, I went into other relationships where I did not find fulfilment. I decided to come back to her and it was a hard chase. I told her I was going to be a rich miserable bachelor if she didn't accept to date me. I told her my mind was made up and I wasn't going to marry someone else if she didn't accept my proposal. I had to exercise a lot of patience until she had my time.
Why did you not give in easily to his proposal?
Ojuola: When we met, I wasn't ready to date; I just wanted to be his friend. He was and still is that brother I never had. He was my best friend and as the years went by, we maintained our friendship even though I was in the US and he was in Lagos. Over the years, I soon realised my heart was drawn towards him and he resumed the chase. Like he said, he went into other relationships. Eventually, we decided to date and later got married.
How did you propose to her?
Cobhams: I did it the conventional way; I went on my knees, asked her to marry me and slipped the ring on her finger.
Did you nurse any fears that she might turn down your proposal?
Cobhams: Yes, I was scared because I wasn't too sure of her response. When you are really in love, you don't walk around thinking because you are the man, a woman would readily want to get married to you.
What gave you the conviction that you had fallen in love with her?
Cobhams: I had known her for years and we had been very good friends. We had laughed and cried together because we have a strong relationship. She had the character traits I loved and admired; she is kind, honest and blunt about any situation in a way that quite a lot of women I knew at that time were not.
Ojuola: I think our friendship contributed to the foundation of our marriage. We are first and foremost best friends who feel a certain ease to tell each other certain things especially difficult things. When you marry your best friend and gist partner, you can't really fight with each other for too long. You have to make up because you would have no one to gist with. That is one of the things that makes marriage rosy
How would you describe your spouse?
Ojuola: He is quite romantic, caring and an amazing husband. He does things consistently and takes life from an optimistic standpoint. He has come to terms with how he lives his life and how he wants it to be. He accepts himself and others for who they are. He doesn't live in the past, he embraces all and makes the best of all that life brings to him.
Cobhams: She is imperfectly perfect.
Do you sometimes wish you could regain your sight even for a day?
Cobhams: Yes, I would love to regain my sight even if it is for one day just to see my wife's face. That is one of the things that would make her happy.
Do you ever wish he had his sight just to see what you look like?
Ojuola: No, I don't and I have never wanted him to have his sight for the reason you mentioned. If I ever want him to have his sight, it is because I wish he can see more of everyday things. For instance, if I am narrating an incident to him or if there is something really nice I want to show him, at times like that I wish he could see. Because he is my gist partner, I often wish he can see the expression on my face when we are talking.
Is it easy to hide any secrets from your wife?
Cobhams: No, it's not. Whenever I have a phone conversation with anybody, chances are I would tell her everything we talked about. We probe each other and sometimes I find it annoying.
Ojuola: I always look out for him. For instance, even though he can operate the Automated Teller Machine all by himself, I assist him by standing behind him.
Follow NaijaVibe


HoT DOWNLOAD
👇