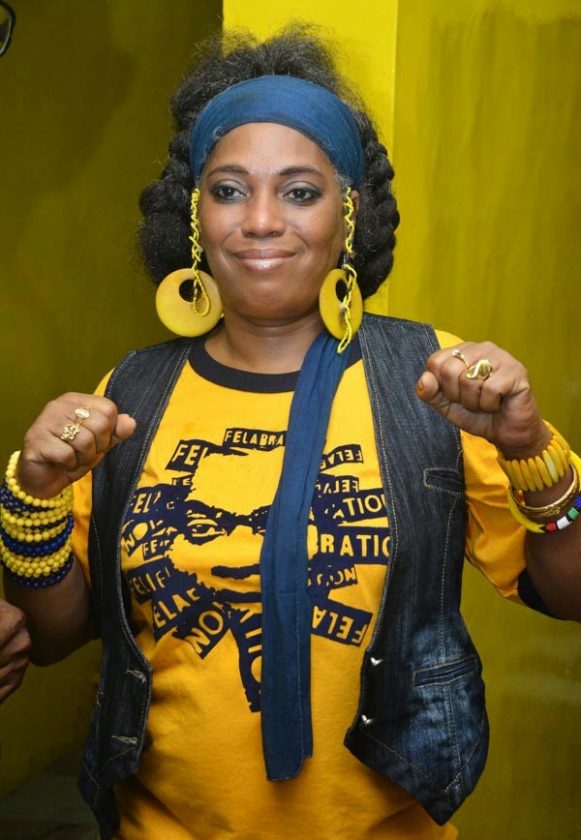 Yeni Kuti, the first child of Afro beat Legend, Fela Kuti has made known her decision to never get married. The 53 year old told City People
I am not single. I have somebody in my life. We have been together for like 7 years. We respect each other. But we are not married. I believe that if we ever marry, our relationship will lose the dynamics that we have. I have my house. He has his house. He stays at mine when he wants, I stays at his when I want. It's a kind of loose arrangement. We go on holiday together. We love each other. But the day we marry, we would now start fighting for space.

By the time I bring all my clothes and shoes where would he keep them. This way I think it works. He respects the fact that I don't want to get married.

I know a guy who advised me to marry the man I am dating right now, but most people don't seem to get the point. I don't want to get married. I am happy the way I am. I am proud of who I am. I don't need a man to say I am somebody. I can be who I am without a man. I don't need a man as a prop to survive. If I am with a man I am with him because I love him, because of who he is.

Not because I can't go to an event alone, or go without a man. I can go to an event alone and enjoy myself, I will sit by myself, carry my Ipad and start checking my mails, I don't need any props. I guess thats why I have been able to stay single.
NaijaVibe HoT DOWNLOAD
👇