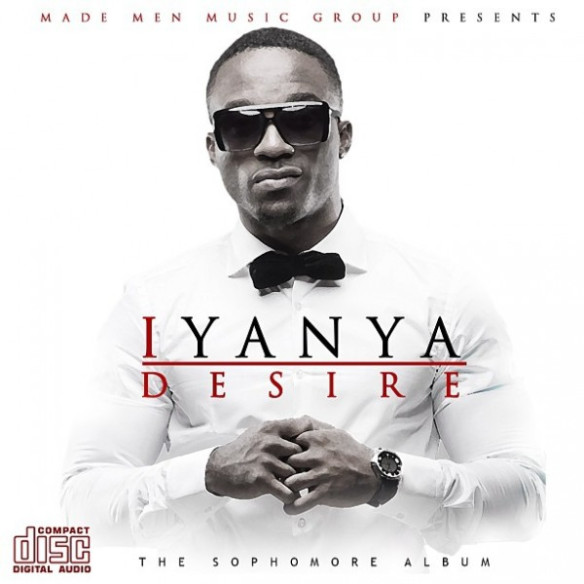 The sophomore album is out alas. Nigeria's rave of the moment Iyanya's second album is out and just as anticipated I can safely say he truly displayed his quality and preserved his reputation as the Etighi Master.
From the list of producers Iyanya has proven that to make hits you don't need to patronise famous beat makers.
Sticking to a style that has worked for him and is still working, Iyanya perfected his art of Afro pop music through his 19 track album titled iYanYa vs DESIRE.
Although on few occasions he tried other genres, its encouraging to see an Artiste holistically representing a particular genre of music.
Here's a brief introduction; before a track by track analysis of the Album.
ARTISTE: IYANYA
ALBUM TITLE: IYANYA vs DESIRE
LABEL: Made Men Music Group (MMMG)
COLLABOS: MI, MAY'D, FLAVOUR, YUNG L, EMMA NYRA, TIWA SAVAGE, WIZKID, TEKNO, VECTOR and D'BANJ.
PRODUCTION: D tunes, TY Mix, Gospel on d Beatz, Laxio Beat, Mr Chido and Young D.
Mixing and Mastering: Foster Zeeno, TY Mix, Sheyman, Gospel on d beatz, Jay Stuntz and D'tunez.
MARKETER: AHBU Ventures Ltd.
1. BADMAN featuring MI
Iyanya decides to open his album with an unfamiliar style. He picked a TY Mix beat and hooked up with MI to drop a decent reggae like track.
2. EKAETTE featuring TEKNO
On this track Iyanya (Repping Calabar where he is from) takes us straight to his comfort zone the Dance floor, he also used the opportunity to holla at his colleagues in the industry by dropping popular lines from their songs.
3. GASEGBE
The party continues on track number three. This time around Ghana happens to be the plot, the track also shows his fondness for ladies from that country.
4. MARRY ME
A less noisy track with decent vocals. On this track Iyanya proved himself to still be in touch with his vocal abilities.
5. FLAVOUR
This track needs no introduction, its one of his songs that's enjoying massive airplay and currently promoting this album and with no doubt it is worth the hype.
6. LIMBO
Still in the party mood, this is a noisy track and in his Etighi fashion is guaranteed to make you bop and dance.
7. WHINE featuring MAY'D
On his usual sound Iyanya and May'D are two of a kind, built to please the ladies, it's no surprise they dedicated this track to the ladies.
8. JOMBOLO featuring FLAVOUR
The main difference with this track its it Makossa blend. Its one of the tracks which the former Project Fame Winner shows is ability to leave is comfort zone and still sound cool. He was assisted by Flavour to get this through.
9. SOME MORE featuring YUNG L
Another area where Iyanya sound almost perfect is Reggae. On this track he supplies an interesting Dance hall tune with pleasing vocal efforts. He featured Yung L a relatively new name in the Game.
10. UR WAIST featuring EMMA NYRA
Another of his massive hits. He introduced fellow label mate Emma Nyra and didn't hide is affection for his female colleagues and the part of their body he desired the most.
11. I GAT IT
Alas Iyanya slows it down. Iyanya reminded us of his Soulful beginning in the industry. Through this track he shows us he still gat some soul in him.
12. SOMEBODY featuring TIWA SAVAGE
Back to the dance floor. This is a superstar collabo which shows their (Iyanya and Tiwa Savage) class. It was indeed a good blend.
13. LITTLE THINGS
Another less noisy track with a moderate tempo. A decent song.
14. SEXY MAMA featuring WIZKID
Back to his ways Iyanya hooked up with Wizkid to produce another club banger.
15. KUKERE
Nothing needs to be said about this track. I leave it to you to judge and if you've not heard it before, its either you're not living in Nigeria or you're totally Music-deaf.
16. YOUR MAN featuring VECTOR
Vector killed it.. a slow tempo song, Vector was really cool on the track. It shows Iyanya's ability to make the right collabos.
17. DROWNING
Experimenting other options Iyanya teamed up again with TY Mix to deliver a Techno-like love song.
18. KUKERE RMX featuring D'Banj
Without any significant difference from the original version Iyanya brought in D'banj to add more spice and bragging right to his classic hit.
19. BUST ME BRAIN
Back with his Partner in Crime D'tunes they sampled Shabba Ranks beat and a few dancehall tunes to produce this bonus track. The track sounded more like a freestyle fit for a mixtape. However it was wisely reserved as a bonus track.
RATING
BEATZ: 🌟🌟🌟☆☆
LYRICS:🌟🌟☆☆☆
VOCALS:🌟🌟🌟☆☆
Generally, Iyanya is not heavy in the lyrics department but he has the undoubted ability to bring us out to the Dance Floor. The album is worth the wait and equals the hype.
His PR, Management and Label executives deserve accolades for handling the commercial aspect professionally.
On the overall Iyanya has delivered an Album that has carved a niche for him among the elites of the music industry.
Seun Swagger
Entertainment Consultant/ Commentator
08159960386
Follow NaijaVibe


HoT DOWNLOAD
👇