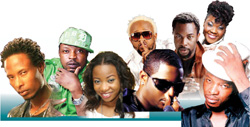 Back in the days, most of them were everywhere on the entertainment scene in Nigeria and abroad doing their thing and making good money. But most didn't invest. The story is different today as it was gathered that a few of them are even struggling to feed three times daily.
Chux Ohai of The Punch takes a look at some wave-making music artistes that are now less visible on the Naija entertainment scene in the current highly competitive era..
Mo'Cheddah
Modupe Oyeyemi, aka Mo'Cheddah, has won some awards and proved herself a worthy artiste. Since scandals are also part of the game, this pretty singer has had her fair share of darkish tales.
In one of such scandals, a naked photograph of the singer suddenly popped up on Twitter. She was said to have mistakenly tweeted the picture while trying to send it to another artiste named ElDee da Don.
As expected, the picture, which showed Mo'Cheddah in her natural 'swim suit' posing before a mirror in her bedroom, and an accompanying message to ElDee urging him to pretend that it was sent by one of his pals, went viral on social media and attracted shocking reactions from her followers and fans.
Embarassed, Mo'Cheddah had tried in vain to deny the tweet. But the damage had been done. The tweet subsequently fuelled the rumour that she was actually neck-deep in a sizzling romance with ElDee. Some followers of both artistes were further convinced that the photograph was a clear evidence that she was in love with him.
More important, however, is the fact that the singer, who arrived the music scene at the same time as Wizkid is far from being active in recent times. Indeed, while Wizkid and her other contemporaries including Davido and Tiwa Savage, seem to be everywhere, many fans are simply asking, "Where is Mo'Cheddah?"
Ruggedman
Rapper Micheal Stephens, aka Ruggedman, was recently the special guest of V-Channel, an entertainment cable TV channel on Startimes at its weekly 'Celebrity Night Out' party at Troy Lounge in Ogba, Lagos.
The event had fellow music stars, such as Kenny Saint Brown and Essence in attendance. Many music fans turned out to express their love to the rapper and Ruggedy Baba, as he is fondly called, partied the night away with attention-grabbing dance moves, amidst cheers from gathering.
It was Ruggedman's first real public appearance in a long while. The last time he had a real outing was in 2012 when he performed alongside other artistes in a concert in Asaba. The show was hosted by the Delta State Government to celebrate its success at the last National Sports Festival.
Always controversial, the rapper was said to have almost started another controversy after he goofed during a recent appearance on TV continental. The subject was his much-publicised breakup with erstwhile pal, 9ice.
Paul 'Play' Dairo
Not long ago, Paul Dairo reportedly sued MTN Nigeria and Ultima Limited for allegedly infringing on his copyright. Both companies were said to have used his song 'Angel of my life' for the MTN-sponsored reality TV music talent hunt show, Project Fame without his permission.
The development implied that Paul, who was in the USA, had finally recovered from a spell of ill-health that kept him away from the music scene and the limelight for a while.
The singer has been reportedly struck by a strange illness that almost ended his career. Last year, after leaving his hospital bed, he had promised to head straight to the recording studio and out with two new albums at once. But so far, his fans are still waiting for the fulfilment of that promise.
Tony Tetuila
Tony Tetuila was one of the groomsmen of Tuface Idibia during the latter's recent wedding to actress Annie Macaulay in Dubai. It was an indication that both artistes had remained close friends despite the challenges that they had to face these past years.
But, while Tuface's career appears to be constantly on the rise, it seems that Tetuila's quiet struggle to regain relevance is yet to yield positive results.
Meanwhile, the singer, whose last successful album was recorded a couple of years ago, has been spotted in some fun spots in Lagos simply idling away. Last year, he was rumoured to have impregnated a young lady living in the United Kingdom.
Olu Maintain
After recording 'Nawti', his last album that enjoyed tremendous reception from music fans here in Nigeria, Olu Maintain sort of faded out of the entertainment scene. Lately it was rumoured that he had dumped his American girlfriend, Natalie Nunn, for a Nigerian female artiste.
If that story is anything to go by, it is possible that the singer, who rose to fame with the success of the hit-song, 'Yahoozee', is too absorbed in his new relationship to realize how much music fans yearn for his return to the scene.
Bouqui
Fans of self-styled rapvangelist Bouqui (real name is Bukola Folayan) were pleasantly surprised when she brokered a new deal with the American records label known as Xist Music, which is guaranteed to launch her career to greater heights. Even they felt better when it was announced that the award-winning rapper planned to release a double CD album titled 'Marks of a General and Eve of Independence'. But that was where the excitement ended.
The truth is that Bouqui has been 'missing in action'. Many fans think she has skipped too many A-list concerts in town and she has been lying too low for comfort. Although she released a single album early this year, it was hardly noticed.
Faze
Having joined his pal, Tuface Idibia, at Musiz Records, one would have expected Chibuzo Orji, aka Faze, to have upped his game. But the R&B singer and ex Plantashun boy appears to be having a tough time turning his career around. Not even the arrival of his fourth and most recent album, 'Refazed', in which he tries to reassert his relevance on the music scene, has made a difference.
Eedris AbdulKarim
Ex-Remedies star, Eedris AdulKarim, can be seen here and there. But his efforts to reclaim his former position as a foremost rapper has not yielded results. Beyond his last single CD, in which he carried on his private 'conversation' with former President Olusegun Obasanjo, it is certain that Mr Lecturer ought to prepare more punchy handouts for his fans.
NaijaVibe HoT DOWNLOAD
👇