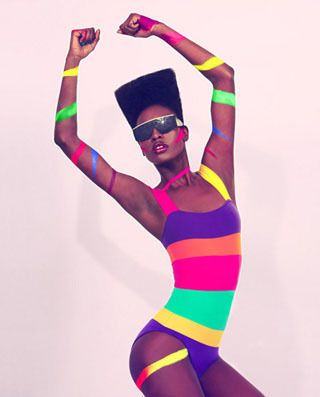 My girlfriends and I were gisting and laughing, catching up on old times since we have been home for four long months due to ASUU strike. Then suddenly, they all rushed to the window to steal glances at him as he came in from the campus and went into his apartment. He was young, cute, chubby and sooooo fine, when I asked questions, I gathered he was a jambite and a kid brother to one of our male friends living right there in my friend's compound.
The next morning, I had finished cleaning and putting my apartment in order so I took a bath and went straight to my friend's since its the meeting place for the girls for that semester. Lots of handsome freshers to stare at, lots of topics to gossip about and yeah some new clothes and shoes to show off. Getting to her door, it was locked and she left her phone in her room, there was no way I could reach her but her neighbors were sure she hadn't gone far so I could just wait for her in any of the apartments since I knew virtually everybody in the compound but I chose his apartment and went in calling out his brother's name.
'He isn't here' he answered, he has gone to town and won't be coming back until next week.
So I sat and we got talking and I found him so adorable and intelligent but he was two years younger in age and level, what was I to do with this? My friend was back and she had been calling my phone, I told her not to bother that I will come over later on, she giggled and teased me 'hoe hoe hoe', I laughed and ended the call.
Although he was young, he was a bad boy and he didn't waste time before he started making moves and the fact that I hadn't been with a man for close to a year made it all easy. Within a twinkle of an eye, we were both naked and rolling over his bed in broad daylight, I enjoyed every tiny little second of the moments we shared and when I was back at my friend's later that evening, the thought of the day's event was all up in my brain and I couldn't help but smile at the beautiful memories.
He soon became an addiction and I went in to him every evening after my classes and my friends weren't finding it funny any more. When they complained, I told them it was just a fling and that there was nothing serious about the whole thing but I lied, it lasted too long to be just a fling and when I got pregnant, it wasn't funny anymore to me either.
There was only one person I could confined in, my closest friend, she had been in similar situations and she had managed it quite well. Somehow, we managed to hide the whole issue from the rest of our friends and she gave me the name of a drug I would use to get rid of the unplanned pregnancy. I gave him the paper I wrote the name of the drug in and asked him to get it from town when he goes home for the weekend. On Monday morning, he was back with the seven pills and I was frightened to take it for exams was in progress and I had four more papers to write. I waited till my exams ended and I swallowed three and inserted four into my vagina as prescribed by my experienced friend. I laid down on my bed and waited, few minutes later I was bleeding and I was happy that my problem had been solved.
Oops!!!!!! It had been two whole months and I hadn't stopped bleeding, I was scared, school was on vacation but I couldn't go home with so much blood. I was alone in my compound with him and each day I was loosing strength but the fear of the law against abortion wouldn't let me go to the university teaching hospital for proper medication. And then I remembered my creator, I went on my knees, prayed for forgiveness of sin and promised never to commit such sin again if I get a second chance to life. I got up, got dressed and headed for the hospital, its better to face the wrath of man than to die a sinner.
I was lucky to be attended to by a female doctor, she was such a mother, she listened and was so concerned for me. I went for a scan and she told me it was an incomplete abortion and that I have two choices, either to allow the blood continue flowing till its over or I come for evacuation.
Evacuation? What if my womb got evacuated alongside the remains of the fetus?
There was no way I was letting them do it. I thanked her and told her I will be back when I make my decision on what to do, she gave me her number and asked that I call her directly when am ready. I never called back, I never went back to the hospital, after all I gave them a fake name for my card.
All through, my young lover really did stand by me, he took responsibility for his actions, supported me, washed, cooked and cleaned for me. It baffled me how he could be so responsible at such a young age. Most guys on campus will bail on you, thinking something might go wrong and they wouldn't want to be caught there with your body if it happens.
When the heavy bleeding finally stopped after three months, it made me wonder how much blood is in the human body that anyone would bleed nonstop for three whole months and still be alive. But then when I think of it, I realized God spared my life while I suffered for my sins and he allowed me the opportunity to live again so I can live right and am sure there's a purpose in life that I am yet to fulfill and I hope I don't screw it all up again cause am only human.
And everyday I have lived after that incident, my sincere apology goes to my baby that I denied the chance to life. I hope she ever forgives me cause I knew somehow in my spirit that she was a girl.
This is purely fiction.Written by – @Dharmielisa
NaijaVibe HoT DOWNLOAD
👇