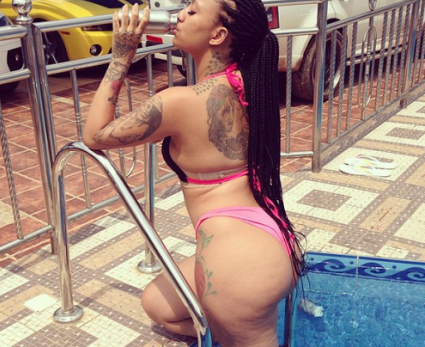 Now on campus, I had so many cute ladies as friends, some as f**k mate, some just close friends, most times they come to the hostel to visit and when Naomi wasn't home we would make love with the music loud, with enough weed, American honey (that was my favorite drink) and make crazy love, my favorite girl friend was Jenny, Jenny was not too tall, light skin, big boobs, and goddamn crazy pu**y to die for, she was so good at sucking that I was almost failing in love with her, Jenny was a very jealous girl and a nympho, she could make love to you like her life depended on it.
The first time I met jenny she was in a super mart with her boyfriend, yes she is Bi-sexual, I think they came in to get some stuff because she kept on staring at me in a way I couldn't understand, after they got their stuff and left, I was about going into the restroom to use the toilet, as I was wondering if I had anything on my face that made her stare at me that way. Almost immediately, I heard someone knocking on the toilet door like some thing was wrong only for me to open the door and was about insulting the living day light out of the person when I met Jenny trying to push herself into the small toilet and before I could say anything her lips were on mine, kissing me like she was starved, well, I couldn't help but return the kiss, her lips were the most soft lips I have ever kissed and her boobs where so so soft I started using my fingers to rub on her erect nipples, we kissed for so long that I forgot we were in the rest room until my phone rang and brought me back to reality..
I checked the caller and it was Collins calling, I haven't seen Collins since I turned down his offer the other day about having sex with me, Collins was every girl's dream on campus, even being the number one of the deadliest cult on campus, and people feared him greatly, I was the least bothered because I knew he was head over hill in love with me, and as long as I was with him, I was safe from any threat in school, I think that was partly why I accepted his offer or so, lol.
Back to reality, Jenny said something which I din't hear clearly and squeezed her number into my hand while I picked Collins' call..
'Hello Collins it's been a while, You just abandoned your girl why now..' collins ended the call with
'meet me up in your hostel now' and hung up..
What could be so urgent that he couldn't even reply my greetings sef? mtscheeew!!
I quickly cleaned up, stored Jenny's number on my phone and headed to my hostel to meet the so called Collins waiting for me at my hostel gate with a very worried look on his face, what could be the problem with this one now, abeg am not ready for his so called drama about having sex with him again o, abi was there an award to be given ni, or shey na government work..mtscheeew.
I walked up to him and gave him a light kiss on the lips and walked into the room..
NaijaVibe HoT DOWNLOAD
👇