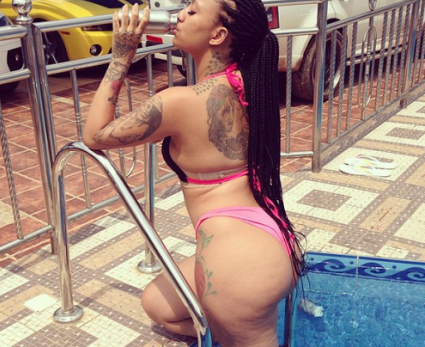 I got to the hostel to pick my stuffs since exams was over and everyone was either at home or getting ready to go home too, the room was looking so messed up with blood stain on the wall and bed sheets from Naomi's incident, awww! Poor girl, who could have done this to her, I just hoped it wasn't Collins because I would make sure he pays, but come to think of it, Collins would never raise his hands on a lady or even gang rape a girl, when he can get any lady of his choice in school, even while I was playing hard to get he never for once tried to rape or gang rape me.
Hmmm! This might not be his hand work after all, lemme try calling him to know his side of the story because they were together before I left, I checked for my phones and found out I left it on Leonard's lap in the hospital, shit! I just hoped he wasn't nosey enough to go through my phones because it would kill me, since he ain't aware am into ladies and just playing with him, lol.
I finished cleaning the room, arranged my stuff back to Lagos, but before I go I must look for Collins and get to the root of this Naomi's mess cause if such can happen to her then obviously I am not safe too. Lucky for me there is a pay phone lady outside the street, I drove down to her kiosk but the place was locked, damn! how do I get my phones now, I drove into the main campus down to Ekosodin parked opposite the faculty and walked down to Collins apartment, but he wasn't home and the doors were shut, shit!
Aw do I get to this dude now, then I remembered he told me about his sister's place in town and we have been there but just once.
Got to her place, but she wasn't home either, and my phones were still with Leonard, drove back to the hospital but Leonard wasn't there either, what a waste of time and fuel.
Got to a nearby pay phone dialed my number severally but no responses, chai which kind wahala be dis nau, how do I get my phones.. then I remembered his hotel where we were before the call came through..
When I got there I could not remember his room number and the so called receptionist was just a pain on the butt too.
How do I get my phones now, so I decided to wait at the reception, that means no more Lagos for me today again with all this going on right now.. then it occurred to me to try tipping the bitch of a receptionist to help with his room number, after series of chit chat I was in front of his room, thinking about what he must have seen in my chats or my phone, since I never lock my phone because am not very good with remembering passwords..
Before I could knock the door flung open and he was like a mini God in front of me with the most amazing body and biceps you can ever imagine, with a nice fragrance of after shave, damn this dude is cute, remind me again why I hate the opposite sex, I just don't have an idea..
He ushered me in and just kept staring at me, but I couldn't read what was on his mind, please would you stop the stare and hand me my phones please cause I'm late for my trip to Lagos and can't miss it for anything, he then went to his side table brought out my phones and handed them over to me without a word still, I collected my phones and stood up to leave, but he blocked me from leaving, still without a word to me and this started to get on my nerves. See Leo if you ain't gonna say anything to me the least you can do is let me be on my way, like I said I won't want to miss my fli…
And the next thing I saw was Leonard raising me up my feet to the table and started to kiss me, mehn!
In as much as I was gay, I loved kissing Leo because he was a crazy kisser and I mean really good one at that.
I felt weak to the bones immediately his lips touched mine, he started to use his tongue to search mine, damn that was crazy, I didn't know when I let out a moan, my n*pples became very hard and erect, my p**sy got instantly wet, my clit started to twitch. Infact my whole body was on fire, I started to shiver, he carelessly removed all my clothes to the floor, I could feel his erected manhood from his towel throbbing like it was gonna remove my skin from my laps, he started to use his tongue to trace my ear down to my neck and back to my earlobe again.
ooh damn he was good. I have never felt all this in my entire life before.
He started to lick on my n*pples and mehn! That sent fire to my brain, I couldn't think clearly again, he also started to moan like a little baby, that was enough turn on for me already, he went from my nipples down to my tummy still tracing it with his tongue.
oh shit!
That started to make me drip down my p*ssy, on feeling this, he came down to my p*ssy and started to lick and rub on my clit with his tongue, while still sucking on it, I couldn't bear the torture and more I started to beg him in all foreign languages to stop, it was like I was talking to a statue, cause that made him carry me to the bed spread my legs open and replaced his mouth with his long fat d*ck in my p*ssy.
I started to beg him to f*ck me, I didn't know where that came from but it felt so good in my pussy, he started to gently stroke my p*ssy while trying to get through, it was bittersweet but I didn't mind till he entered fully and I had the most wonderful experience of my life.
We had sex more than 4 times and I still could not get enough of him, it was like I got drugged cause this feel was way different from what ever I had wit my girl.
After the marathon sex, we both fell asleep..
NaijaVibe HoT DOWNLOAD
👇