The Mavin songstress was spotted with Hip-Hop moguls Jay-Z and Diddy and they were all smiles in the photo.
Read More »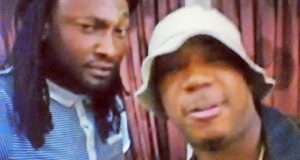 Ja rule and Ashanti are in Nigeria for Bovi's man on fire concert. The concert held in Warri, Uti is seen taking a snap shot with them
Read More »
Rapper Jeffrey Atkins a.k.a Ja Rule has been released from prison today following a 2-year sentence. The rapper started his sentence in July 2011 after he was convicted of criminal possession of a firearm and tax evasion. The rapper was hit with the 2-year sentence in 2010 when he pled ...
Read More »