Read Previous Episode (Guilty or not guilty)
It was Miss Agedo. She told the police she heard me tell Daniel that I was raped by Gbolahan Williams while in Ghana. I remember now, the footsteps we heard while I was pouring out my heart to Daniel..
She also told them she saw us argue the night he died.
I was sitting on a chair. Two mean policemen and one inspector were with me. A light bulb shone down on my face.
Miss Agedo had come to Femi's place uninvited.
"Oh, I see I wasn't invited to this soiree; hello Femi." She walked up to Femi who got up to 'air kiss' her.
"I'll ask the cook to fix you something Laurencia."
"Oh thanks, I already had dinner. Wine would be good though." So he got her wine.
Gbolahan excused himself. I was pissed. This silly woman just wanted to ruin my day.
Femi asked her why she came. She came up with a silly excuse: work; so they started to look at a silly contract together. I got even more pissed and decided to take my leave.
"I'll walk you out Shalewa." Femi excused himself from the impromptu meeting.
He pulled me into the kitchen.
"I'm sorry Shalewa."
"It's alright."
We hugged. "I've missed this.." He put his lips on mine. I shivered and kissed him back hungrily. We stopped and giggled like teenagers.
He ran his lips on mine again and this time it was deep. I moaned and allowed him push me to the wall. We were so carried away that we didn't hear the footsteps, but the sound of someone coughing made us disentangle with the speed of light.
"Sorry guys," Willie-Willie said, "Please feel free to continue." He gave an evil grin and walked away.
Femi walked me to the gate. We hugged and I walked to my car, he wanted to see me drive away but I urged him to go back inside so Miss. Agedo would not be suspicious.
As soon as he went in, I stepped out of my car and walked towards Willie-Willie who was taking a drag outside.
"If it isn't Lincoln's dinner," he puffed into my face. I was filled with rage as I heard him admit he remembered me.
I slapped him.
"You bastard!" I screamed.
He started to laugh. I raised my hand to give him another slap, he caught me by the wrist and held me so tight.
"I see you are bitching around with my brother. I will tell him I know you. I will tell him all sorts of disgusting tales that he would throw you away like a rag."
I laughed, "Make sure you include the rape, you son-of-a-bitch. I will get you arrested. I will make you pay for what you and your friend did to me. I will make you pay for my father's death. I will make your life so miserable.."
"Oh shut up! It's my word against yours. Who do you think he will believe? Let's see, I'll start by telling him how we met in a party and how you came in with some girls to sell your body. How you tried to force yourself on me and I kept telling you I was gay. You moved to someone else and sold your body. I will tell him all.."
"I'll kill you Gbolahan Williams, I swear I will.." I moved close enough to spit in his face, I swallowed my saliva as I saw Miss Agedo come out. My heart skipped a beat. She smiled at us and went into her car. She walked back into the house with a mischievous smile on her face. I would have sworn I saw her wink at me.
I walked back to my car. Thank God Femi didn't see me. I drove back home and met the twins in the sitting room. I ignored them and went straight to my room.
I kept turning from side to side on my bed. I called Femi to let him know I was home. We talked for a minute and we said goodnight.
I tossed around on the bed for a while and thought about Willie-Willie's threat. I don't want to lose Femi. If he had apologised, I may have forgiven him. His threats.. they scared me.. so I started to draw out a plan. I finally dozed off. It was daybreak by the time I opened my eyes.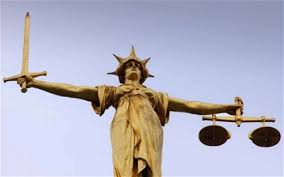 I looked at the inspector.
"That is my story. I didn't kill him; I didn't kill him," I started to cry.
"Oga, leave us make we torture am, if we touch am spoil, she go confess", one of the policeman said.
"I didn't kill him, I.."
"Shut up! You killed him because he raped you; because he was going to jeopardize your relationship with his brother. He was going to take away your chance of being married to one of the richest men in Lagos.."
"I didn't kill him!" I screamed. The policeman that had talked about torturing me slapped me.
I kept screaming and he kept hitting me. I have my own money, I don't need his money! I am not a gold-digger! Gbolahan hurt me in the past.. I didn't.." I paused as he landed a punch on my lips. "I didn't kill him!" I swallowed the blood that was on my lips.
"Stop!" the Inspector shouted. "Take her back to the cell."
xxx
"I'm so scared to take up this case. Are you sure you want me to do this?" Omoyeni asked me. This was after she had screamed at the policemen for how they treated me.
"I do, you are the only one that believes me anyway."
They had allowed me receive only one visitor, my lawyer.
"I will do all I can to get you out of here. My dad has organised his best counsels for this case, with me in charge." She said the last part without confidence. I refused to be shaken. If she loses the case then I'll be facing either life imprisonment or a death sentence.
"Listen, I believe in you, you can do this.." I encouraged her.
"Tell me everything."
I repeated my story and watched her record it. Meanwhile, the news was all over the papers.
She told me Mama Shalewa and Aunty Nike had come to the station together with the twins. They had tried all they could. Aunty Nike had questioned Omoyeni's competence and wanted to get another lawyer.
Omoyeni told her politely I already made my decision.
I told her about the will and told her to help Aunty Nike secure my share.
"If anything happens to me, I will let you know what to do with my money."
"Nothing bad is going to happen Shalewa, I promise."
"Madam, time don over, come dey go," the policeman that brought Omoyeni in said.
She left and I was pushed back into the cell.
xxxx
Femi's mother was in the station. The DPO sent for me because she requested to see me.
I was pushed into his office.
Femi looked at me as I entered. I couldn't read his thoughts.
"Is this the criminal that killed my son?" Mrs. Williams asked.
"I didn't kill your son!" I shouted.
"Shut up!" the DPO said.
I looked at Femi. He didn't look like the man I fell in love with. He looked like a stranger.
Tears ran down my eyes.
"Take her back into the cell." The DPO said.
I looked back at Femi and our eyes met. He looked away.
God, please vindicate me.
Omoshalewa Benson: Tales of a Lagos babe is written by Tobilola 'Bella' Agoro (@tobiagoro)
NaijaVibe HoT DOWNLOAD
👇