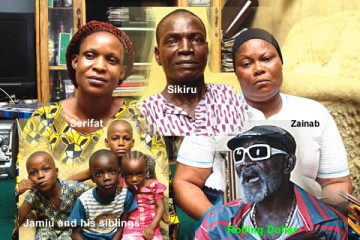 Fatai Rolling Dollar's two wives, Zainab and Serifat, some of his children including Sikiru – who is the singer's 50-year-old first son, was in a pensive mood during an interview with PunchNG.
It was evident from their faces that they were yet to come to terms with the reality of the death of the 86-year-old songbird, Rolling Dollar, who breathed his last on June 12, coinciding with the 20th anniversary of the acclaimed "fairest and freest" election in Nigeria. The musician shot to stardom a few years back via a successful album, 'Won Kere si Number Wa'. But despite his fame, the family is worried about the education of his younger children.
One of the children, Jamiu, told our correspondent that he was still saddened by the death of his father, expressing uncertainty over his future. He explained that he and his other siblings would miss their father's pieces of advice.
The young Olagunju regretted that his late father was unable to fulfil the promise he made to him concerning his education.
Jamiu stated,
Anytime he was around, he used to advise us on things we should do and the ones we should avoid. He promised me that he would make sure I studied up to university level. It is unfortunate that when my father was making the promise, he did not know that he would die this year.
He added that when the news of his father's death was broken to him, the first thing he remembered was the promise he made to him, regarding his university education.
When I was told about his death, I remembered what he promised me. I also thought about my education. It is my desire to be a singer like my father but I want to go to school first. To honour my father, I will take to music someday. He became popular as a highlife singer but I want to be a hip-hop artiste
he added.
Zainab recalled that she married the musician after her first marriage failed, adding that Rolling Dollar was yet to hit the stardom when he married her.
She said,
I was staying with an aunt at Olorunsogo, Mushin area of Lagos about 13 years ago when I met him. I used to see him pass by but I did not know that he had interest in me. I was a bit sick when he called me on a Sunday. He jokingly asked me if I would not mind preparing Ramadan food for him because it was the fasting period. He later noticed some patches at both corners of my mouth, indicating that I had been sick. I told him I had used some drugs but he insisted on buying some more for me.
Zainab said the musician did not even stop at that. According to her, he also prepared rice and asked one of his children to take some to her house.
She added,
I later learnt that the year he met me was exactly three years after the death of his wife, who left three children behind. We got married in 2001 and I promised to take care of the children for him. His caring and honest nature drew me to him.
She further stated that the family was apprehensive of how to cater for the children of the late artiste, who she said, did not leave anything behind. Zainab appealed to his fans to stand by them at their moment of grief.
Rolling Dollar's younger wife, Serifat, who said she bore a boy and a girl for the deceased singer, also reiterated that their husband did not leave any money to train their children
We would love to know your thoughts on this post. Drop your comments
Follow NaijaVibe


HoT DOWNLOAD
👇