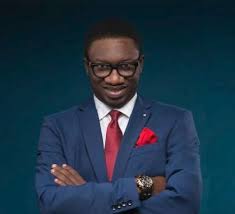 Nigerian broadcaster, Emma Ugolee has revealed the impact Olamide's "Yahoo Boy No Laptop" has had on the average Nigerian youths.
He revealed that Badoo meant for it to be an inspiration for the youths to get rich, but now its inspiring the young ones to go into crime.
His words, "Do you recall what Olamide said YBNL stands for? Yahoo Boy No Laptop.
This, i thought was one of the most powerful messages for youngsters at the time when the craze for being fraudsters was king.
YBNL meant that there were other ways to get rich and he was going prove this with music. Did he do it? O yes indeed
Even though his no display of wealth principle would not make this public knowledge, Olamide is super comfortable and doesn't need weekly selfies in private jets to prove it. His riches most enviably, has trickled down to as many as can reach his table to feed
But more remarkably than this, the YBNL message inspired many more youths to see hope in shutting down the laptop and reaching for the mic. Even though Lord of Ajasa & Dagrin were his clear predecessors, Olamide has by far more clones in his genre of rap inspired by the yoruba language. #fact
Point being, generations can be influenced by the message that music stars carry. Growing up it was an abomination to touch marijuana as ajebutter kids. It was meant for touts who we were waiting to watch run mad. Then came Snoopdog's "Doggystyle" and Dre's "Chronic" in 1992, Every kid in Nigeria now needed to smoke weed to be cool. Thanks to the power of the message in the music for the young minds.
Imagine if the YBNL message had more Nigerian acts joining in on emphasizing the making of clean money, the way the womans anatomy and the mindless blowing of cash has been glorified, we would have had less panties and pads to worry about.
Now almost every family has a yahoo plus boy in it. Girls proudly say their boyfriend is a G boy, Songs say you gain nothing without buying the benz by any means neccessary, Mothers look the other way, knowing fully well how their sons make the money.
Yes, the government has failed, the churches have failed with grooming the youths, parents are failing too but these are hardly their role models so the most painful failure in shaping the mind state of a generation has come from the ones that the kids would rather listen to. The musicians. They have failed woefully. Look at the generation they are grooming. You are part of the problem."
Follow NaijaVibe


HoT DOWNLOAD
👇